Rolling Maul
A lot of water, and Lord only knows what else, has flowed under the bridge since Justin Paton and I first hatched our plans for a fast-paced, post-quake showing of new work by local artists. Rolling Maul, so far, has been quite the antithesis of 'fast-paced', and despite our best efforts, it is yet to roll anywhere – rather it has been beset by the same delays, cancellations and frustrations as all of the Gallery's other in-house plans.
Our original concept, as outlined in B.165, was based around the use of one of Christchurch Art Gallery's ground-floor exhibition spaces, which we hoped to reoccupy as soon as they were no longer required as part of the City Council/CERA earthquake response. But as we are now only too aware, we won't be showing anything there any time soon.
However, Gallery staff are nothing if not tenacious in the face of a good wall-to-wall thwarting, and the chance to expose some of Christchurch's considerable talent was too good to give up on. It's also true to say that, with some notable exceptions, the opportunities for artists to exhibit in the city are still few and far between.
So, in what is rapidly becoming classic Christchurch style, we have licked our wounds and re-grouped. In the process, Rolling Maul has evolved from a group exhibition in a single space with a regularly changing line-up to a dynamic project series that unfolds as, when and where the best opportunities arise. The first wave will be launched as a series of quick turnaround solo and group exhibitions in our new favourite venue, the spruced-up gallery space above NG at 212 Madras Street, and we'll keep you updated as new Rolling Maul elements come into play over time.
In the following pages, we introduce a few more of the artists who will feature in the programme over the next few months and discover, in their own words, what they've been working on recently.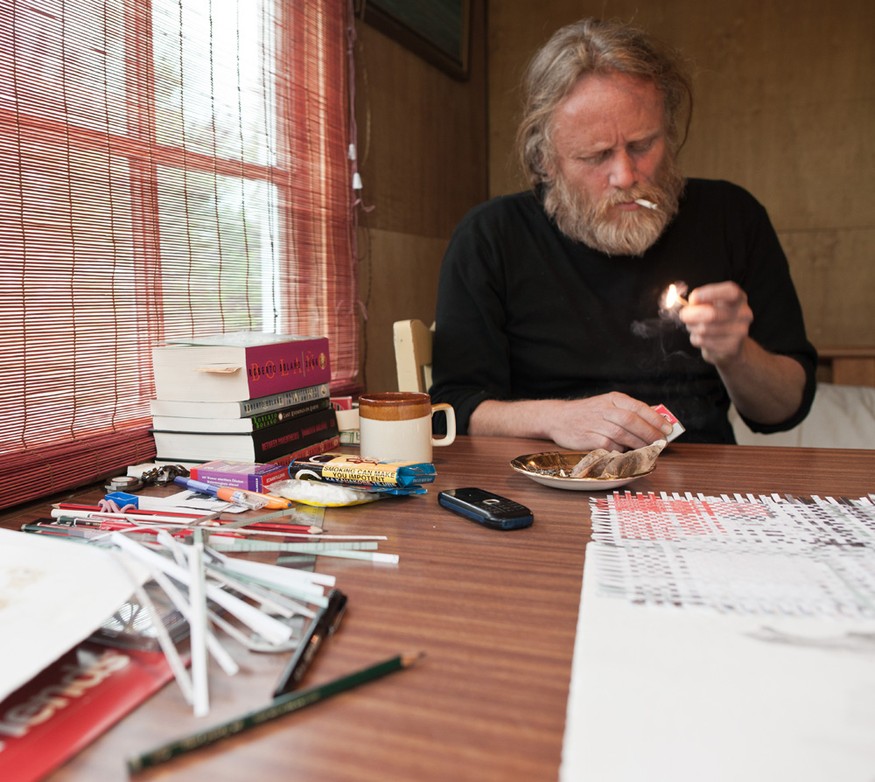 Scott Flanagan
Quite simply everything has changed significantly for me since the advent of the earthquake. My studio was in the Bains Warehouse, Lichfield Street, for eleven years – that's a long time to make and collect things in one place. I managed to escape from my collapsed studio with a pair of sneakers, trousers, a t-shirt, my laptop and my life. Everything else was destroyed under tonnes of steel. I left Christchurch five days later.
I went to Nelson, then back to Christchurch, then on to Port Chalmers and finally found a small reclusory in Deborah Bay. The shock and trauma of the event affected me for many months (and I suppose will continue to do so for some time in various manifestations), rendering anything other than reading seemingly effete.
In June I started drawing; art's natural compulsion surfacing through the roiling cauldron of my everyday uncertainty. The act of drawing compelled me to think about art and, in all honesty, to consider the question of whether I wanted to continue with my career – an understandable reaction to recent unenviable losses.
I reached a point where I was drawing for ten to fifteen hours a day, so I was contemplating my relationship with art a lot. Being a ruminative person, it took a few weeks for the penny to drop – I was drawing ten to fifteen hours per day, therefore my essential relationship with art was intact and quite healthy. A selection of works from this period was for an invitational drawing show at PaperGraphica from September to October.
Now I am ready to start a new studio. Somewhere in Dunedin is a small, rundown, ramshackle garret of the same vintage as the Bains Warehouse and I'll call it home for a while. I'm feeling quite comfortable with the challenge of starting on square one again, as while no one was watching I secretly moved my square one to the square four position.
Rolling Maul!
Charlotte Watson
Initially the quakes had no effect on my work, but eventually I felt I was ignoring the elephant in the room. It wasn't the destruction and disaster, but the heavily opinionated aspect of rebuilding the city that I was interested in, which resulted in sculptural work that left the construction up to the viewer. Aside from that, the continuing interruptions throughout the year just made me grit my teeth and become more determined. My processes became more innovative and localised; I chose materials that were quick to work with, and drawing became a major consideration. For those reasons 2011 became quite formative for me.
At the moment I am working towards a show at Chambers@241 in March. For that, the art school has kindly given me a space for a few months, so I have been ferreting away at some drawings and vinyl and Formica works. I am finding I have the time to explore some ideas that have been sitting on the back burner for a while, and to test some designs for future sculptural work, which is a process that I am really enjoying.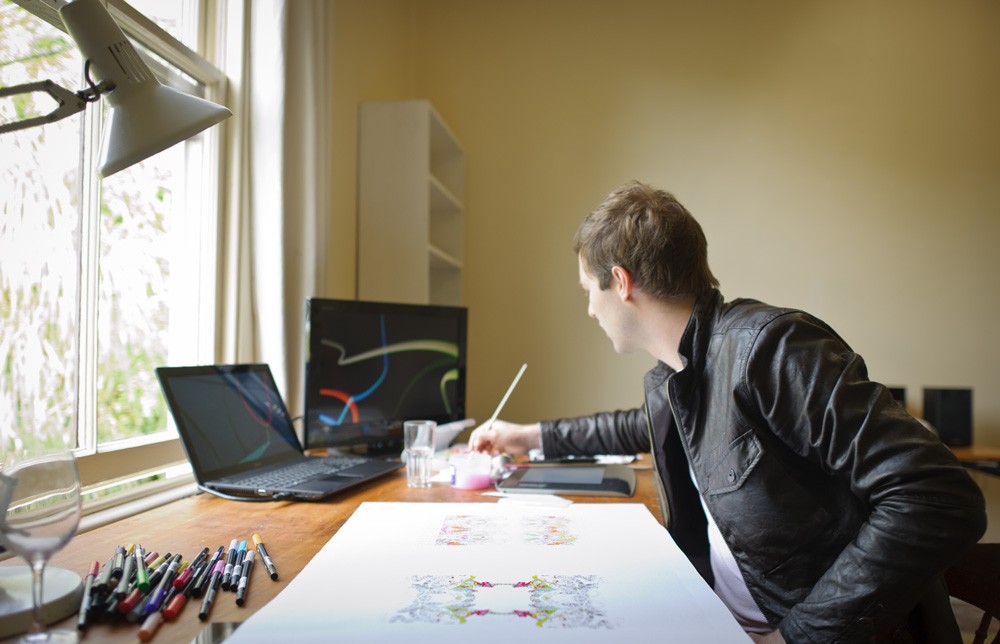 Andre Hemer
At the end of 2011, I undertook the Rita Angus Residency in Wellington. The residency is in Rita's old Fernbank Studio in Thorndon – so I found myself working in a place where the historical context was quite front and centre. For some time physical, geographical, and technological distance have been driving parts of my practice in different ways – most obviously in my hyper/links exhibition at the Physics Room before the earthquake and a work based on Jackson Pollock's Blue Poles at the Waikato Museum.
Although the visual interface in those works was in the form of code, the type of interface is always changing. During the residency I thought a lot about the idea of returning one of Rita's works to the studio of its making. There are a great deal of ghost stories about the cottage, and past works dealing with this such as a séance performed by Dane Mitchell a few years ago. I was thinking about what the contemporary version of reaching out to Rita might be, so I created a live event called Channelling Rita. After tracking down a work made in the studio to a private collection in Wellington, the owners kindly let me into their home to set up a webcam capturing the work over a two-hour period. This was live-streamed and projected in the studio onto a blank canvas at the same size as the original painting.
I also produced some new gouache paintings and drawings – a selection of which were shown at Bartley and Company Art in November. In many ways, these were the complete opposite to the economical and direct process of the coding work. They began as visual fragments drawn together from all kinds of digital media – from iPad apps, Google image searches and screensavers to drawing software.
Miranda Parkes
The quakes affected me personally and professionally (for an artist the lines between these two spheres can be indistinct). I was affected along with everyone else in fundamental ways; worry and anxiety over the safety and wellbeing of whānau (friends, family, flatmates and our art community) and the damage to my house. We've all had to come to terms with losing our city as we knew and loved it.
Beyond this, I lost two studios in the quakes; the first (the Druids building on Manchester Street) was damaged in September and then came down completely in February (a friend described the two-storey building to me as 'a roof on the road'). Luckily, our studio group had left and moved into a church, which has since been sold to become a restaurant. These relocations meant I had to twice reschedule a solo show coming up at the Sarjeant Gallery (now planned for August).
The importance of studio space to my work can't be overestimated. The way that I paint is process-based and responsive rather than planned beforehand, so the studio provides the platform against which the work develops. As I discovered through its absence, it offers a mental space to tie the work to when I'm at home dreaming and thinking about it.
My work is completely self-structured and comes from a deeper level beyond daily life that demands absorption; the earthquakes affected my ability to work, both in the sense of physically painting and having the mind space to focus on it.
With time between studios, however, I was able to complete research that is now manifesting in my work. 2012 is already a full year: I have a project show coming up in Sydney, my show at the Sarjeant Gallery, a November show at Jonathan Smart and, of course, Rolling Maul. The work for these will be fuelled by the quakes to the degree that my living environment always impacts upon it. The changing city can be found in Boomer, the work for my Sydney show, where old spaces have closed off, new spaces have opened up and there is a sense of unease and movement, both visual and actual.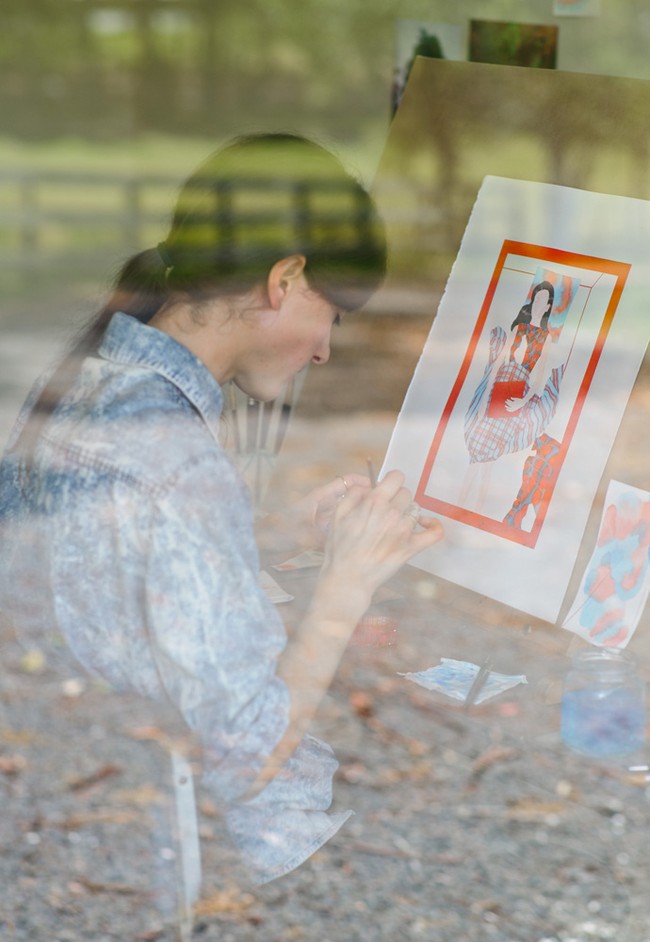 Georgie Hill
I had been based at the Arts Centre as the Olivia Spencer Bower Foundation artist-in-residence for only two weeks before the 22 February earthquake, but I had been living in Christchurch for a year prior to this and during 2008. As a result of the quake I no longer had accommodation or a studio in Christchurch so I made the decision to move to Auckland to be with family. I am currently living and working twenty-minutes north of Auckland city in a rural area, so everything has changed in terms of my working environment. I am much more isolated than I would have been at the Arts Centre, and am working in a smaller space, but it is a good place to really focus and develop my work.
I have recently made a series of works that evolved from the experience – the earthquakes, aftershocks and sudden relocation. In these works the female figures that previously existed as images on the walls of my interiors have made their way to the forefront of the painting. The architecture of the space is less apparent and the focus has closed in on the body; furniture and other objects are no longer visible. A painted frame holds the body and an elusive backdrop. There is a new sense of movement butting up against stillness, and an intense vibration of colour.
Even though I have been away from the aftershocks for some time now, I still seem to have a heightened sensitivity to vibration, certain sounds and movements, and I think this comes through in the work. I have been thinking about ideas of protective colouration, in the way that the body meets its surroundings. I have continued to explore ideas of private and protective spaces, and the control or meaning created in our lives through our relationship to spaces and objects. I am slowly bringing back the depth of the interior space, the architecture and other objects into the work.