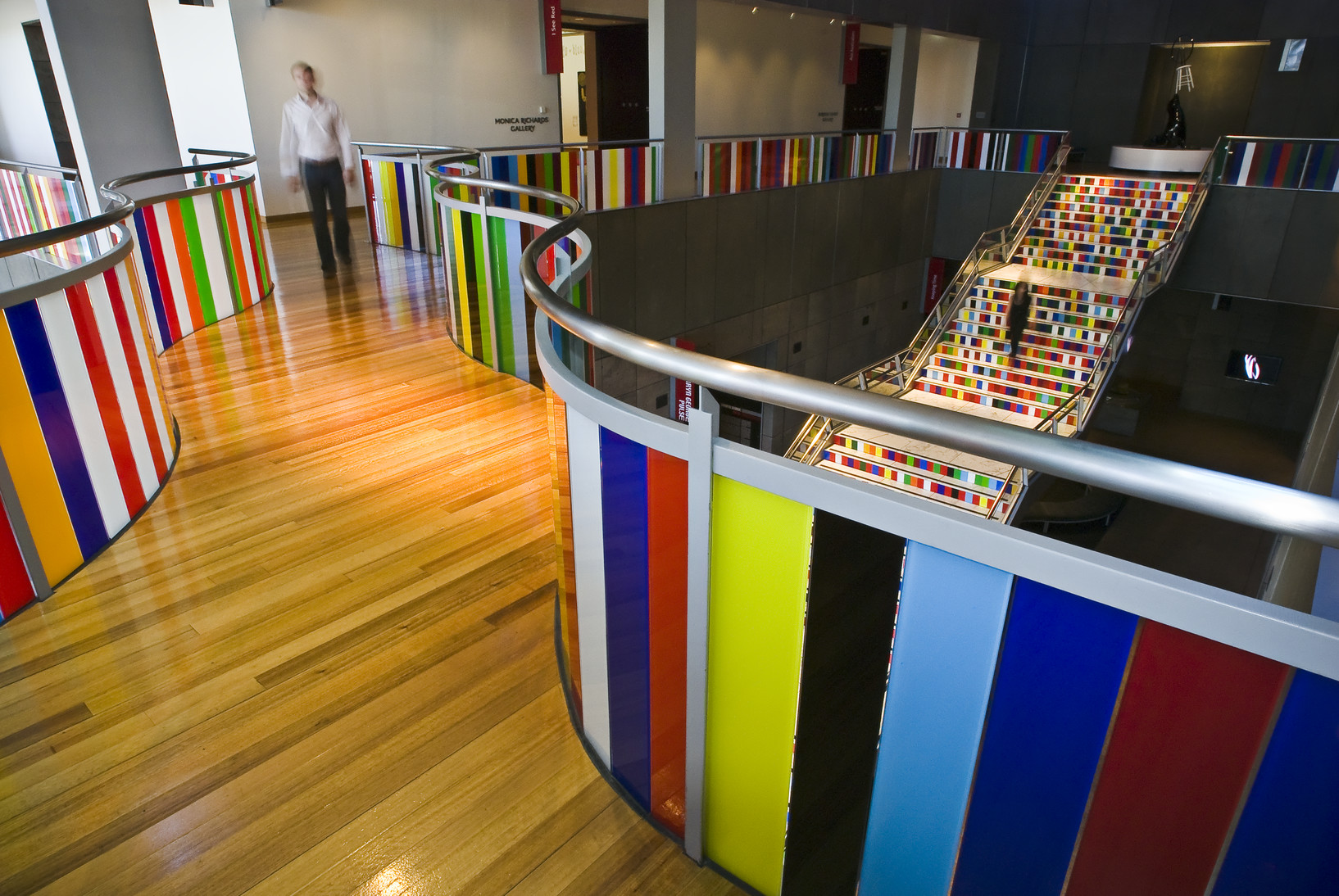 This exhibition is now closed
A procession of politically charged colours
The many strips of high-intensity colour all around you are the work of New Zealand artist Sara Hughes. Together these colours make up United We Fall, which is the first commission in the 'Glasshouse' series – a programme of major works for the Christchurch Art Gallery's foyer.
The colours marching around this foyer began in an unexpected place, namely the city of Charlotte, North Carolina in the USA. Arriving in the city as a resident artist in 2007, Hughes was bombarded with news of the hotly contested Democratic Primary and the US occupation of Iraq. Noticing the way colour was used in American politics to divide one opponent from another, Hughes resolved to put some well-known political colours to unexpected use.
Taking the 194 recognised national flags of the world, Hughes has stripped away their identifying symbols and broken them down into a spectrum of vivid colours. The result is, in Hughes's words, an endless 'world flag', whose title tampers with one of the political slogans often heard in the US: 'United we stand, divided we fall.'
In the face of bitter conflicts based on nationality, creating a flag of this kind is a hopeful gesture. Hughes's vast frieze of colours also offers a hopeful response to public gallery spaces like this one. At their best, Hughes suggests, they are places where ideas of many different 'colours' can energetically coexist, and where people of many different backgrounds can bask in colours that belong to everyone.
Date:


15 August 2008 – 12 June 2009

Exhibition number:
805A
Related reading: Outer Spaces