B.
Sian Torrington Call Out
Behind the scenes
12 March 2013. Posted by Felicity Milburn
Christchurch Art Gallery is excited to be working with Wellington-based artist Sian Torrington on a site-specific sculptural installation that will combine ideas, images and materials that relate to living in Christchurch now.
See below for a message from Sian to find out how you can get involved.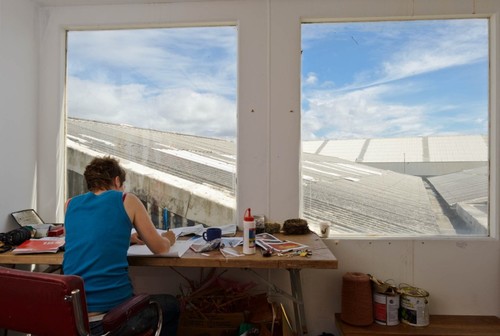 I want to be able to reach you. There's a long way between our windows and the only way is to tie it all together. I want to raise a tent. I want to fly flags.
I want to bring colour.
I need to use a lot of things to make something that reaches. These things will be found. They are already in the world. It is the action of putting, of holding them together which is important. It is the breathing space underneath where we can meet.
Structures – greenhouses, sheds, containers, wooden boxes, metal frameworks ,benches, fences, wooden framing, scaffolding, cupboards
Wood – 2 x 4, tongue and groove flooring, framing, doors, weatherboards
Things that shine – sequins, glitter, fabric, tape
Fabric in your favourite colours
Blinds, Curtains, drapes, sunshades, awnings, tents
Ratchets
Stretchy net fabric, non-stretch net fabric
Buttons and trims
String, rope, wool, batts, builders paper
House paints
Corrugated iron roofing
Netting
Old wooden ladders, stairs
Washing lines
Wires covered with plastic, electrical wires
Nothing new, everything that has been used, has been in the world.
I need your help to gather things like this:
to make things like this:
If you have items you think Sian might be able to use, or if you would like to discuss the project with her, please email her at christchurchmaterials@gmail.com with details (and, if possible, photographs). She will let you know where and when suitable items can be dropped off.
A Christchurch Art Gallery Outer Spaces project
Related reading: Outer Spaces