B.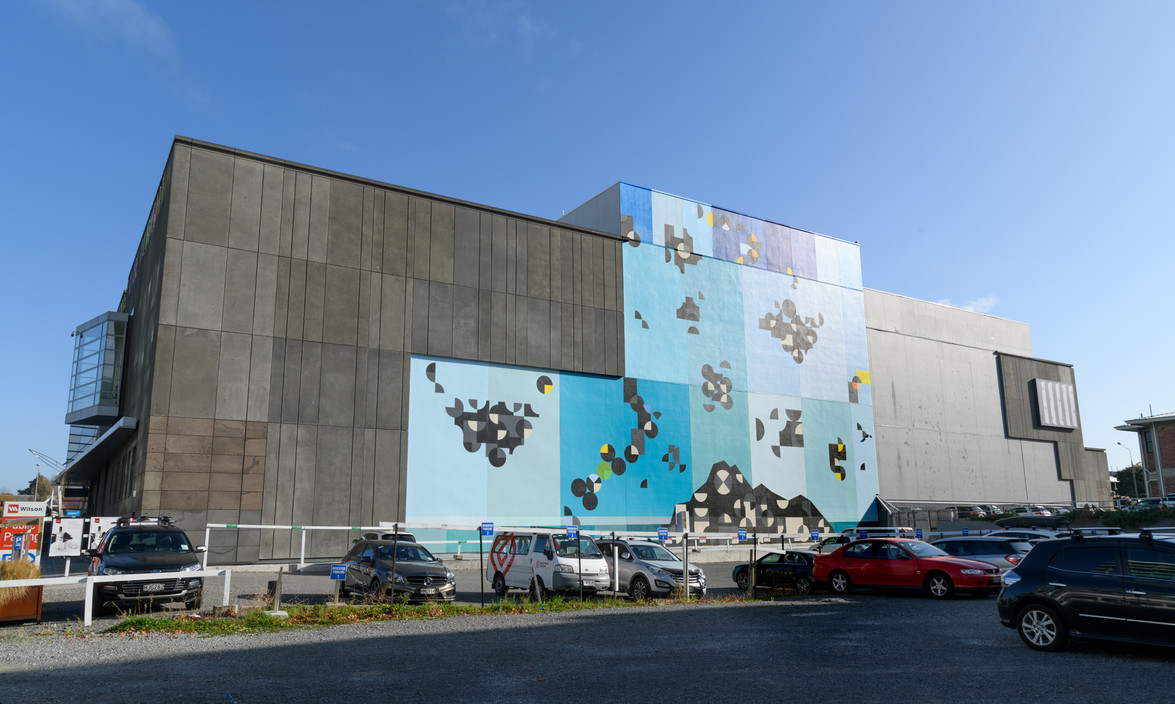 Massive wall painting marks opening of Te Wheke at Christchurch Art Gallery
Media Release
A 36-metre painting by artist Kelcy Taratoa is part of a new exhibition opening at Christchurch Art Gallery Te Puna o Waiwhetū on Saturday.
The vast, vivid wall painting, spanning the Gallery's outer east wall, was commissioned to accompany the major new exhibition Te Wheke: Pathways Across Oceania.
Lead curator Felicity Milburn says Taratoa's artwork weaves together a story of exploration and connection, in line with Te Wheke's wider themes of navigation, belonging and identity.
"Echoing the overlapping forms of the Māori art of tukutuku, this painting is about everything that binds us together, from the ocean to the stars."
"Within the painting's abstract composition are islands, a maunga (mountain) and kāhui whetū (cluster of stars). They relate to early voyages of discovery across the Pacific and how whakapapa (genealogy) can unite people in a common kaupapa, or purpose."
Best viewed from Worcester Boulevard, Te Tāhū o ngā Maunga Tūmatakahuki replaces Kay Rosen's Here are the people and there is the steeple, which had occupied the wall since 2012.
Te Wheke: Pathways Across Oceania is an immersive exhibition that explores art through our connections with the Pacific.
Developed by the Gallery's curators in collaboration with Stephanie Oberg, an independent writer and curator of Cook Islands heritage, Milburn says Te Wheke is an opportunity to view Christchurch's art collection from a new perspective – from Moana-nui-a-kiwa (the Pacific Ocean) outwards.
Te Wheke: Pathways across Oceania opens at Christchurch Art Gallery Te Puna o Waiwhetū on Saturday 30 May 2020. Entry is free.