B.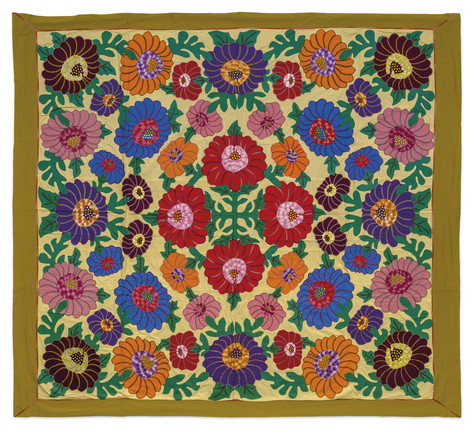 Hawaiki Tautau Atu, Hawaiki Tautau Mai / A Distance Draws Near
Te Wheke
Hawaiki is the ancient homeland of Polynesian people who navigated the seas in double-hulled waka from Rarotonga, Tahiti and Ra'iātea to the islands of the Pacific Ocean, including Aotearoa New Zealand.
In this section, following in the Polynesian understanding of the Vā – a 'space between' that honours connections and the sacred nature of relationships between people, places and things – we acknowledge the voices of artists past and present who descend from the Pacific's many island cultures.
Traditional art forms of hiapo, tivaevae, tapa1 and adornment are shown here alongside contemporary paintings, prints and photographs. Through continuity and change, they represent the ever-shifting narratives of Polynesian peoples.
Ko Hawaiki te kāinga i takea mai ai ngā iwi o Te Moana-nui-a-Kiwa, koia ko ngā iwi i whakatere waka hourua mai i tēnā motu ki tēnā motu, puta noa I te moana, tae rawa mai ki Niu Tīreni nei.
Kei tēnei taiwhanga o te whare toi nei, ka whakanuia ngā ringa toi huhua o Te Moana-nui-a-Kiwa – he wāhi motuhake tō tēnā, he wāhi motuhake tō tēnā, he tūāhuatanga e whakamana ana te whakapapa o tēna motu ki tēna motu i raro iho i te māramatanga o te 'Vā'.
E kitea ana i kōnei ko ngā tū hiapo, ko ngā tū tivaevae, ko ngā tū tapa, ko ngā tū whakarei o te ao kōhatu anō hoki. Ka whakaaturia ki tōna taha, he toi moroki pēnei i te waituhi, i te tā, i te whakaahua. Tai timu tai pari, mā ēnei tūmomo mahi ka tohua ko te whanaketanga me te rerenga haere kētanga o ngā pūrākau o tēnā motu, o tēnā motu o Te Moana-nui-a-Kiwa.