B.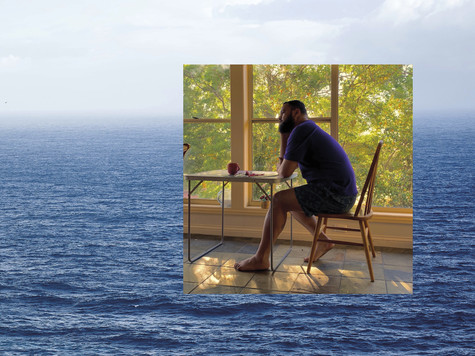 Te Wheke: Pathways Across Oceania
Te Wheke
Welcome – nau mai haere mai. Kei Te Ararau o Tangaroa / Pathways Across Oceania is an attempt to understand the Gallery's collection from the perspective of our place in Te Moana-nui-a-Kiwa, the Pacific Ocean. Full of stories of migration, connection and belonging, this huge new exhibition reflects the connections and tensions that shape our past, present and future.
Wheke means octopus in te reo Māori. For many cultures around Te Moananui-a-Kiwa / the Pacific Ocean, this resourceful, resilient, adventurous creature is a symbol of early voyages of exploration and migration from the Polynesian homelands of Hawaiki.
Its long tentacles stretch out across the ocean to Tonga, Kiribati, Hawai'i, Rapanui (Easter Island) and Aotearoa New Zealand. In this selection of art from the collection of Christchurch Art Gallery Te Puna o Waiwhetū and beyond, te wheke offers a way to understand how we are connected across time and place.
In Aotearoa, conventional art history tells the stories of art that ties us to Britain and Europe. The art in these pages looks in a different direction –from the Pacific outwards. Artists reach back to Polynesia and out into the world beyond, finding connections that are old and new.
Oceania is large and glorious. Like the octopus, it connects us along Pacific pathways with ideas of navigation, belonging and identity. Te Wheke opens up conversations about the journeys, tensions and connections that shape our past, present and future.
I ngā iwi maha puta noa i Te Moana-nui-a-Kiwa ko te wheke he tipua, hei tohu i ngā hekenga i Hawaiki ki tōna paenga atu. Ko ōna kāwai ka toro atu ki Tonga, ki Kiribati, ki Hawai'i, ki Rapanui, tae rawa ki Niu Tīreni nei. He whakakotahitanga a Te Wheke i ngā taonga o tēnei whare, o waho kē atu anō hoki hei tohu i ngā hononga whakawhiti wā, whakawhiti moana, whakawhiti tangata.
Ki Niu Tīreni nei, ka ahu mai anō te nuinga o ngā kōrero toi i ngā hononga ki Piritania, ki Uropi. Ka aro kē atu ngā mahi toi ka kitea i tēnei whakaaturanga mai i ngā hononga o Te Moana-nui-a-Kiwa puta whakawaho. Ko Te Moana-nuia-Kiwa te ranga wairua o ngā ringa toi, koia anō hoki te whakamānu i te tangata ki te ao hou.
He nui, he whakahirahira Te Moana-nui-a-Kiwa. Pērā i te wheke, ka tūhonotia ai tātou mā ngā ara moana, mā ngā ara mahara, mā ngā ara tangata. Ko Te Wheke hei ātea, hei waha i ngā kōrero kei waenga i ngā iwi o mua mai, o naianei mai, o āpōpō mai.
Ka mihia ngā kaituku taonga e Te Puna o Waiwhetū mō te ngākau nui ki tēnei kaupapa, ko Te Wheke.