c. 1930
Watercolour
Christchurch Art Gallery Foundation Collection, purchased 1996
458 x 480mm
L89/168
About the artist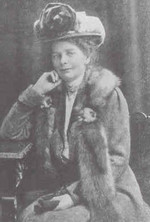 Margaret Stoddart, from The Weekly Press 9 June 1909
Margaret Stoddart painted many scenes of the Southern Alps, particularly in the Mount Cook National Park region in South Canterbury. Indeed, the lilies featured here are known as 'Mount Cook' lilies.
By the time she painted this work, Stoddart was widely recognised as the leading New Zealand flower painter of the time. The immediacy of the detail suggests that she did at least the preliminary work on site, rather than in the studio. The watercolour washes have the Impressionistic style that became Stoddart's hallmark.
Stoddart was born in Diamond Harbour, on Banks Peninsula, but in 1876 the family sailed for Britain and she received her early education in Edinburgh. The family returned to New Zealand in 1879 and in 1882 Stoddart enrolled at the Canterbury College School of Art. She was a founding member of the Palette Club whose members were concerned with painting out of doors. After living in England for several years, Stoddart returned to New Zealand in 1907 and settled in Diamond Harbour.
Related reading: Margaret Stoddart: Nature's Artist