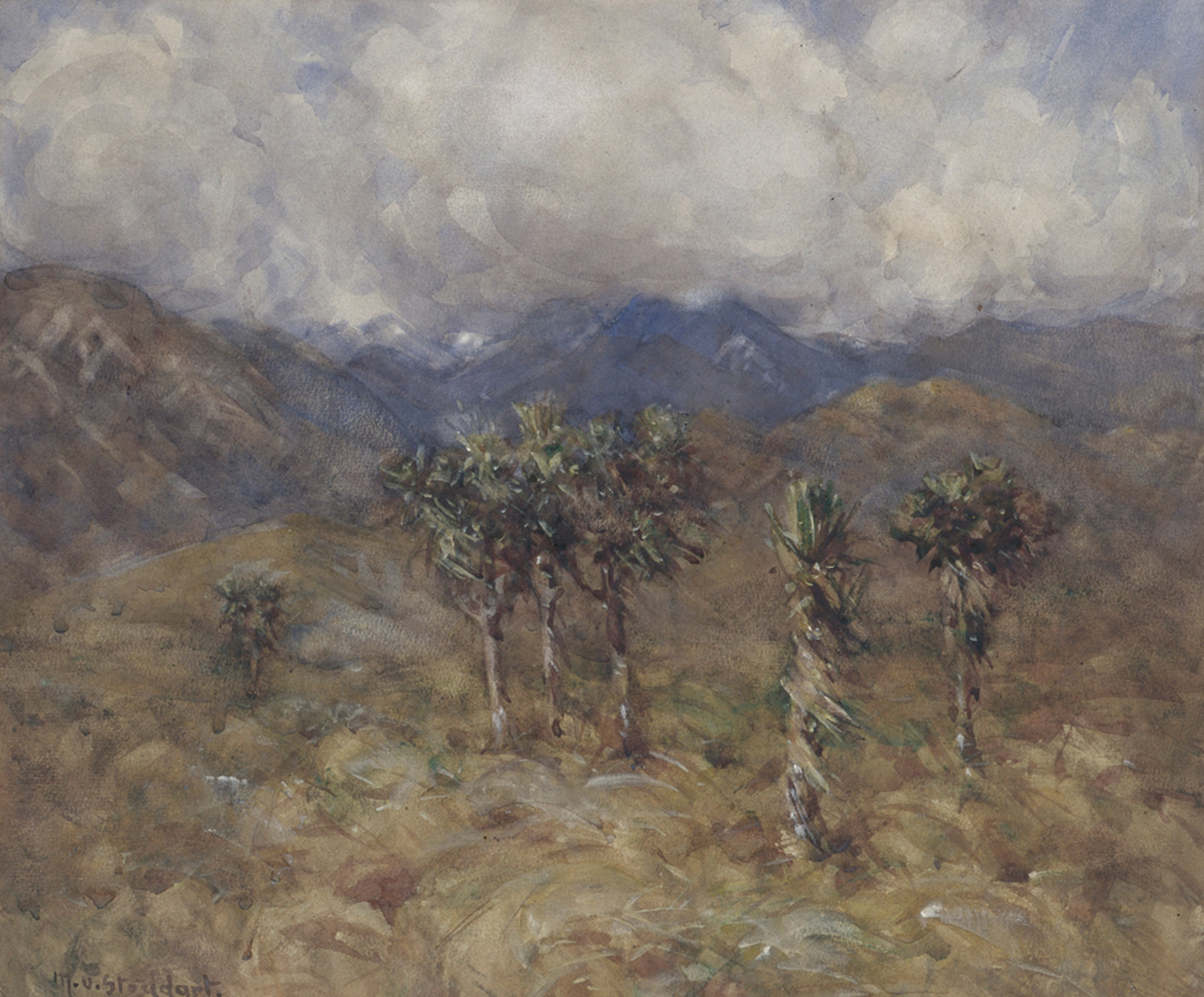 This exhibition is now closed
An exhibition organised by and held at the Robert McDougall Art Gallery, curated by Julie King.
Margaret Stoddart was probably New Zealand's best known flower painter. The considerable success she achieved during her lifetime and which her work enjoys with private collectors bears witness to her widespread popularity.
Flowers into Landscape: Margaret Stoddart is the first major exhibition of her work to have taken place since 1935. It charts her development, highlights the relation between her flower and landscape paintings and enables us to make a revaluation of her special achievements.
Born in 1865 in Diamond Harbour, Margaret Stoddart belonged to the first generation of colonial born artists. She enrolled at the Canterbury College School of Art in 1882 as a foundation student and became one of New Zealand's first professional women artists.
Typically for young women painters at the time, she began as a flower painter. The theme suited her interest in native plants and it provided an opportunity for her to travel into the Canterbury back country and in 1886 and 1891 to the Chatham Islands.
Margaret Stoddart also met with the Australian flower painter Ellis Rowan and in 1894 followed this meeting with a trip to Melbourne where she had a solo exhibition which gained glowing reviews in the press. It was as a leading and successful flower painter that, four years later, Margaret Stoddart travelled to Europe and made her base at the artists' colony at St Ives, Cornwall where Frances Hodgkins and D.K. Richmond visited her in 1902. Working at St Ives, the centre for contemporary English impressionists and landscape painters, encouraged Margaret Stoddart to add landscape painting to her own oeuvre and she introduced a theme that she was to develop into the impressionist gardens, spring blossoms and seasonal studies which became a major feature of her later work.
Around 1907, having exhibited at the Baillie Gallery, London, and with her works accepted for the Paris Salon and the Royal Academy, Margaret Stoddart returned to Christchurch. As her later works illustrate, she returned with a widened landscape perception and a renewed appreciation of the vividness and variety of nature which she expressed in paintings around her home at Diamond Harbour. Her paintings of Christchurch gardens and parks and of the seaside resorts at Sumner and New Brighton expressed her experience of developing European settlement. From the 1920s Margaret Stoddart concentrated increasingly on defining the distinctive native vegetation and character of the Canterbury and South Island landscape – scrub, tussock, mountain and plain.
Flowers into Landscape illustrates how Margaret Stoddart's development was related to her time. Co-curated by Julie King of the Art History Department, University of Canterbury and Neil Roberts the senior curator, and with many works drawn from private collections throughout New Zealand, this exhibition charts the principal stages in Stoddart's career and displays her continuous extension and development as an artist. It also illustrates the significant cultural shift in her perception and depiction of the New Zealand landscape during a long and illustrious career as one of New Zealand's first professional female artists.
This exhibition was held at the Robert McDougall Art Gallery in the Botanic Gardens.
Date:


19 November 1997 – 8 February 1998

Exhibition number:
635A
Collection works in this exhibition
17 items