c. 1912
Watercolour
Presented by the Canterbury Society of Arts, 1932
370 x 520mm
69/33
About the artist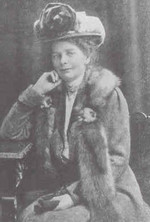 Margaret Stoddart, from The Weekly Press 9 June 1909
"I live out my own world & follow in the lives of Frances Hodgkins […] and other women painters," wrote Rita Angus. One of those painters was fellow Waitaha Canterbury artist Margaret Stoddart. Like Margaret, Rita developed a deep appreciation of botanical subjects in her work. Although both artists are known for their landscapes, their approach to watercolour couldn't be more different; Margaret's lively impressionistic approach contrasts with Rita's work, which is rich with the detail usually reserved for a botanical artist illustrating a scientific journal.
(Perilous: Unheard Stories from the Collection, 6 August 2022- )
earlier labels about this work
A popular flower in New Zealand at this time, roses were also a favourite subject of Margaret Stoddart's throughout her career. The Impressionist approach she has used in this watercolour is typical of Stoddart's mature style. Her use of broad washes and loose handling help to capture the atmospheric effects of light falling on the roses. On her return from Europe in 1906 Stoddart's approach was considered too 'modern' by many critics, however she gradually developed a reputation for her sensitive landscapes and flower studies. Stoddart was born in Diamond Harbour, on Banks Peninsula, but in 1876 the family sailed for Britain. They returned to New Zealand in 1879 and in 1882 Stoddart enrolled at the Canterbury College School of Art. She was a founding member of the Palette Club whose members were concerned with painting out of doors. After living in England for several years, Stoddart returned to New Zealand and settled in Diamond Harbour.