B.
An Otira stream (also known as Mountain Rata) by Margaret Stoddart
Collection
28 February 2014. Posted by Peter Vangioni
This article first appeared as 'Otira colour captured in all its summer glory' in The Press on 28 February 2014.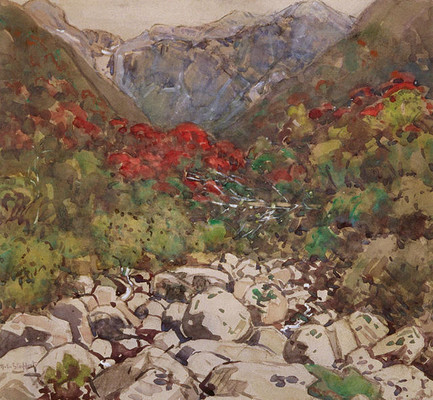 Paintings of the Otira Gorge more often than not depict the region in its most tempestuous mood, dark brooding clouds enveloping rugged mountain ranges, incessant rainfall and torrents of rushing water sweeping down stream beds. Petrus van der Velden's Mount Rolleston and the Otira River (1893) or John Gibb's Flood in the Otira Gorge (1895), both in Christchurch Art Gallery's collection, come to mind. Paintings such as these present grand monumental views of the Otira in its darkest and most stormy moods of the winter months.
Margaret Stoddart's vibrant watercolour An Otira Stream however presents a far more peaceful moment in the seasonal cycle of the Otira during the height of the summer months. The most distinctive features in this work are the scarlet red blooms of the Mountain Rata (Metrosideros umbellata) which provide a striking contrast to the greens and greys of the forest and stream bed. During the summer months of late January and February Mountain Rata transform the forested slopes of the Gorge into patches of shimmering red. There's not a cloud in the sky and the stream bed lies bone dry with the hot summer sun shining on the mountain tops beyond. These are perfect conditions for Stoddart, a renowned plein air (out-door) painter whose primary interest was in conveying the effects of light on the landscape before her, something she has certainly achieved here.
Stoddart first visited the Arthur's Pass region in 1896 when she completed a camping tour in a wagon with a group of friends along the West Coast Road. She returned towards the end of her career around 1927 by which time she had developed a broad, fluid style of painting that is full of confidence and conviction. Stoddart is much admired for her still-life flower paintings and in An Otira Stream she blends her interest in flowers with the rugged mountainous landscape through the focus on the Mountain Rata blooms.
The Christchurch Art Gallery holds an impressive collection of 40 paintings by Stoddart with examples spanning her career of some forty years from the 1890s to the 1930s. Amongst these are stunning examples of her work as a still-life flower painter, plein air, impressionist influenced paintings completed during her extended stay in Europe from 1898 to 1906, as well as street scenes of Christchurch; but one of the highlights is An Otira Stream.
Mountain Rata are in bloom at Otira Gorge at the moment and would be well worth the effort to view if you happen to be heading up and over Arthur's Pass in the next week or so.
Related reading: Margaret Stoddart: Nature's Artist