c. 1902-c. 1906
Watercolour
Purchased 1959
246 x 342mm
69/26
About the artist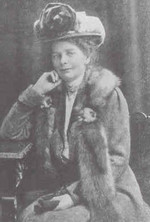 Margaret Stoddart, from The Weekly Press 9 June 1909
Margaret Stoddart's painting style altered dramatically during the period she spent in Britain between 1898 and 1906. She was based at St Ives, Cornwall, where there was a large contingent of artists whose interests lay primarily in impressionism and plein air painting.
Although the exact location of The Moors is not known for certain, the painting highlights Stoddart's development at this time. Painted outdoors, loosely applied wet washes of subdued colour effectively convey the overcast atmospheric conditions, which are contrasted with several brightly coloured flowers in the foreground.
Stoddart was born in Diamond Harbour on Banks Peninsula, but in 1876 the family sailed for Britain and she received her early education in Edinburgh. The family returned to New Zealand in 1879, and in 1882 Stoddart enrolled at the Canterbury College School of Art. She was a founding member of the Palette Club, whose members were concerned with painting outdoors.
Related reading: Margaret Stoddart: Nature's Artist