B.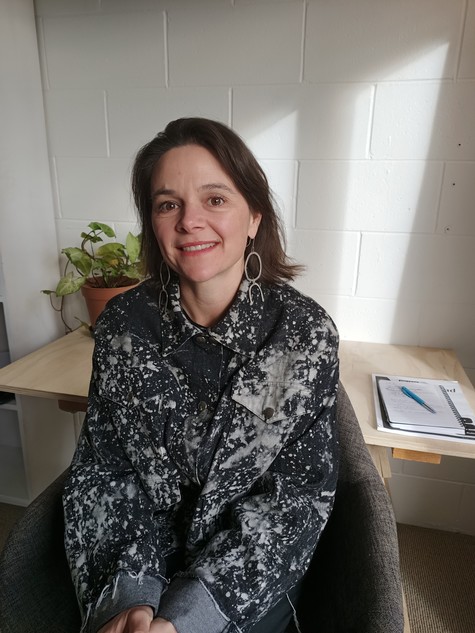 Meet Melanie
Note
Melanie Oliver is our new curator. It's obviously pretty hard to introduce her properly when we're in lockdown, so we asked Gallery staff to each ask her a question so you could get to know her.
60 Seconds with Melanie…
What is your first memory of an art gallery?
Well, my ballet recital when I was very little was at Pakuranga Arts Centre, where Te Tuhi is today, but I don't remember going to art galleries as such as a child. When I got to high school, my friends and I were passionate about art history and we had a couple of great teachers who encouraged us. I remember sneaking into the city to see art history lectures with someone who I think must have been Leonard Bell, and I guess we must have visited the Auckland Art Gallery too. My first proper engagement was as a tertiary student though. Studying at the University of Otago I was an avid fan of Dunedin Public Art Gallery. In my last year of university, I started working Saturday mornings at Hocken Library Pictorial Collections with Linda Tyler, and I've worked in galleries ever since.
What was your first published piece of art writing about?
I was the arts editor for Critic, the student magazine at univeristy, and then in my last year of study, I started writing the art reviews for Otago Daily Times. They were pretty terrible! But I got to write about artists showing in Dunedin at the time, artists like Simon Kaan and Nicola Jackson, and it was a steep but enjoyable learning curve.
Tell us about a memorable exhibition you've visited.
I think the most influential exhibition I've been to was The Living Museum at the MMK in Frankfurt in 2003. It was truly alive and interactive, with loud music from the Red Hot Chili Peppers spilling through the spaces, paint from the Nedko Solakov continuous installation being walked from one gallery to the next, Erwin Wurm performative works, Paul McCarthy and more. I loved that it was loud, busy and funny, and that it seemed to be rethinking what the museum could be. A bunch of art students were paid to hang out in the galleries for their summer holidays, just drawing or mucking around, and the idea that artists should always be at the centre has stuck with me.
Most overrated and most underrated work of art?
I don't think that's an easy question to answer because the relevancy of an artwork changes over time. I believe that certain works are incredibly important in one situation, but that might not last forever, and in the same way, something that appeared more marginal, could end up saying something significant to someone. I always ask myself, why this? Why here? Why now?
What's been your favourite bit about working at Christchurch Art Gallery Te Puna o Waiwhetū so far?
Haha, well, I started on the day our Level 4 lockdown was announced, so it's been an unusual start. But I'm really looking forward to working with everyone at the Gallery in real life… it's an amazing institution. I have also really enjoyed engaging with the collection–it's full of so many exciting works, and it's always growing–and all available online.
What's your favourite thing about Christchurch?
I used to love running in the Port Hills. I haven't had the chance to do that yet, but once we're free to use the trails again, I'll be out there as often as I can... if I'm not further afield!
Do you have any animals and if so, what are they and what are their names.?
No animals, but I do enjoy photos of grumpy cats.
What are your favourite public art works?
I actually love Llew Summers's Wrestlers in Hagley Park. It gave me such a fright when I first came round that corner of the path because I thought they were real. It always makes me laugh remembering that moment. I also love Pauline Rhodes's outdoor sculptures, which we only get to see as photographs. The public art that I enjoy most is temporary, like Australian artist Mark Shorter who dug a large hole in Christchurch, on Manchester Street, for 72-hours, just after the earthquakes. It felt very poignant. He was digging his way to La Mancha in Spain, in character as a sort of Tino La Bamba guy, but it connected with me on all sorts of levels: a reminder of the Frank Sargeson post-WWII short story 'The Hole That Jack Dug'; but also the futility of it all at that time. When art makes you cry, you know it's important.
Where is the furthest you've travelled and what was the most beautiful place you have been to?
I've been very lucky to have travelled a lot… St Peterburg is the furthest I've been. I've visited some amazing cities, like Athens and Istanbul, and I've climbed some incredible mountains, in the Swiss Alps and Indonesia, or closer to home the Kepler Track. But I'd say the most beautiful place in the world is Te Henga, the beach that I would hoon out to as a teenager living in West Auckland.
Can you choose three desert island books? At least one has to be fact and one has to be fiction.
That's difficult. Not three boxes? Okay, Labyrinths by Jorge Luis Borges because it's different every time you open it and I haven't read it in a while; Māori Made Easy; and Anne Salmond's Tears of Rangi.
What is the most inspirational book you have read and why?
The Moro cookbook–it showed me a completely different way of making delicious food.
What are you watching (on TV/ Netflix) right now?
I don't really watch TV, but I did watch The Casketeers and highly recommend it!
What is your favourite time of day... and why?
I like having a cup of tea at 2pm. At that point there's still the potential to get lots done if you haven't already, but if you've been busy, you can take a break. It's also a good time to chat to people.
What is your go-to comfort food? Takeaway and cook at home…
I'll eat a vege burger or thai curry takeout if I have to… but I always prefer to cook. I find chopping vegetables sort of relaxing. I love a tofu and vege stir fry with plenty of ginger on brown rice. I like simple, fresh food.
What's the most unexpected thing that has happened to you?
Becoming a curator. I would never have thought this is what I would do.
What was your childhood career dream?
I wanted to be an astronaut.
Favourite song to beat isolation fatigue?
Kate Bush's Running Up That Hill.
What super powers would you have?
The ability to change capitalism.
Do you play an instrument?
No, but I love music.
What makes you laugh the most?
Lots of things make me laugh! When we're back from lockdown, I pity those in offices near to me… but I guess I really like it when observations are close to the bone. Like Tom Sainsbury.
What sort of motorbike do you ride, and is it hard to not fang around on your bike right now?
Yes! I miss riding my bike so much! I have a Honda GB400 from 1986. It's a café racer, named after how Italians used to race short distances between cafes, and was made to recall the 1950s British bikes. I've been riding about three years now – it's very liberating! You should get one. Very economical. And fun.
What star sign are you?
Capricorn. Climb that mountain.
If you had to move to another planet, what would it be?
Sorry, but I love this earth. It's the only one we have… so I'm tyring my hardest to be good to it.
What is your favourite New Zealand movie?
An old favourite is Alison Maclean's short film Kitchen Sink. One Thousand Ropes was incredibly powerful, and I'll watch anything by Florian Habicht.
If you could live with only one artwork what would it be?
I have a painting from Tahi Moore that I find very reassuring, so it would have to be that.
Do you collect anything, and if so, what?
Books, and I really like Temuka pottery… but I'm at capacity.