B.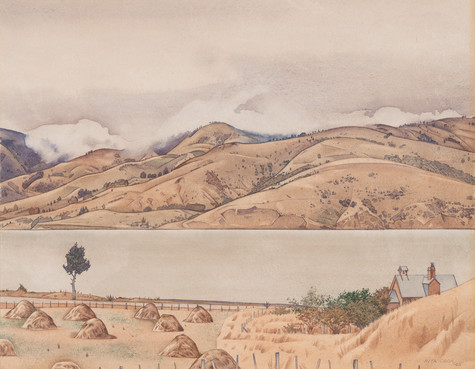 In March 1943 Rita Angus spent several weeks staying at a friend's family bach in the small settlement of Wainui in Akaroa Harbour, a refuge in the midst of World War II. It was here that she produced some of her most accomplished watercolours, small gems where the landscape is so delicately defined it's as if she painted them whilst looking through a telescope. There are five known watercolours of Wainui and the surrounding Akaroa Harbour from this period and the Gallery is fortunate to hold four of them.
Most recently the Gallery was offered this gem of a painting by a Canterbury family with a strong farming connection to the region. The watercolour was originally purchased by a member of the family directly from the artist during her Wainui retreat and has remained a family treasure over the following decades. The quiet sanctuary Wainui offered the artist at this time belied the turmoil she would face on her return to Christchurch. As a committed conscientious objector she refused direction by the Industrial Manpower Committee to work in a rubber factory, a job that contributed directly to the war effort. In 1944 she was prosecuted; her appeal was dismissed and yet, sticking to her pacifist beliefs, she continued to ignore the directions to work in the factory.
Wainui has changed little since 1943 – there are a few more baches in the settlement, but today it continues to offer visitors an opportunity to relax, unwind and enjoy the peaceful surrounding landscape.
Related reading: Rita Angus, Covid-19