B.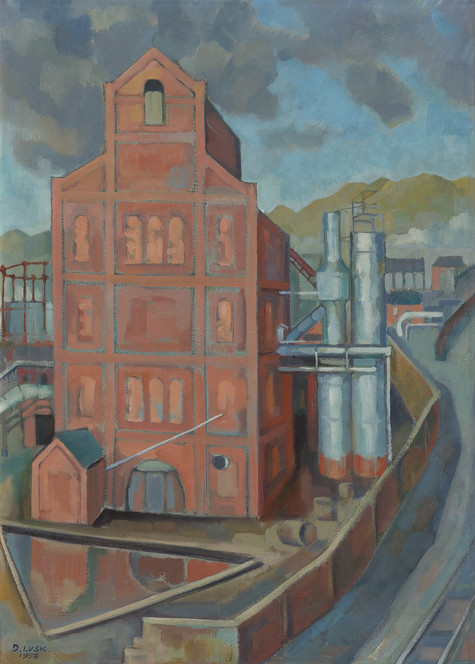 City Gasworks, Christchurch by Doris Lusk
Note
22 April 2020. Posted by Peter Vangioni
If you grew up in Christchurch before the city's gasworks was decommissioned in 1982, you'll almost certainly remember the grimy industrial building that dominated the scene next to the Waltham Street overbridge. It was maybe the most industrialised site in the city, where dirty columns of smoke bellowed out from chimney stacks signalling coal being fired to create gas for residents and businesses. It was a subject that captivated painter Doris Lusk. She had previously painted the Dunedin Gasworks in around 1935, and also turned her hand to painting many other industrialised sites – hydroelectric stations, Christchurch's Pumphouse, sluice mines at St Bathans, the wharf at Onekaka, and numerous roads and railways slicing their way through the green countryside.
City Gasworks, Christchurch was returned to New Zealand after sixty years overseas when it was presented to the Gallery by Martin Prior in 2019. The painting was acquired from the artist shortly after it was completed by Martin's parents, Arthur and Mary, who took it with them to England in 1959. A renowned philosopher, Arthur Prior taught at Canterbury College University during the 1940s and 50s before taking up a professorship in 1959 at Manchester University. And so the painting remained unknown here in New Zealand until its return last year.
Martin had earlier presented Colin McCahon's painting Canterbury Plains (1950–51) to the Gallery in 2017 and it was while looking at this work with him in the exhibition Waiting for a Train: New Zealand Modernist Landscapes that we also viewed Rita Angus's painting of the Christchurch Gasworks. Martin mentioned that he had a painting of the same subject by Lusk back in England and that perhaps the Gallery might be interested in this as a gift as well? I immediately replied in the affirmative, yes please! The painting was dispatched back to New Zealand shortly afterwards, and you can view City Gasworks, Christchurch in the exhibition Persistent Encounters when the Gallery reopens.
Related reading: Covid-19