B.
Five years on
Blog
Today is the fifth anniversary of the February earthquake of 2011 which devastated Christchurch. During that time, we and our city have been through so many different phases.
In the months that followed the earthquake, our Gallery became the headquarters of Civil Defence and CERA operations. Works of art from three newly-installed exhibitions were packed away to allow for people and makeshift work spaces. A stream of soldiers, journalists, politicians and other workers flowed through the foyer; our wavy glass façade became a symbol of Christchurch, as news reports were screened world-wide.
Initially, we imagined we'd able throw open our doors once more when they left; we planned no fewer than three reopening programmes in 2011 alone. But slowly it became clear that more needed to be done. Engineers were assessing this building for damage; and clearly the Gallery Apartments behind us needed to be demolished. We had to move more than 6,300 works of art into the exhibition spaces closest to Worcester Boulevard and move out ourselves while this was done.
However long we were closed, we decided we must to find ways to stay relevant, and to ensure art was part of the recovery. We chose to take our Outer Spaces programme city-wide. Collaborating with artists and organisations like GapFiller, we inserted moments of surprise, humour, colour and wonder into post-quake Christchurch. We showed art in three consecutive spaces: above NG on Madras Street; in the ArtBox complex on St Asaph Street and above C1 Espresso at 209 Tuam Street. In addition, we showed Reconstruction: Conversations on a City on billboards along Worcester Boulevard and made exhibitions for the Central Library on Peterborough Street, in the Wigram Skies development and in various empty lots, on walls and buildings around the city. We even organised the touring exhibition, The Hanging Sky by Shane Cotton, thinking we may be open in time to be the final venue.
For me the personal highlight of the Outer Spaces programme was showing Michael Parekowhai's Venice Biennale presentation On first looking into Chapman's Homer, in an empty lot in Madras Street (we had to get red zone fences moved) with the beautiful red, playable, Steinway piano hoisted into the space above NG and played constantly for 30 days. No wonder there was a call for Christchurch to buy its favourite bull on a bronze piano – comfortably now in the foyer, having visited several city sites in the interim.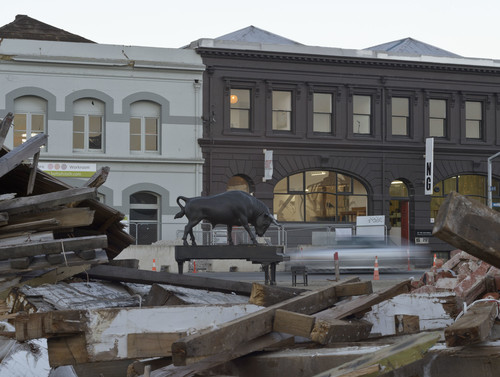 We also became increasingly active in cyberspace while we were closed, putting our entire collection online, applying Getty tags and creating My Gallery. We wrote and photographed and published and expanded into social media. Our efforts culminated in the creation of this new website and its rich content.
All art galleries rely on trust and reputation, and we knew that we needed people to trust the structural integrity of the Gallery building, particularly if we wanted to host major exhibitions again. During 2012 the City Council agreed to fully retrofit the Gallery building with base isolation as part of it repair. This will give lenders confidence and ensure less operational downtime should the area suffer another major earthquake.
In October 2013 repair works finally started. Once again the Gallery was filled with people in hi-vis clothing, but this time we welcomed them as symbolic of our own recovery and left to find other places to work. A big thank you to Canterbury Museum which housed some of us.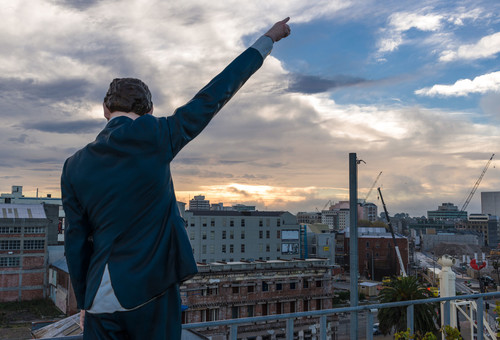 Throughout countless project meetings, we became determined to open our doors at 10am on 19 December 2015—a mere week after project completion—and we stuck to that deadline. It was one of the best moments of my time as a gallery director when our staff and their families gathered in the foyer to welcome our first visitors on the dot of 10am. We clapped them and they clapped us back!
During our first weekend just over 10,000 happy citizens returned to the Gallery, with well over 100,000 visitors in our first two months. Our reopening will help transform the city west of the river – and we recognise more than ever how Christchurch needs its gallery.

As I think over the last five years then, it is with gratitude for the continuation of city funding during our closure. It is with sorrow, as I think of all that has been lost, that we will not see again. But finally, it is with excitement, as I consider our plans for the future. We are self-assured and ambitious as we face the future; we want to be the most visited and best-loved art gallery in New Zealand. We see ourselves as the pulse of a new city, and we hope that you can visit the fully open spaces of Te Puna o Waiwhetū Christchurch Art Gallery often.