Everything is going to be alright
The cover of Bulletin 181 in September 2015 featured a miscellany of crates in storage, several marked fragile, one weighing 156kg, some with arrows indicating which way up they should be, others instructing the reopener to lay it flat first. Some bear an image of what's inside. Ralph Hotere's Malady Panels and Julia Morison's Tootoo are there, one with a label, the other with an image of the installed piece. As I write this our collections remain in storage. A few new works and some which have been on loan are awaiting return from storage within other institutions.
A brightly lit public statement on the outside of our Gallery optimistically indicates how much closer we are now to reopening. This edition's cover features Martin's Creed's new neon, Work No. 2314, 2015. Commissioned by the Gallery's Foundation, it became a gift to all of us in Christchurch from the remarkable Neil Graham (Grumps to his many friends) who died a few days after it was turned on at our Foundation's gala dinner on 26 September. This new work of art clearly proclaims that 'everything is going to be alright,' and to my mind it shall be when Te Puna o Waiwhetū reopens!
Symbolic of this moment, the neon will shine forth for years to come and become a vehicle for all the meanings we bring to it. For, as with all art, our receptivity and the quality of time and energy we give to looking are crucial to our understanding. I hope this work becomes and remains a simple message of reassurance to most of us, most of the time. Grumps was pleased when he heard that at 4.23am, after it was turned on, someone posted on Facebook that they could see the work from their hospital bed and they were thankful for its message.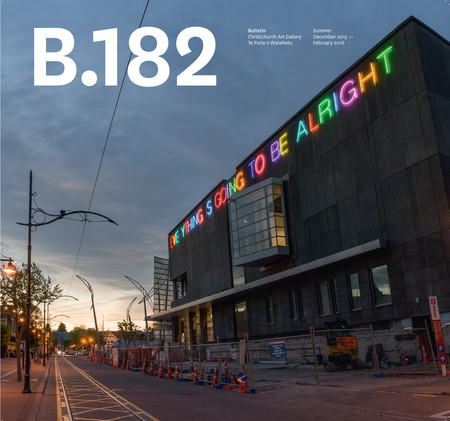 As our Gallery's reopening approaches, spaces are being painted and cleaned, their climate control tested, so we can populate them with the art which has been in storage for much too long. Before we are flung into the joy of being ourselves once more, this is an appropriate time to reflect on the last five years.
In our current edition of Bulletin we remember the role our building played in symbolising Christchurch, protecting us and our art collections and—in a sense also—our future. After the 2010-11 earthquakes, any vestiges of misgiving some had about the Gallery's architecture were forgotten. This community was in awe of the engineering triumph the Gallery, glass façade intact, proved to be. We recall the time when our Gallery was taken over as civic and national emergency headquarters. It was commandeered after 4 September 2010 for ten days—it seemed a lifetime at the time—and then, following 22 February 2011, for an extended seven months. Thanks to Lara Strongman for collecting and collating impressions and memories from this time.
Recalling our closure from her curatorial perspective, Felicity Milburn has written an overview of Outer Spaces, our series of exhibitions while the Gallery was closed. We learned a lot—about ourselves and our role as Christchurch's publicly-funded art museum—through exhibiting in largely uncharted waters beyond the Gallery's walls. We engaged in large and smaller exhibitions and publications, inside and out, conventional and less so, some 100 projects altogether.
While we've been closed we tackled many back-of-house tasks, developed new forms and standards and generally gained new skills. Getty thesaurus terms and geographical coordinates showing places related to each piece, were applied to works in the collection. Our curatorial staff and our librarian have provided fortnightly columns on a work from our collection to The Press, some better known than others. This well-received initiative reminded local people of both our presence and that of our loved collections. In some cases also, it served as a way of heralding newly-acquired works in advance of our reopening.
While it has been an amazing challenge to maintain the Gallery's public profile and keep an admittedly-reduced staff active and engaged, we are grateful for the continuation of city funding during this time. Desperate as we've been to reopen throughout, we have been enabled to continue to show how good art really matters by making a consistent contribution to the raft of transitional activities which has characterised Christchurch during the last four and a half years. Oh, for this time to be over, however!
We've learned over the last few years just how much more complex it is to predict the end-date of a repair project than a new build. Various realities emerged from the woodwork, so to speak, and set us back; and it's frustratingly impossible to make improvements, even sensible and obvious ones, during an insurance-related repair such as this.
But we are hugely pleased that back in 2012, Council agreed to retrofit base isolation. This will be a major help to us as we reassure potential lenders that—despite being located within an earthquake zone, like much of the Pacific Rim—the Gallery is a safe place for loans and touring exhibitions, such as the hugely successful Ron Mueck in 2010-11. Although it has taken time, the insertion of base isolation also means that we'll never have to close this key cultural facility for so long again. Interestingly, as things have turned out, this single intervention also became the most cost-effective way of repairing our building. Initially approved as a betterment, it's turned out to be the best single way of bringing the Gallery up to the new building standard.
Looking to the future it's great to announce that two new publications will be available when we reopen, both nurtured into fruition by editor, Sarah Pepperle, and designed by Aaron Beehre. 101 Works of Art marks our reopening in a special way; and a second book demonstrates the careful thinking behind our collections-based opening installations.
Our Foundation's TOGETHER endowment scheme has brought into our circle a wonderful range of supporters, new and more long-standing. Although we're not yet fully subscribed, progress over the year since it was launched has been marvellous. We're around sixty percent of the way to our goal of an endowment to support the Foundation's key raison d'être of working with us to ensure future active collecting.
The neon will shine forth for years to come and become a vehicle for all the meanings we bring to it.
Alongside the committed individual supporters noted in this Bulletin, let me also introduce to our readers four great energised firms. We're delighted to welcome Chapman Tripp, EY, Fulton Hogan and NZI as Gallery strategic partners for the next three years. Some are known to us as supporters of past exhibitions, for example, EY generously supported Bill Hammond's Jingle Jangle Morning in 2007. NZI have chosen to back art and Christchurch Art Gallery as a symbol of regeneration. Fulton Hogan have been on site since August 2014 and we think they're an obvious partner for us (we joke about how we love them, but how much we need them gone!). And Chapman Tripp are returning to the central city and we're delighted to have their support as well. You'll see these companies advertising in Bulletin over the next while—it's part of the deal. For being publicly-funded is not the same as being fully-funded.
We're also pleased to welcome new product partners, Singapore Airlines, the Gallery's exclusive airline supporter; Ryman Health Care; Three Boys Brewery and Samsung. We'll continue to thank some great individuals and companies for tangible evidence of their commitment to art and culture in our city. Let me also thank all who have commented in this edition of Bulletin on the role of arts and culture in the city.
It's been clear during recent commentary about the funding of public art in this city that some (perhaps a vocal few) think art is far from a necessity at this time in our recovery. Unsurprisingly, I disagree. While it will no doubt gnaw away in my mind in the interim, I shall assemble my thoughts into an argument and write on this when life settles a little more. This stage of transition in Christchurch has been immensely draining on all sorts of levels, personal and professional. But while I have no doubt we'll look back and assess things differently with more reflection, few have been as clear and simple as Grumps. In hospital, a week before he died, he stated with conviction: 'The arts and the people who work in them have made a real difference to Christchurch after the quakes; they've helped the psyche of this city while it recovers.'
When you receive this edition, we'll be within weeks of reopening. It's the reopening we've dreamed of but, in many respects, it won't be a dream reopening. It seems likely to be a work in progress, with our return to being fully operational staged following the completion of base isolation on 4 November. This is Christchurch. We are and have to be pragmatic as well as hopeful—to continuously remind ourselves that everything will be all right.
While our target is to have all the gallery spaces re-hung before Christmas, time is already tight. We'll open on the weekend of 19-20 December 2015 with as much as we can, but with a sequence of other developments still to come: the shop, the café, the car park, the remaking of our workshop (to be suspended under the building) while the final staff and library move back is not likely until February 2016.
Nonetheless, we're positively planning a wonderful summer of art for all ages with a major weekend of celebrations over Waitangi weekend in early February 2016. Please join us! Come often to enjoy what we are able to share; and show how much you appreciate our return!