B.
Aroha ki te Takata a Rohe
Behind the scenes
Voluntary work is work done of one's own free will, unpaid, for the common good.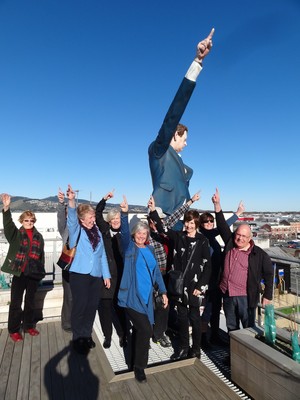 Today is International Volunteer Day.
We wish to acknowledge and thank our team of 34 Gallery Guides who have continued to give about 1000 hours each year since our building has been closed for repairs. (The Guides gave over 3000 hours each year when our Gallery building was fully open).
This year, our Guides supported our education programme in the first three school terms by guiding groups through our hugely successful Burster Flipper Wobbler Dripper Spinner Stacker Shaker Maker exhibition at ArtBox.
They have added to the visitor experience by guiding tours and monthly art clubs at our offsite exhibition spaces, including Shane Cotton: Baseland.
Guides presented Art Bites on a single work to connect our visitors with the city's collection, currently in storage while we are closed.
Guides have also supported our public programmes at special events, holiday programmes for children and have presented works from our collection at rest homes and our new outreach initiative called ARTSheimers, in association with Alzheimers Canterbury.