B.
What's the difference between a piano and an onion?
Behind the scenes
Answer: No one cries when you chop up a piano.
Apparently that's only the third worst piano joke of all time...
... and I can think of a long list of people who might get very upset if we even hinted we might scratch this piano. However, the point of the lame 'joke' is that last weekend I got a text from a friend who had just been to see our Parekowhai exhibition, where she'd been treated to Flavio's performance on He Kōrero Pūrākau mo Te Awanui o Te Motu: story of a New Zealand river.
The gist of her message was that she had found the whole experience so overwhelming that she'd had to remove herself from the room, lest her sobbing draw too much attention.
The funny thing is that I've now spoken to quite a few people who were moved to tears by the exhibition. Most of them don't readily admit to that sort of thing. But there is something in the combination of the physical and audible beauty of the object in relation to the starkness of its setting that makes a connection.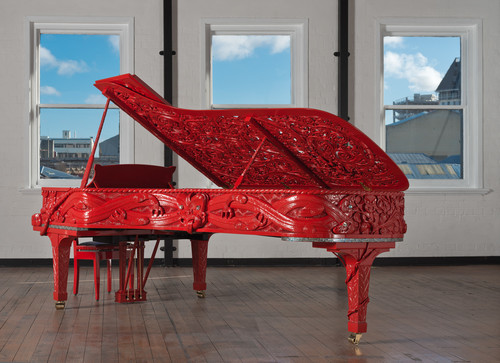 This weekend, as indeed every day of its month long tenure here, the piano will be played throughout the day. The pianist this weekend is Ariana Odermatt, who also performed when the exhibition was presented at the Venice Biennale.
But the nature of the collaboration between artist and performer is such that each player, from concert pianists to local school students, is free to bring their own musical choices to the instrument - you can come see it every day and you'll not have the same experience twice.