B.
Heavy Metal #3
Behind the scenes
Check out this amazing Columbian printing press that was recently discovered in an English garden.
The Columbian handpress was one of the most beautifully designed printing presses to emerge in the 19th century. Designed by George Clymer in Philadelphia around 1813 printers in America weren't too taken with the design or the elaborate decoration embellished all over the press and Clymer relocated to London in 1817 to try his luck. The press proved a hit with printers both in the UK and Europe and today is viewed as a high point in the use of cast iron.
Only six Columbian presses remain in New Zealand, most are in museums where they sit as static displays or, worse still, locked away in storerooms, but thankfully two are still in regular use at the Holloway Press, Auckland and the Otakou Press, Dunedin.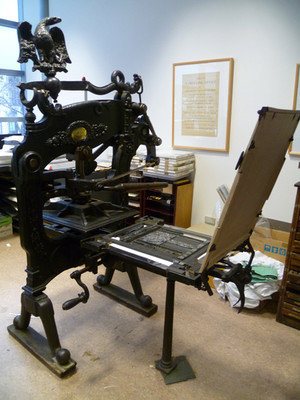 The Columbian above, at the Otakou Press, was used by Ralph Hotere in the 1970s to print several versions of Bill Manhire's poem PINE, using a variety of wooden type. More recently Caren Florance, one of Australia's leading letterpress printers, used this Columbian to produce the folio of poems by various New Zealand and Australian poets titled PRIME. You can view Caren printing on the press while she was the Otakou Press Printer in Residence in 2010 here.
Meanwhile up in Auckland it's great to see that Tara McLeod, the resident printer at the Holloway Press, still operates the Holloway's Columbian.