B.
The Satara Player by Petrus van der Velden
Collection
Things are not always what they seem. What looks like the result of an artistic foray into exotic lands is, in fact, an 1894 portrait of a Christchurch busker who posed in the studio of Petrus van der Velden.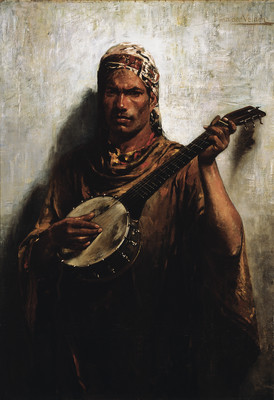 On the surface, Petrus van der Velden's painting appears as an evocative 19th century image of the exotic east - a Moorish musician painted in some heat-drenched Moroccan souk or a street called straight from somewhere east of Suez. Filled with sun and tinged with mystery, the Dutch painter's proud musician symbolises a Victorian fascination with the Orient.
In art, all is not what it sometimes seems. In real life the "Arab" street artist was a Cathedral Square busker suitably costumed in scarves and bernous and posing in the colder light of a Durham Street artist's studio.
Van der Velden probably sketched similar musicians in Egypt and Aden during his voyage to New Zealand in 1890. When he painted this portrait in 1894 he employed the Christchurch street musician, suitably dressed in Arab costume, to complete his only known painting of an Oriental subject.
The year before he painted The Satara Player, Van der Velden had established two studios behind his Durham Street home where he held classes for students in one and painted in the second. By 1894, he was struggling financially. Unable to afford a suitable length of canvas for The Satara Player he had two spare lengths of canvas sewn together by a Lyttelton sailmaker. More than a century later, the uneven surface where the two sections were joined can still be seen towards the base of the work.
The Satara Player was first exhibited, with a price tag of £100 at the Canterbury Society of Arts Annual Exhibition in March 1894. Its exotic nature was immediately popular among visitors. The Lyttelton Times reviewer commented that it "would attract attention in any exhibition and is full of fine work which cannot be too highly praised", while The Press recommended the picture to young artists as a study of colour and figure painting with the details "most artistically painted".
Despite this critical acclaim, the Canterbury Society of Arts failed to raise the necessary funds to purchase the painting.
Two years later, disillusioned and in poverty, Van der Velden sold off his possessions intending to leave Christchurch.
His supporters rallied around him, organising an art union of his works to raise money for the struggling artist. The Satara Player was second prize in a pool of seven paintings. Van der Velden took 100 unsold tickets for himself - subsequently drawing out the first, second, third, fourth, and sixth prizes and creating immediate controversy. The notoriously prickly Dutchman then declined to present the paintings he won to the Society of Arts but did remain in Canterbury for two more years.
The Satara Player was eventually bought by one of his patrons and student, William Bassett.
In 1964 it was bequeathed to the former Robert McDougall Art Gallery by his daughter, Majorie Bassett.
Peter Vangioni