c. 1940
Wood engraving
Presented by Mr F. A. Shurrock, 1961
650 x 550mm
69/455
Ōtautahi Christchurch printmaker Leo Bensemann excelled at wood-engraving, a medium that allowed him to fully utilise his skill as a draughtsperson and develop his interest in line and pattern. With its range of mark-making and use of patterns, Death and the Woodcutter is a stunning example of Leo's ability in this most difficult of print mediums. This print also locates a European fable within the New Zealand landscape – the plain, foothills, mountains and nor'west cloud arches bring to mind the Waitaha Canterbury region. Although not a prolific printmaker, likely due to having to balance his work as an artist alongside his day job as a designer, printer and manager at the Caxton Press, Leo's wood-engravings remain some of the most imaginative and skilled to have been produced in Aotearoa.
Ink on Paper: Aotearoa New Zealand Printmakers of the Modern Era, 11 February – 28 May 2023
earlier labels about this work
Leo Bensemann was one of the few New Zealand artists to produce wood engravings during the 20th century. He was deeply interested in literary subjects, which he freely interpreted in his unique, sometimes bizarre, manner.

Here, Bensemann has based his image on Aesop's most famous fable, but he has set it in a Canterbury landscape. The foothills and mountains are reminiscent of the Southern Alps and the cloud formations are characteristic of the region's hot, dry föhn wind, known as the Nor'wester.

Bensemann moved with his family to Nelson in 1920, then to Christchurch in 1929 where he worked for an advertising agency. He attended evening classes at the Canterbury College School of Art between 1932 and 1936. In 1934 Bensemann met poet and publisher Denis Glover and became involved with the Caxton Press, with which he remained associated until his retirement in 1978. Bensemann was a regular exhibitor with The Group from 1938.
Related reading: The Golden Age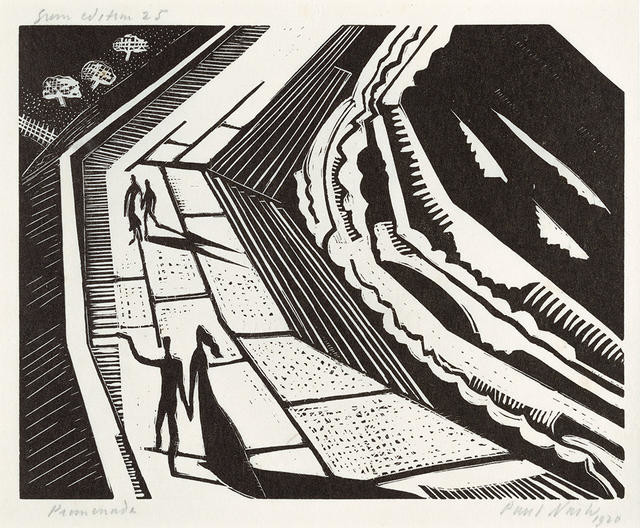 Paul Nash was a member of England's Society of Wood Engravers in the 1920s, and this work, one of his earliest wood engravings, highlights his instinctive approach to the medium. Rather than be tied down by traditional wood-engraving practices of precision and accuracy of line, his mark-making is free and immediate. A jagged, hard-edged perspective intensifies the scene. The waves breaking on the seawall form a series of varied, simplified patterns and shapes. The elongated figures, dwarfed by the wall, intensify the scale of the structure. Nash's rough and intuitive techniques in cutting the end-grain wood serve to intensify the image and highlight an artist approaching a medium with much tradition under his own terms.