B.
Ruth Lowinsky by Eric Gill
Collection
15 July 2013. Posted by Ken Hall
This article first appeared as 'An oblique profile' in The Press on 12 July 2013.
Knowing all there is to know about an artist doesn't necessarily enhance an appreciation of their work. The British sculptor, typographer and printmaker Eric Gill (1882-1940) falls into this category; there is much about this artist that's simply better to avoid. Briefly, he might be summarised as a charismatic ideologue and personality afflicted with extreme sexual and overly religious leanings; a combination resulting in disturbing, steadfastly abusive behaviour. It's easier to appreciate his work: Gill remains admired within the history of architecture, art and design for his striking sculptures, timeless typefaces and finely crafted wood engravings. Happily, a work such as this memorable profile portrait is rewarding for its own merits.
Ruth Lowinsky's deceptively simple likeness is portrayed in negative, fine lines incised into wood translating when printed into white on black. The rounded forms of Gill's model are simplified and classicised; she becomes a sculptural everywoman, though given a more sedate treatment than his writhing stone figures on the facades of British railway stations, department stores and hotels. Simplified almost to a graphic emblem, this embellished silhouette is placed within a simple frame with a great degree of spatial sensitivity and formal elegance. Such qualities are a reminder of Gill's exceptional skill as a typographer (he was the designer of well-known typefaces including Gill Sans and Perpetua), reflecting his attunement to the balance and structure of letterforms and relationships between graphic elements.
Ruth J. Emilie Lowinsky (1893-1958) is likely to have met Gill at the Slade School of Art in London – Gill had links to many staff and students there. As Ruth Hirsch, she and her future husband Thomas Esmond Lowinsky (1892-1947) studied there immediately prior to World War One. Both were of Jewish ancestry; Thomas fought in active service in France and Germany with the Scots Guards; they were married after the war in 1919, later to become part of the Bloomsbury circle. Of independent means, Thomas became a surrealist painter and illustrator, meeting regularly with Gill and a small group of others from 1924 onwards (as The Double Crown Club) to discuss book production and typography. Ruth abandoned artistic ambitions to become the mother of their four children, eventually to gain a reputation as a sparkling society hostess and food writer. Her first book, Lovely Food, published in London in 1931, was illustrated with 'table decorations invented and drawn' by her husband. Eric Gill made many portraits of their family: this portrait and another of Thomas appeared in a hand-printed book of wood-engravings published in 1924. Gill also designed book plates for Ruth and Thomas's first two children, miniature prints for the children to paste inside their own books. Clearly he was an artist with winning qualities. Staying with his art, it's perhaps good to end with a Gill quote: 'Art is skill; that is the first meaning of the word. That meaning underlies all others.' That's where we'll leave this discussion of the artist.
Ken Hall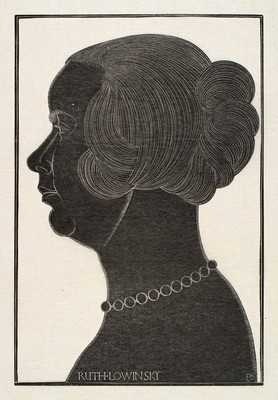 Related reading: The Golden Age