1943
Watercolour
Purchased with the assistance of the W.A. Sutton Trust, 2013
455 x 505mm
2013/086
Tags: boats, buildings (structures), farming, farms, fences, harbors, houses, landscapes (representations), natural landscapes, people (agents), seas
'What makes Wainui significant, apart from its status as a mahika kai [food gathering area] for mussels and karengo [an edible seaweed], is that it sits beneath Tuhiraki [a mountain on Banks Peninsula, across the harbour from Akaroa]. It's the beginning of the South Island's traditional history. The metaphor is used that the atua [demi-god] Rākaihautū is striking his kō [digging stick] named Tuhiraki into the ground, creating, making, discovering the lakes. The furthest one south he creates is Lake Whakatipu Waitai, also known as Lake McKerrow, at the top end of Fiordland. Rākaihautū comes inland again and journeys up the eastern side of the island where he meets up with his son Rokohuia – I think around Waihao in south Canterbury at Wainono Lagoon, one of the historic hāpua [lagoons] of Kāi Tahu. Father and son are then joyously reunited to the settlement of Akaroa, which they developed. When they get there, Rākaihautū places his kō across the ridge of the hill above Wainui and changes the name to Tuhiraki – and it's been a treasured name ever since. The French came and called it Mount Bossu, the hunchback; the hunch is the foot of the kō. The renaming has been attended to now.
'This is the base below Tuhiraki [also known as Mount Bossu]. It's a mahika kai [food gathering area]. What's important is the narrative in the hill. From Akaroa, you look across to Wainui, all the way along the peninsula and out over the heads. This is traditionally the centre of the evolution of Waitaha occupation [the Waitaha were an early people who occupied the South Island prior to the Kāti Māmoe and then Kāi Tahu people]. The march of Rākaihautū [the first ancestor of the Waitaha people] and his son Rokohuia gives the ancient name of Canterbury: Kā Pākihi-Whakatekateka-A-Waitaha, the strutting joyous march of Waitaha.' —Sir Tipene O'Regan
(He Rau Maharataka Whenua: A Memory of Land, 17 September 2016 – 18 February 2017)
Related reading: In the Vast Emptiness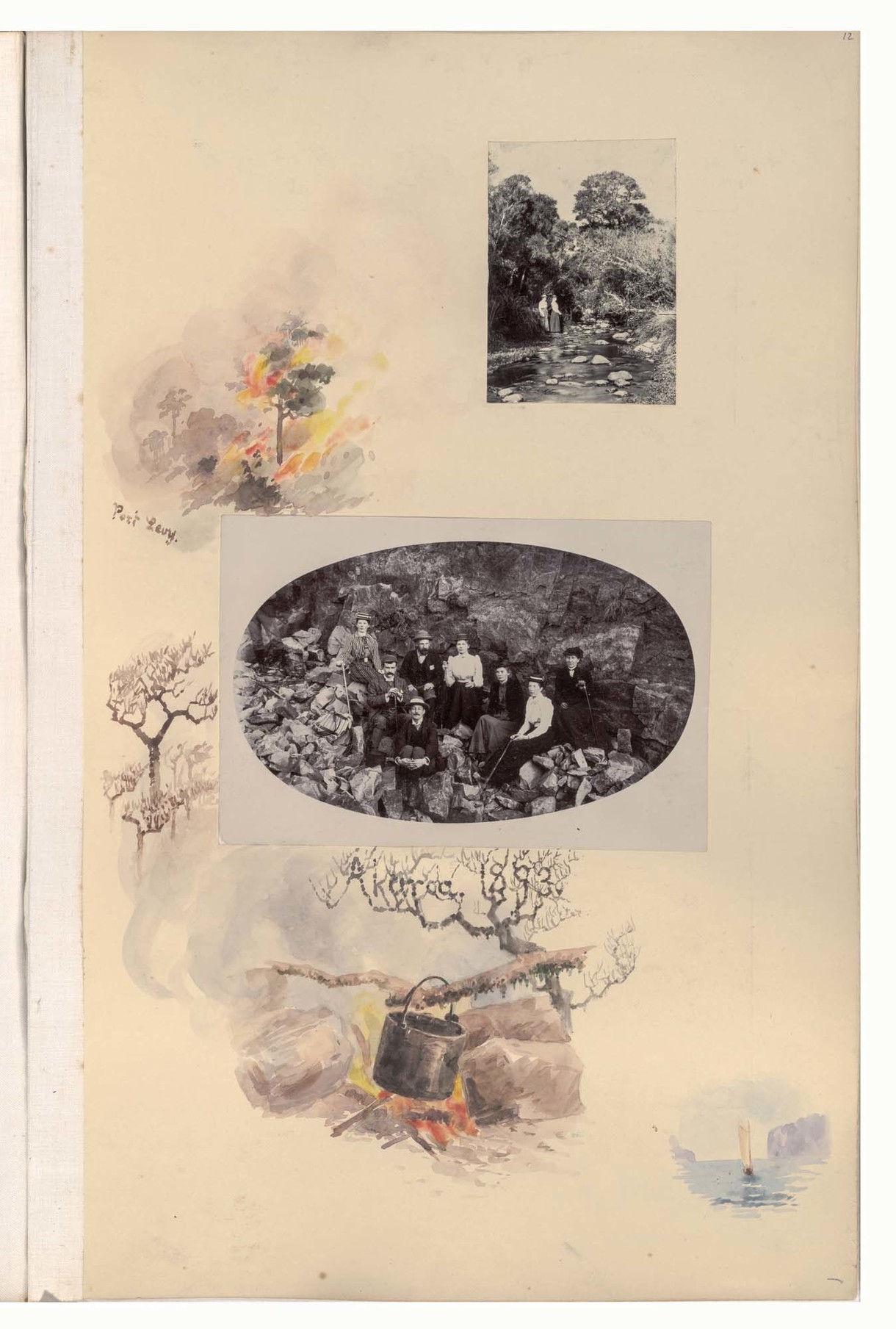 Exquisite Treasure Revealed
Canterbury Museum holds two albums compiled by Diamond Harbour artist Margaret Stoddart. The older of the two, containing images featured in this Bulletin, and itself currently exhibited in the Gallery, covers the period 1886–96. The album is handsomely bound in maroon, and stamped M.O.S. in gold. It contains a sort of travelogue by way of black and white photographs set amongst decorative painting, mostly of native flora, with some locality and date information.