B.
Sara Hughes in Cathedral Square
Behind the scenes
Sara Hughes's spectacular flag wall in Cathedral Square was brought to completion this week...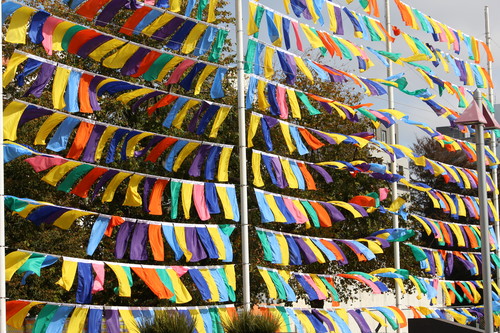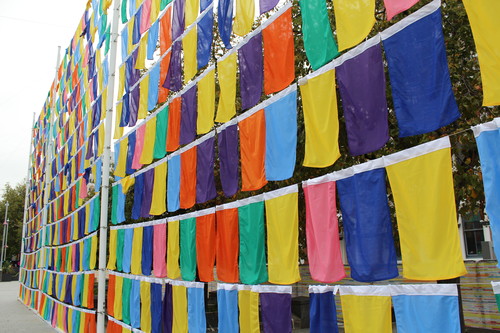 With its intensity of colour and unexpectedly graceful, rippling movement, Sara Hughes's vast flag wall brings a lift to the space, as well as to many who have already encountered it. The work is part of the Transitional Cathedral Square artist project, which also includes large scale interventions, closer to the Cathedral, by Chris Heaphy. This project was first unveiled to the public with the reopening of the Square on 6 July 2013.
Sara Hughes enjoys the challenge of working in public spaces and of working with unexpected materials. Here she has utilised the empty four flag poles set in front of the old Post Office building. Her process also characteristically involves on-the-ground historical research. For this project, this included consideration of diverse visual sources including tukutuku panels in the Cathedral, slate tile patterns on its roof and embroidery patterns by art school students from the 1930s to 1950s from the James Johnstone Collection at the University of Canterbury's Macmillan Brown Library.
With the completion now of her contribution, the rest of the space is being tidied up. Hughes' work, together with Chris Heaphy's, has made a fantastic contribution to the city's heart.