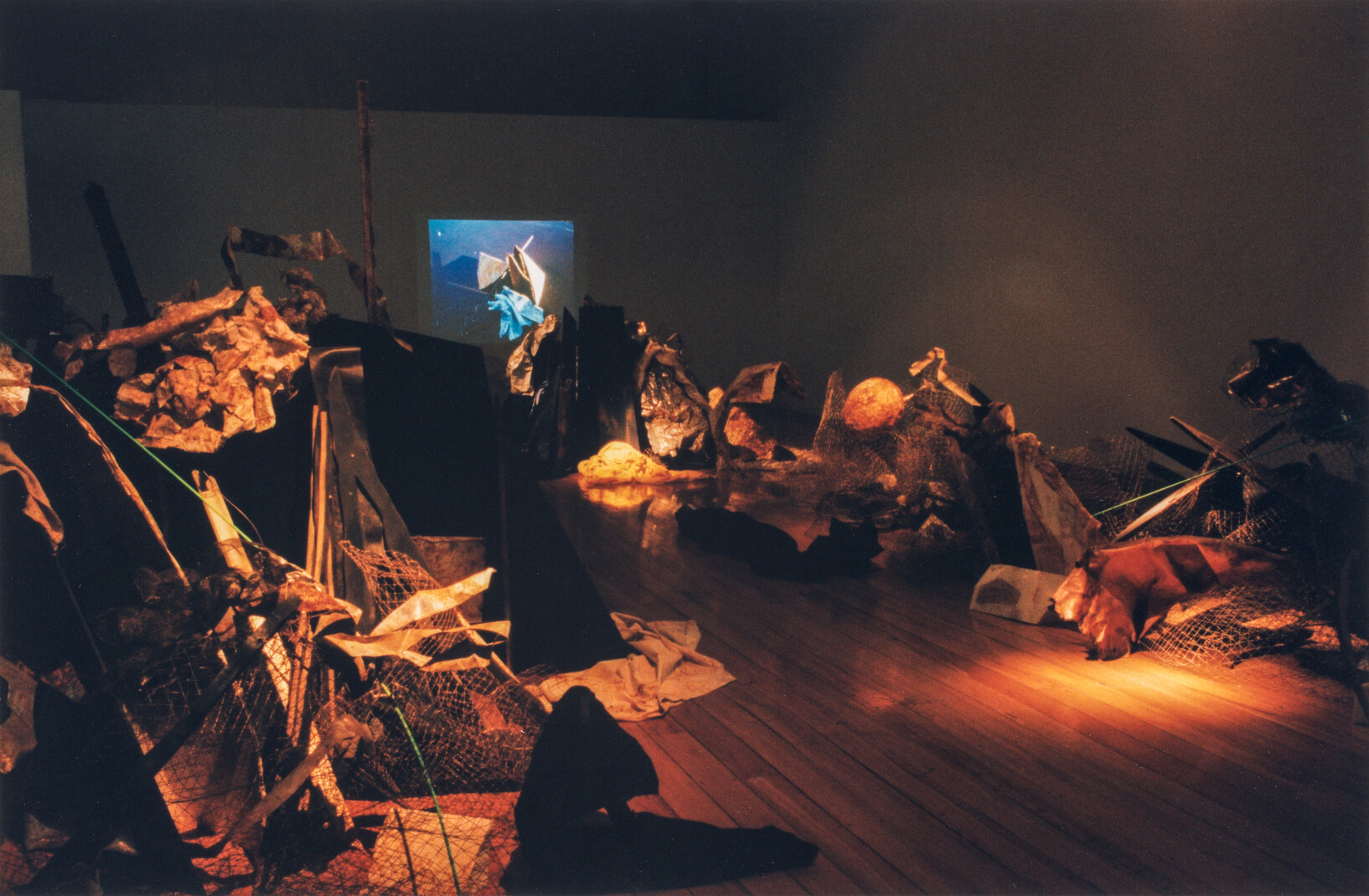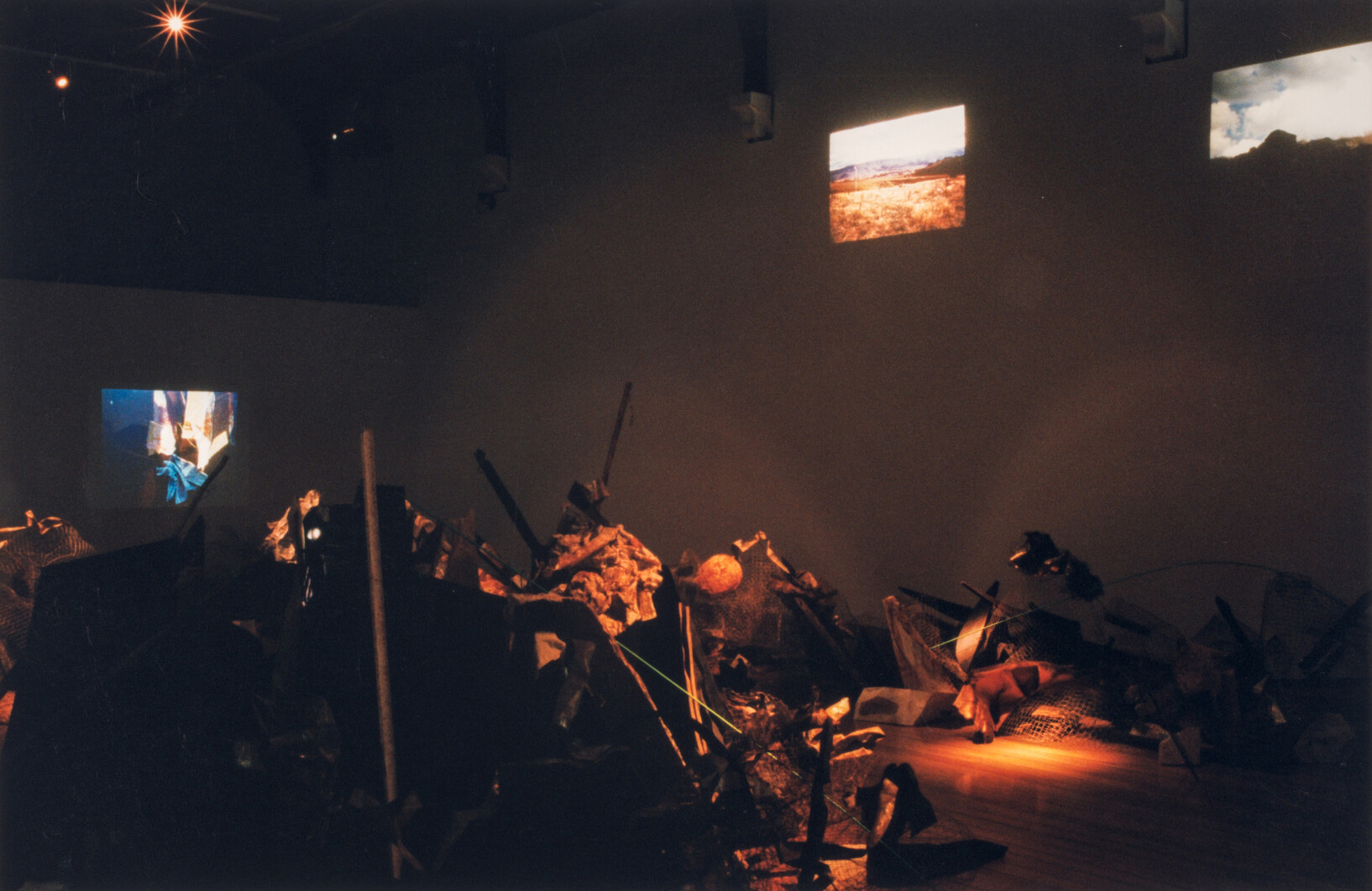 This exhibition is now closed
Rhodes's work is perceptual and experimental, often involving materials that reveal the weathering of the years to indicate the passing of time. This installation has been created specifically for the Annex space.
Rhodes's work is perceptual and experimental, often involving materials that reveal the weathering of the years to indicate the passing of time. This installation was made specifically for the Annex space.
Created by one of New Zealand's senior environmental sculptors, this site-specific installation in the McDougall Contemporary Art Annex transformed 'ordinary' objects into receptacles for the passing of time. Well-known for her Intensum/Extensum (indoor/outdoor) series of works, Pauline Rhodes explored the vulnerability and transient nature of materials and the temporality of the moment – fragile and frayed time.
Rhodes's art is perceptual, experimental and organic, an experience rather than a commodity. The tangible form, in multiple and various states, is taken beyond the physical to symbolise ideas and memories. Her work echoes the past and alludes to simultaneous and future realities by representing ruins of objects. By collecting and assembling elements and objects and presenting them in the process of devolution, Rhodes's work explores the complex interiority of the mind and the inter-relationships of entities.
In recent years her work has been focused on interior landscapes and what Rhodes describes as 'projects in the landscape.' The projects are ephemeral, just as life is. The materials are related in size to the human body and its movement through space. "I like to be doing work which is self generating, has its own continuum of energy and evokes universal life forces." Her on-going Intensum/Extensum series are temporary installations which interact with the spatial environment in which they are placed, expressing more about the mental and sensory experience than the merely physical. Characteristically, these works involve minimal ephemeral placements of plywood, cloth, paper and metal and wooden rods modified by the natural landscape and extending into spatial situations over a period of time. Sympathetic to the environment, Rhodes's outdoor configurations of materials echo the surrounding land or water forms and reveal the effects of weather and time in the rusting of steel plates and mesh and the subsequent staining of cloth, cardboard and wood.
The installation photographs on this page include the two forms that Rhodes' practice takes: lightweight, temporary arrangements in the landscape that are documented and immediately dismantled — which she calls 'extensums' — and concentrated accumulations of materials that respond to internal spaces, known as 'intensums'. For In-between, Rhodes combined these activities, pairing a floor-based intensum with projected images of her outdoor works.
Born in Christchurch in 1937, Rhodes lived in Wellington, Westport, Nigeria and England before returning to Christchurch in 1970. Between 1972 and 1974, she completed her Diploma of Fine Arts in Sculpture at the University of Canterbury and, after attending Teacher's College in 1976, spent a year teaching part-time before beginning her full-time artistic career. Rhodes was the first ever recipient of the Olivia Spencer Bower Foundation Annual Award in 1987 and received grants from the Queen Elizabeth Arts Council in 1989 and 1992. In 1993 she was selected as the Otago Polytechnic Art School Artist in Residence. She received the CoCA Travel Award in 1995 and was awarded a Merit Prize in the 1996 Visa Gold Art Award. Rhodes began her outdoor projects in the mid-1970s and has exhibited work internationally since the early 1980s. Her solo installations include: Energy Fields, Stone Movements, C.S.A. Gallery, Christchurch, 1977; Intensums, Robert McDougall Art Gallery, Christchurch, 1982; Extensum/Extensor, Govett-Brewster Art Gallery, New Plymouth, 1983; Intensum in Memorium (project series), City Art Gallery, Wellington, 1987; Dark/Light, Jonathan Jensen Gallery, Christchurch, 1996; Intensums-Stained Memories, The Honeymoon Suite, Dunedin, 1998 and Stained Silence, 81/98, Jonathan Smart Gallery, Christchurch, 1998. In 1998, Rhodes's Intensum/Extensum 1981 was part of the Action Replay exhibition at ARTSPACE in Auckland and in 1999 she participated in Oblique, a site-specific, multi-artist project at Otira. A book on her practice by Christina Barton, 'Ground/Work: The Art of Pauline Rhodes', was published in 2002.
Felicity Milburn, September 2020
This exhibition was held at the Robert McDougall Contemporary Art Annex in the Arts Centre.
Date:


3 December 1999 – 16 January 2000

Exhibition number:
669