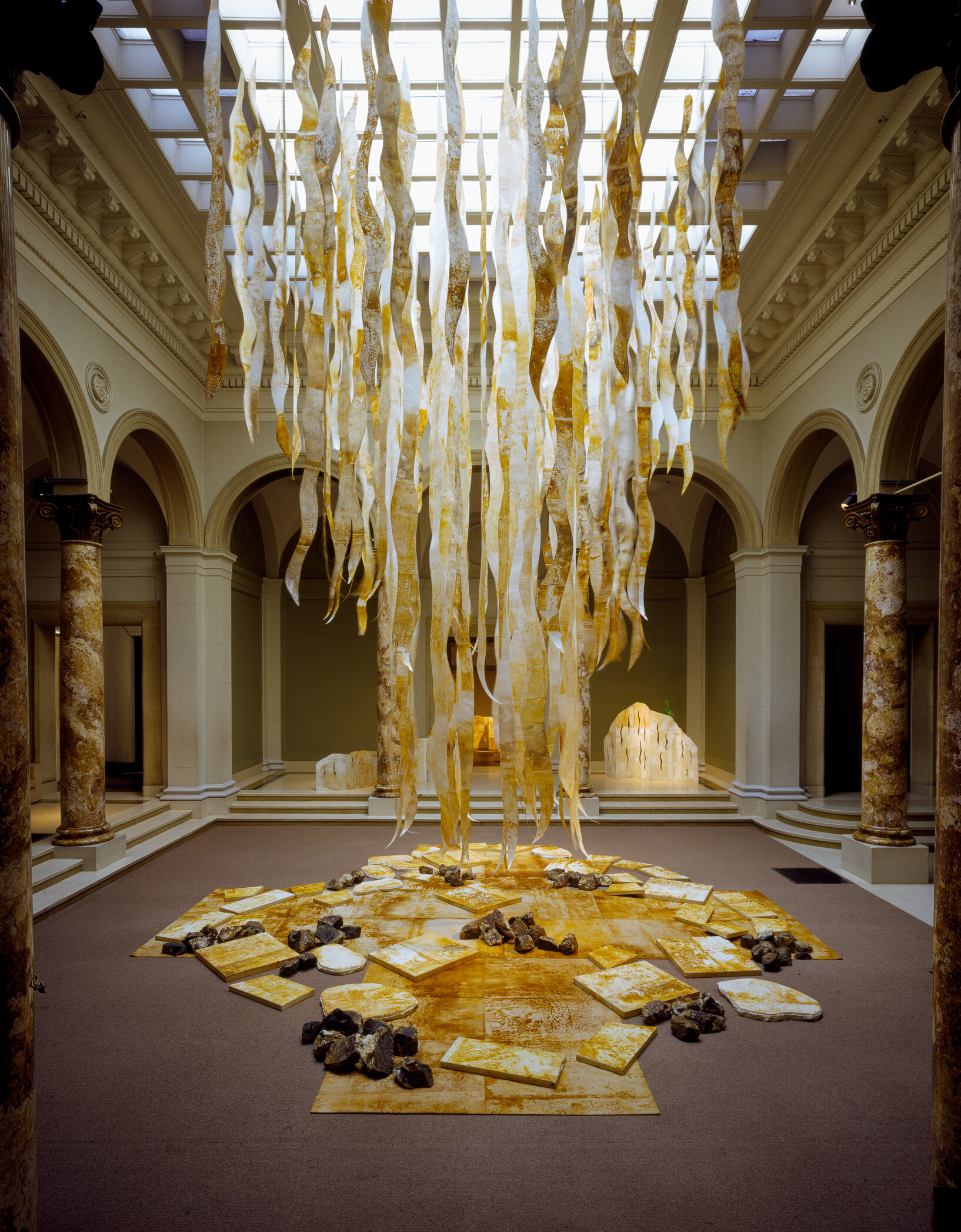 This exhibition is now closed
Pauline Rhodes is a Christchurch sculptor who lived and studied in Nigeria and England before completing her diploma at the Ilam School of Art in 1974. Her first solo exhibition was at the C.S.A. in 1977 and since that time we tend to associate her work with a continuing series of lntensum/Extensum installations. These have appeared successively throughout New Zealand galleries and have been running concurrently with her outdoor works.
The words 'intensum' and 'extensum' have been made from an amalgam of the words intensive/extensive/summation and are referring to open-ended expanding, closed or concentrated states. In the gallery works they operate as the titles for the temporal installations of mixed-material placements and hangings.
Her materials frequently involve rocks, iron plates and grids, timber and water. Their marks are made by the impregnation and merging of the materials through the basic processes of degeneration. Then they are assembled and placed, not just as objects to be viewed in their own right, but more as symbols or indicators of concept and idea.
In the 'intensum' concept the entities are concentrated, closed, resolved; in 'extensum' they are open, assert themselves, expand and extend. The interaction between the two zones introduces yet another concept - that of change within continuity. The temporary nature of the installation also reinforces this idea. It also relates the indoor installations with their associated land-pieces. In these Pauline Rhodes places a linear/planar element temporarily on an outdoor site. As a miniscule mark, private, esoteric and temporary it is photographed and removed.
In this manner many of the elements are re-used and reprocessed in a dynamic self-generating flux. Each piece grows upon and evolves from the parts that went before.
"I hope the projects work on several levels; that they have something for anyone who observes with a fresh and open mind. That they are seen as metaphors," says the artist, "is not so important, but the fact that they have been used in a vital process of exploration and development and that this should continue. This is what is important to me."
Intensum/Extensum opens with a preview on May 5 at 5.30 p.m. and will be accompanied by an audio-visual programme on the related land-works series. Also Pauline Rhodes will give an illustrated lecture on her work on Sunday June 19, 3 p.m. These are both exciting opportunities to meet the artist and to discuss with her some of the tantalizing and stimulating ideas within her works.
('Pauline Rhodes: Intensum/Extensum', Bulletin, No.57, May/June 1988, p.2)
Date:


5 May – 26 June 1988

Exhibition number:
406