c. 1930
Painted plaster
Gift of J.H. McGregor, 2008
730 x 300 x 860mm
2008/011
Nora Elizabeth (Betty) Harrison grew up in rural Canterbury, where she developed a passion for horses. She brought her knowledge of horses to creating this plaster sculpture, painted to resemble bronze. It is believed to have been modelled after a photograph of a famous stud racehorse owned by King Edward VII.
Harrison was at the Canterbury College School of Art when she made this work. A top student there in the 1920s while in her teenage years, she studied there until 1930 and then went into nursing. Tragically, she caught tuberculosis from a patient and died aged just twenty-five.
(Beasts, 2015)
Related reading: Beasts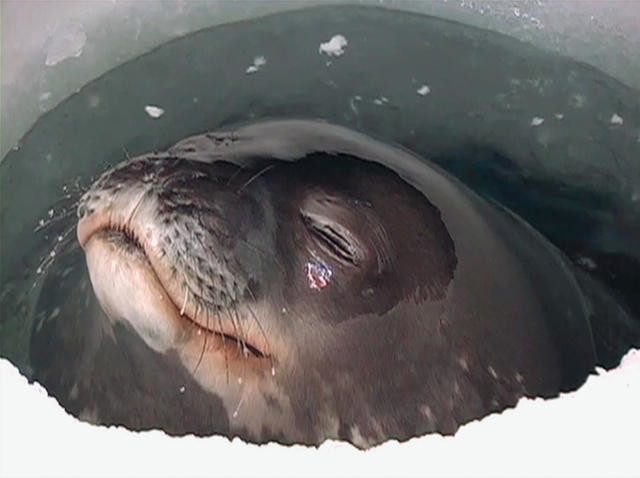 A seal breaks through the ice and begins oxygenating; slowly opening and closing her eyes as she fills her lungs with air. Weddell seals live and breed on the ice shelves around Antarctica, further south than any other mammal on the planet. They move between holes in the ice to hunt, and have been recorded holding their breath for up to ninety-six minutes. Connie Samaras made this video while on a residency in Antarctica. Like many of her works, it invites us to consider the two-way dependency of our relationship with the environment, the fragility of the body and our tenuous grip on survival.
(Te Wheke, 2020)
The images shown here are stills taken from the video.