Jenny Harper, Riga, Latvia
I've been conscious of Riga since the 1980s when I organised an exhibition of the work of Australian artist Imants Tillers for the former National Art Gallery in Wellington. Although born in Sydney, Latvian was spoken at Tillers's home and the city's name features from time-to-time in his work, including the large multiple-canvas board painting bought for the NAG collection – Diaspora (1992). But my awareness of Latvia's politics and past history was minimal until my visit.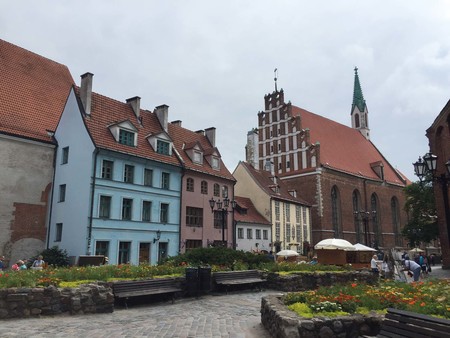 A new retrospective of Tillers's work in Riga was a good reason to go and – like a number of Australians here for a series of Tillers-related events including the launch of a new film about the artist and the world premiere of a musical composition inspired by his paintings – I'm pleased with the recognition he's receiving in the country of his origin as well as that of his birth. It's a good show with an informative and well- illustrated catalogue. It's both strange and familiar to be in Riga seeing Auckland Art Gallery's Hiatus (1987), Tillers's unabashed appropriation of both Eugene von Guérard's Milford Sound (1877–79) and Colin McCahon's I AM in Victory over Death 2 (1970), as well as a range of his earlier and later work.
Once here, it's hard not to become aware of the troubled history of a proudly independent and individual Latvia, with successive occupations by the USSR, Germany and, again, the USSR during the twentieth century. Many amazing cathedrals and basilicas have been reconstructed in full or in part. And unsurprisingly there are a number of places of reflection, including the majestic centrally-sited Freedom Monument, with an elongated female figure holding three golden stars aloft, and – near me – the Bloody Sunday Monument made in 1959.
I'm staying in the old town, over the canal from central Riga where the National Museum of Art, the neo-rococo Splendid Palace cinema and various parks and garden areas are located. There's lots of walking to be done, though this is tiring on the largely cobbled stone roads and barely-even-there footpaths. But stumbling on various landmarks and markets in this UNESCO-listed city is a good way to see and learn. And it's the season of festivals, with groups in varying traditional costumes happily performing in streets as well as in more formal venues during the long days of summer.
Riga also boasts perhaps Europe's largest collection of art nouveau architecture and it's all through the old town. So perhaps it's unsurprising to find both the Art Nouveau Museum and an exhibition of art nouveau material in the Art Museum Riga Bourse (reminding me of Christchurch's 2007 exhibition Morris & Co., with similar loans from London's V&A and the Musée d'Orsay, Paris).
Where would a postcard from Riga be without reference to their cuisine? Very near here is a Latvian restaurant with saffron-infused Baltic herrings and pork neck rolls with yellow pea puree on the menu. I'm going again this evening with some new English friends, also here for Imants Tillers, wondering if I might try the beef heart tartare (or not).
Finally, I'm disappointed to have become aware of RIBOCA1 – the first Riga Biennale of Art – a little late in the piece. The pamphlet promises art which is "breathtaking, vibrant, offensive and captivating" but, like many such events, venues are multiple and scattered. A longer stay is needed to enjoy all that Riga has to offer.