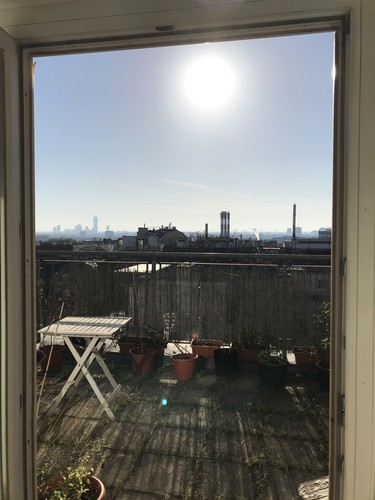 Postcard From...
André Hemer, Vienna, Austria
My main base is in Vienna although I've lived a reasonably nomadic life for quite some time now. The last time that I lived in New Zealand was back in 2011, and I left just a few days after the earthquake to start a PhD in Sydney. After four years in Australia I did a couple of residencies in Paris and Italy before moving to Vienna.
Vienna was a reasonably easy choice as I have a German passport, which makes living in Europe simple, and my partner is an Austrian artist. Plus I knew a few local artists from previous exhibitions in London— it was through one of them that I originally sublet an apartment and studio. The city is really affordable (rent controls being a key part of that) and it serves as a good geographical base logistically. There's a strong art scene and, with the rising rents in places like London and Berlin, more artists are moving here. Even a few of the German galleries are relocating here because of changing tax laws and rising rental costs in Germany.
Although this is my base I tend to split my time between different places as I'm traveling for shows or other work stuff for a good portion of the year. Last year it was six months doing the residency at the ISCP in New York, and this year it will be a bit of a mixed schedule, with LA, Mexico, Shanghai, Hong Kong, London, Australia and New Zealand all on the cards for a total of about four months out of the year.
So when I'm back in Vienna I tend to be pretty intensely studio-focused—I have an assistant who works a couple of days a week doing a lot of preparation and logistical stuff, and it's more or less a seven-day work week for me. The day always starts with a strong espresso and checking emails and doing admin for an hour or so, and then it's either straight to the studio or working from home if I'm doing digital work. I prefer working late so my hours are more or less late morning through until 2 or 3am.
I have an 80sqm studio in the Ottakring district—it's a fairly working-class area but becoming a bit more of a studio hub due to the low rents. Importantly though it's still a very normal place to work. What you see now in parts of a city like Berlin are areas in which studios used to be cheap, but suddenly they become weirdly gentrified 'art tourism' areas. It's a cool vibe but there's a point at which those places don't make sense for a working artist any more. So I like Ottakring because it's definitely not cool and there's a certain grittiness to the area. When I get off the tram and walk to the studio I pass a giant brewery (not craft beer!), a few cheap variety stores and some kebab houses.
In general Vienna has a reasonably quiet vibe to it and you kind of have to go looking for what's 'new'— especially as its cultural history is expressed so loudly through its architecture etc. There's actually a pretty buzzing art scene with two large (and very international) art schools and a lot of bars and project spaces spring out from that.
When I lived in New Zealand the questions I had for myself were always around how my work was going to navigate and find itself in the wider world; the past decade has been about trying to facilitate that by living in different places and developing different audiences and contexts. Right now Vienna feels like the right place to be in order to have a sustainable life as an artist while also having easy access to different conversations around painting.