B.
We won the top honours at the 2010 New Zealand Museums Awards!
Gallery
It's official, we won top honours in the Exhibition Excellence category at the 2010 New Zealand Museums Awards in New Plymouth last night.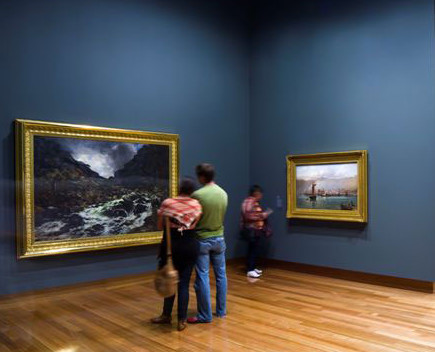 The Selecon Award for Exhibition Excellence was granted to the exhibition Brought to Light: A New View of the Collection. A complete redevelopment and rehang of our collection, it is the largest single exhibition project the we have undertaken since opening seven years ago.
'We are absolutely delighted to have won this award,' says director Jenny Harper.
'Brought to Light represents an entirely new way of displaying the permanent collection. We've had great feedback from the thousands of visitors who have seen the exhibition since it opened in November last year and now we're thrilled to have the recognition of our peers in the industry.
'Every staff member was involved in some aspect of its creation, and we have all relished the special, and quite rare opportunity to extend the way that we think about and create our exhibitions.'
The 2010 New Zealand Museums Awards were part of a gala dinner at the Museums Aotearoa's annual conference. Now in their third year, the awards celebrate excellence and achievement and recognise the best of exhibitions and programmes throughout museums and art galleries in New Zealand. They also acknowledge the contribution that individuals make in their institutions and across the wider sector.
Brought to Light was recognised for being an ambitious project that presents a considered coherent redevelopment for the display of the Gallery's permanent collection. The Judges said it provides a model of 'high standards and good practice as well as a rewarding experience for both first time and regular visitors'.
Praise was also awarded for the collection's strengths, curatorial expertise and the Gallery's spaces. The exhibitions clear vision was recognised for combining local art that stretches from early Maori times to the present, with a selection of international highlights, to create a coherent and engaging visitor experience with local and international appeal.
There were nine entries in the category, which were whittled down to three finalists, including Wellington Museum of City and Sea and the Air Force Museum of New Zealand.
The two other categories included the Innovation Award, won by Hawkes' Bay Museum & Art Gallery and 'Individual who has made an outstanding contribution to the museum sector in New Zealand', won by Thérèse Angelo, Director of Air Force Museum of New Zealand.