B.
Kinetic sculptures installed in foyer of Christchurch Art Gallery
Gallery
Two kinetic sculptures from the forthcoming exhibition Andrew Drummond: Observation / Action / Reflection were installed in the foyer last week.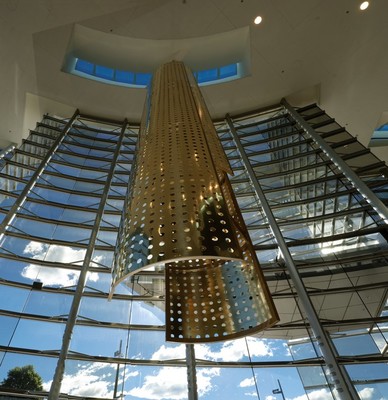 The introduction of these major works will introduce audiences to the exhibition, ahead of the official opening on 14 May.
Descending from the roof of the foyer to within a metre of the floor, Viewing Device, Counter Rotating (2009-10) and Counter Rotating and Earthing Device (2000) indicate Drummond's highly developed passion for innovative technology.
Created in the artist's Woolston studio in Christchurch, Viewing Device, Counter-Rotating utilises a specially designed and engineered 'air muscle' motor. The device explores a simple proposition - that counter-rotation can be generated by one motive source, powered by air.
Director Jenny Harper says the devices provide a fascinating insight into how technology transformed into sculpture can produce unusual optical effects and become a surprisingly beautiful tool.
'The sculpture hangs from a central shaft that terminates with the air muscle motor. If you stand beneath the motor and watch the rays of light beam through the punched holes, you see patterns of moving light projected and reflected around the foyer.'
The second sculpture, Counter Rotating and Earthing Device, features rotating brass arms which create a visible and audible electric discharge as they lightly brush near copper earth-plates.
Much of Drummond's work is located firmly in the arena of technological innovation and precision engineering. He combines aesthetics and technology to create machines that reference both ninteenth-century and cutting edge inventions.
We feel that Christchurch Art Gallery is a fitting venue to exhibit these astounding works.