B.
No. 9, No. 9, No. 9, No. 9…Barbour Street
Behind the scenes
Colin McCahon spent several years based in Christchurch between 1948 and 1953 during which time he rented a house in Barbour street in the inner city suburb of Phillipstown.
McCahon provides a great description of his days at Barbour street in the excellent catalogue Colin McCahon: a survey exhibition that accompanied the Auckland Art Gallery's 1972 exhibition of the same title. It remains one of my favourite art catalogues because in the back McCahon provides a very personal and incredibly insightful running commentary of his work and life with each of the catalogue entries.
About now [1948] we got a house to live in in Christchurch. It was in Barbour Street, by the Linwood railway station. A place almost without night and day as the super floodlights of the railway goods-yard kept us always in perpetual light. The trunks of the trees were black with soot. We eventually had a small but lovely garden. To the right a pickle factory; behind, a grinding icing sugar plant. Twenty-two rail-tracks to the left. A lovely view of the Port Hills and industry from the front room and across the road an embryo female bagpipe-player learning hard. We lived in Barbour Street until we moved to Auckland. (p.20 Colin McCahon: a survey exhibition)
Twenty two rail tracks! New Zealand's railways are a shadow of their former glory, here is what the same yard at the end of Barbour street looks like today. The one thing that remains is Colin's description of the lovely view of the Port Hills.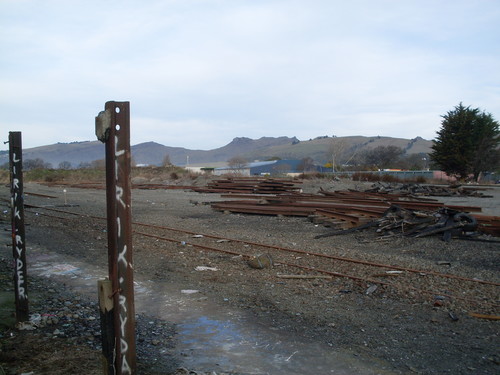 The McCahon's moved to Titirangi, Auckland in 1953 where he had ...a patch of native bush and about 20-odd very lovely kauri trees and a sunporch & sundeck looking right into the tops of a nikau palm grove (p. 5 Colin McCahon: The Titirangi Years, 1953-1959 by Peter Simpson) - a stark contrast to the experience of living next to the railway tracks at Barbour street.
In 1972 McCahon still had fond memories of his Christchurch years and recalled that the ...Christchurch period had been alive with friends and conversations...work and fun. (p.22 Colin McCahon: a survey exhibition)
No. 9 Barbour Street today, I don't know if this is the same house that the McCahon's lived in but it is the same number.