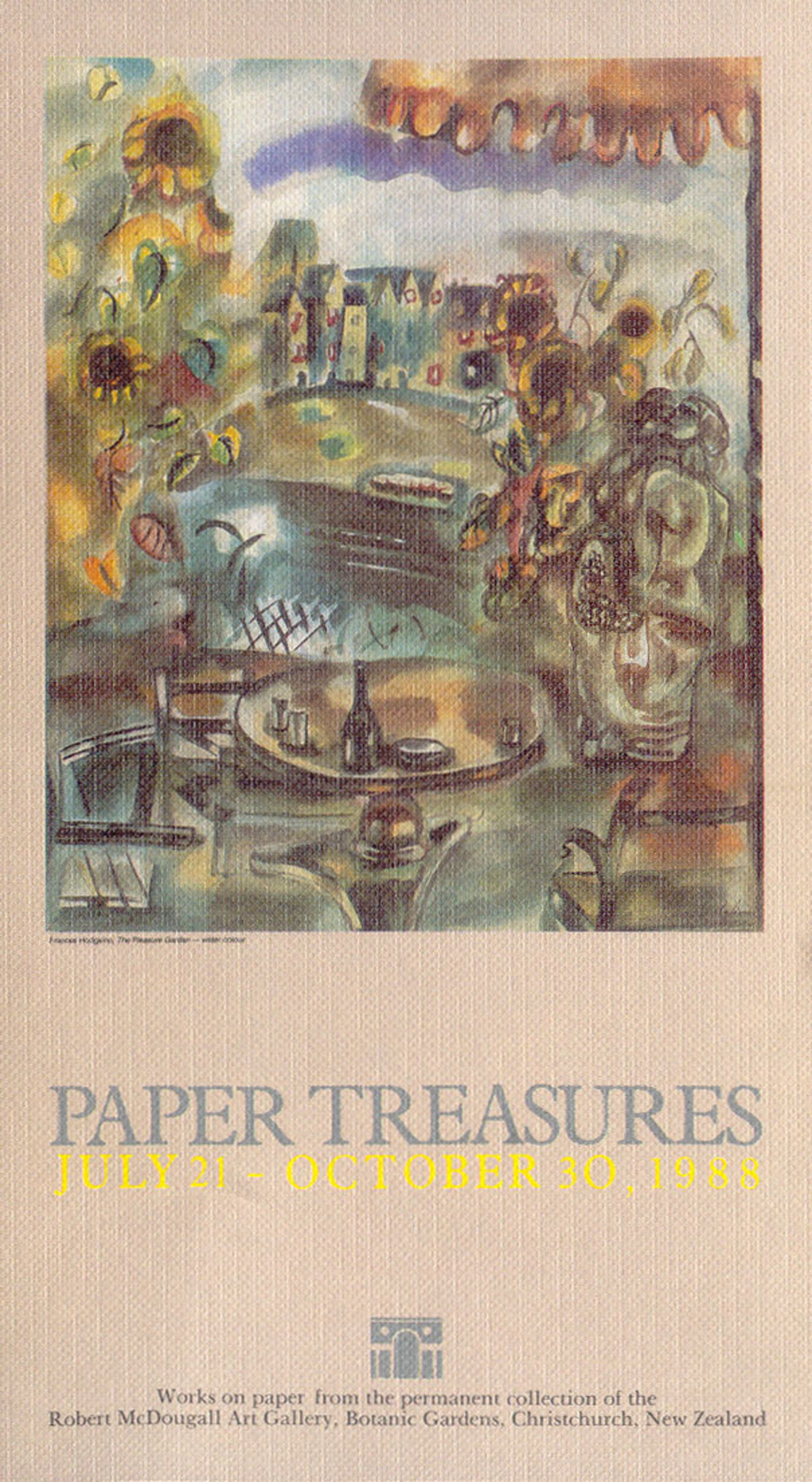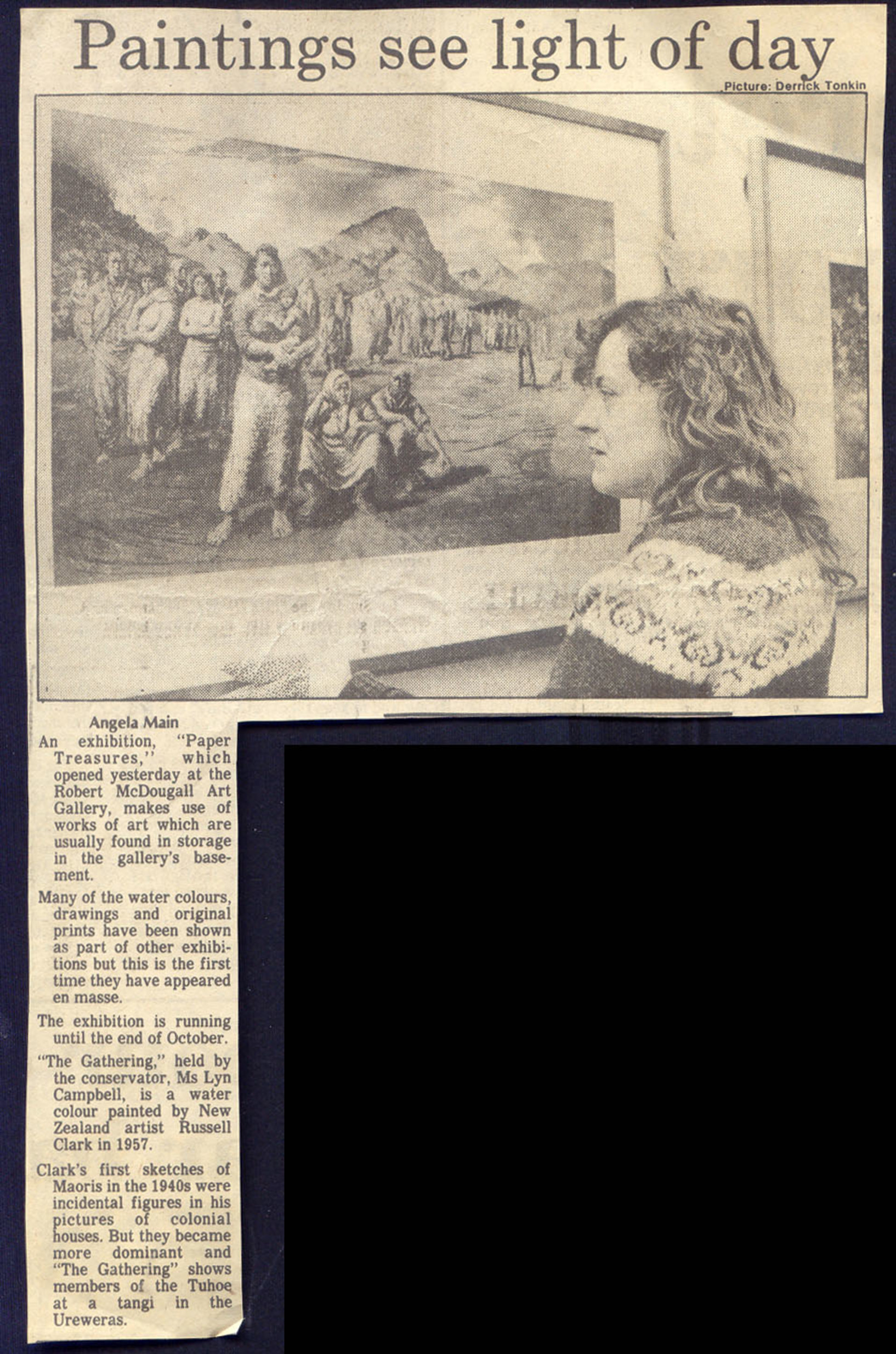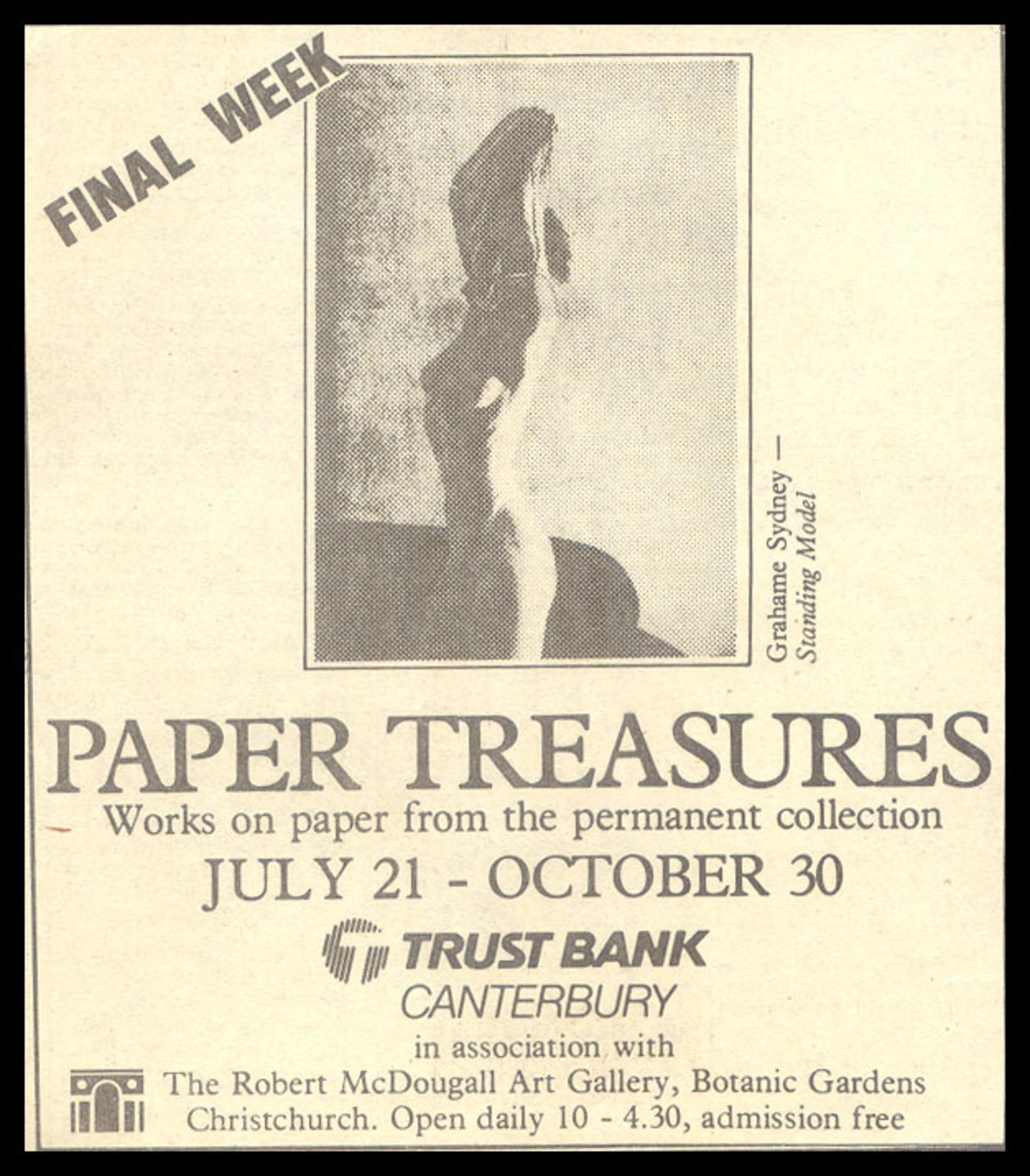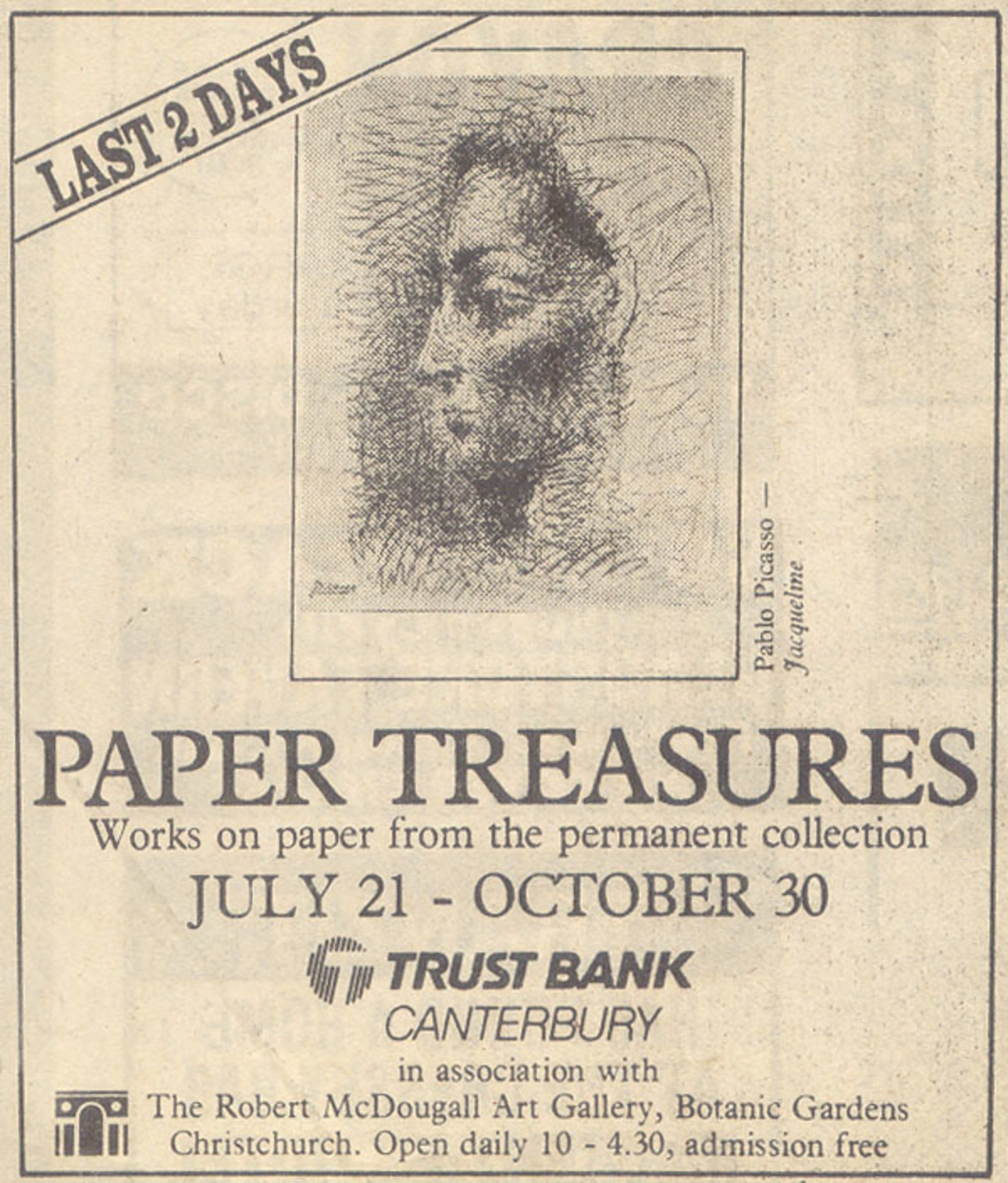 This exhibition is now closed
Our Paper Treasures are an accumulated wealth of experience.
Often we look out beyond New Zealand for the experience of 'great art' failing sometimes to recognise that we have an accumulated wealth of images, of both national and international importance in our very midst.
Paper Treasure being an exhibition of both national and international artists will bring together work by most of the celebrated masters of western art since the fifteenth century from Durer to Warhol.
It will comprise a selection of some 300 watercolours, drawings and original artist prints selected from the several thousand in the Gallery's reserve works on paper collection. This collection that started in the 1930s has been developing steadily for more than five decades. Over that time the emphasis may have changed but the scope of the collection has remained constant.
In installation, this exhibition will be presented in six distinctive sequential gallery sections reflecting as closely as possible the dual historical and contemporary character of the works on paper collection. In gallery space I historical European prints by such European masters as Durer, Rembrandt, Tiepolo, Piranesi, Goya, Renoir, Picasso, Chagall and others will be shown.
A rather special print included is Paul Cezanne's etching of fellow artist Armand Guillaumin. Cezanne was not a printmaker, and during his lifetime did just five etchings mostly at the urging of others.
In 1873 he spent the summer at Auvers, and shortly after his arrival visited local art enthusiast Dr Gachet who had a studio set up in his house. Other artists soon arrived among them Guillaumin and Pissarro. Together they made use of Gachet's facilities. The portrait of Guillaumin was only Cezanne's second etching, which he drew on the plate from life at Gachet's studio.
The works in gallery space II will include a selection of British historical master prints and drawings of the eighteenth, nineteenth and twentieth centuries.
Among the eighteenth century prints will be the rather unique engraving by William Hogarth, Paul before Felix Burlesqued. In 1730/31 William Hogarth introduced a sales practice whereby small engravings were issued as receipts for advance payment for a larger work by the artist. However Hogarth often used these tickets as a personal platform for presenting his artistic views and criticism.
Hogarth parodies his own painting in this print using it as a vehicle for his personal political stance. The subject of both painting and print was biblical, based on Acts 24:25 Paul pleading his case before Felix, Governor of Judea.
In gallery space III watercolours by British and New Zealand artists will be shown. Included will be works by David Cox, Samuel Prout, Paul Nash, John Gully, Frances Hodgkins, Margaret Stoddart and many more.
A unique place in this space will be held by The Pleasure Garden by Frances Hodgkins perhaps the most controversial artwork in New Zealand's history. Its acquisition for the Robert McDougall Art Gallery in the late 1940s unleashed a stormy public debate that lasted for four years and divided the art community of Canterbury.
The Historical prints and drawings by New Zealand artists will be shown in gallery space IV and will include works by Petrus van der Velden, Sydney Thompson, John weeks, E. Mervyn Taylor and others.
Of local interest will be a rare early pen and ink drawing by colonial New Zealand artist William Howard Holmes (1825-1885). This original drawing Lyttelton from the water 1852 until recently part of a South Canterbury collection, was one of six later published in London as part of a set of outline engravings entitled 'Canterbury Sketches'.
Among the 32 artists represented in gallery V, New Zealand Contemporary Drawings and Prints will be Barry Cleavin, Gretchen Albrecht, Jeffrey Harris and Colin McCahon.
The drawing Ko Wai Koe (Who are you) 1977 by Ralph Hotere has a special place in the contemporary N.Z. drawing collection. This work was the winning entry in the 1978 Christchurch Arts Festival International of Drawings. Ko Wai Koe is a poetic work which carries words from N.Z. Maori philosophy taken from a poem by the artist's father. It is also a highly emotive work about the people that belong to this land and their attitudes to others.
A selection of 30 contemporary International Prints will occupy the final gallery space VI. All artists represented are recognised internationally as leading figures in contemporary world art. Included will be works by Karel Appel, Fumiaki Fukita, Gabor Petedi, Richard Serra, Roy de Forrest, Tom Phillips and others.
Of some importance is the large 1972 screenprint Mao Tse Tung by the recently deceased 'Pop' artist Andy Warhol. Throughout the 1960s and 70s Warhol had the uncanny ability to select images that seemed to sum up the spirit of the time whether it be Marilyn Monroe or Chairman Mao.
In a similar way we hope that 'Paper Trees' whilst it cannot show all, will expose for the first time in some years, the best graphics art both historical and contemporary that we have and that it will justify its title as an accumulated Wealth of Experience.
('Paper Treasures', Bulletin, No.58, July/August 1988, pp.1-3)
Date:


26 July – 30 October 1988

Exhibition number:
410
Collection works in this exhibition
181 items