1924
Watercolour
Purchased, 1993
445 x 485mm
93/64
About the artist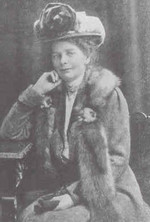 Margaret Stoddart, from The Weekly Press 9 June 1909
In 1924, established watercolourist Margaret Stoddart left the Christchurch winter behind to spend several weeks in Tahiti. In Pape'ete, the capital, and on nearby Mo'orea, she painted bright watercolour sketches of markets, shady avenues, churches and houses at the sea's edge or nestled into tropical bush. Returning to Christchurch in August, she exhibited her watercolours. After sending two of the Tahiti works to Paris in 1925, according to the Auckland Star she was encouraged by "requests for her biography and the history of her paintings from several Parisian journals interested in Art".
(Te Wheke, 2020)
earlier labels about this work
By the mid-1920s Margaret Stoddart had travelled widely within New Zealand but was always searching for new subjects. In June 1924 she journeyed to Tahiti, where she painted The Waterfront, Papeete, Tahiti. A leading New Zealand watercolourist of her day, Stoddart had fully developed her impressionistic style by the 1920s. The broad handling of the colour washes in this work suggests it was completed outdoors directly before the subject. Stoddart was born in Diamond Harbour, on Banks Peninsula, but in 1876 the family sailed for Britain and she received her early education in Edinburgh. The family returned to New Zealand in 1879, and in 1882 Stoddart enrolled at the Canterbury College School of Art. She was a founding member of the Palette Club, whose members were concerned with painting outdoors. After living in England for several years, Stoddart returned to New Zealand in 1907 and settled in Diamond Harbour.