2006
Timber and twink
Gift of the artist, 2013
113 x 70 x 16mm
2013/005
Works of art aren't as well behaved as they used to be. Once upon a time, they stayed where they were put, hanging obediently off picture rails or perching politely on pedestals. Since the arrival of the Duchampian readymade, however, many require a second glance to distinguish them from the world around them, as everyday objects are pressed into service in new, perspective-tilting contexts. There's another kind of work too, the type Glen Hayward is known for: the readymade's stealthier cousin. Meticulously, even obsessively, crafted to resemble objects you wouldn't give another glance, these unobtrusive double agents aim to blend in, adding a subversive frisson to the gallery experience.
(Unseen: The Changing Collection, 18 December 2015 – 19 June 2016)
Related reading: Unseen: the changing collection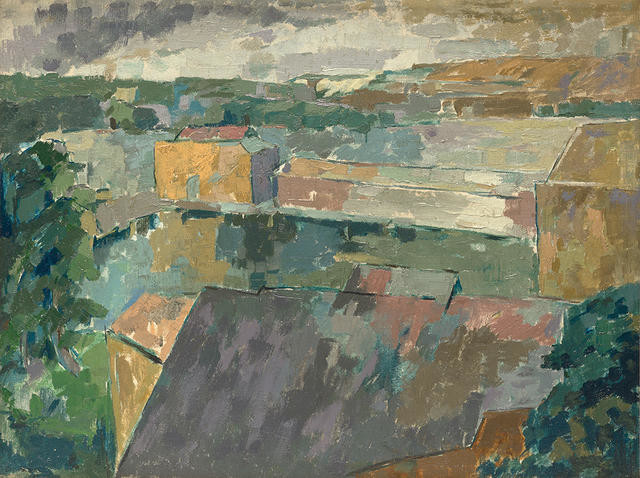 Don Peebles travelled to Sydney in 1950, in search of a more modern art training than was available to him in Wellington. ('Nothing much was going on in Wellington other than us being taught to draw a foot that looked like a foot,') he said. His teacher John Passmore (1904–1984) introduced his students to early twentieth-century European modernism: Bonnard and Picasso, Cézanne and cubism. 'That was modernism to me. That was the latest thing as far as I knew in those days.' Passmore also encouraged his students to paint around the waterfront, a regular subject for his own work in the early 1950s. Sydney Harbour reveals Peebles moving towards the abstraction that would characterise his mature work, but not yet completely there (he made his first completely abstract work a few years later in London). A Cézanne-esque concern for planes, facets and the structure of forms is evident, even while buildings, water and distant hills remain visible.
(March 2016)