B.
There is only one direction by Colin McCahon
Collection
15 July 2013. Posted by Jenny Harper
This article appeared as 'Divine Innovation' in the The Press on 31 August 2012.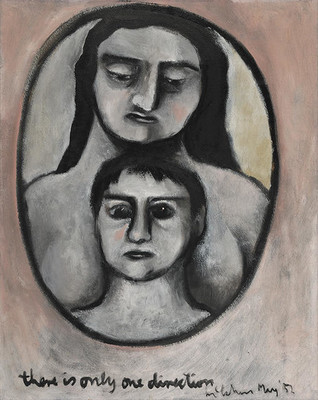 In a recent On View my colleague Peter Vangioni wrote of a Gordon Walters' gouache from the 1950s which Christchurch Art Gallery bought in 2010. So I'm prompted to 'go public' as well about this newly-acquired painting by Colin McCahon, also made in Christchurch some 60 years ago.
It's a Madonna and child. She's no text-book beauty, but the painting is riveting; I sat in front of it for more than an hour when I first saw it. A reduced colour range adds to its starkness, its piercing and incredibly direct impact. It combines the imagery and seriousness of a traditional religious painting with the visual innovation and localised challenges to modern art associated with McCahon.
If we saw There is only one direction in a room of more conventional Madonnas, we'd be even more aware of its strength of purpose. For this painting is completely without props: no haloes, no rich fabrics, no saints in attendance as the young Christ child unswervingly faces his future, the journey ahead. His large dark eyes, each one picked out with a dot of white, fix us with his stare and compel us to consider the future.
It is impossible to miss the sense of connection between mother and child, her protective form in an inner framing oval emphasising their unity of purpose. It is an old story anchored in the here and now. When it was proposed for our collection, senior curator Justin Paton noted that its sense of 'care, apprehension and sober purpose' is unusually prescient of our situation now when 'apprehension about the future and discussions about the appropriate direction to take are on so many people's minds'. So it's special to note it was made while McCahon and his family lived in Barbour Street, Phillipstown.
Shown with The Group the year it was made, it was given shortly after to the James K and Jacqueline Baxter family, when the McCahons became godparents of the Baxters' daughter Hilary. Our purchase – from the estate of Jacqui Baxter – would have been impossible without the wonderful bequest of Norman Barrett in 2010 as well as Council's Challenge Grant to Christchurch Art Gallery Trust. We are grateful to our benefactor, proud of this work – and, of course, longing to show it.
Related reading: Colin McCahon, Unseen: the changing collection