Supporting a Pacific Presence
Behind the Karen Stevenson Collection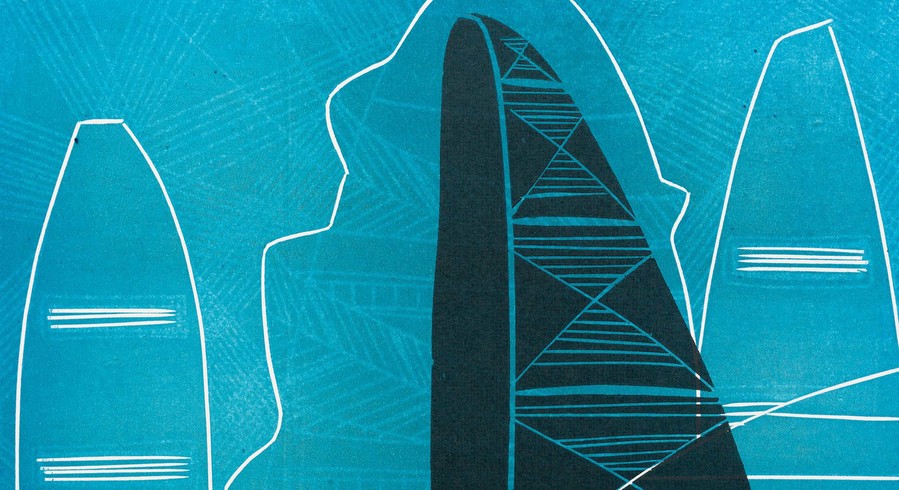 In 2022, the Gallery received an extraordinary gift: fifty-seven works by thirty-two artists from the private collection of writer, researcher and lecturer Karen Stevenson. Of Tahitian heritage, Stevenson was raised in Los Angeles and moved to Ōtautahi Christchurch in 1995 to take up the position of lecturer in art history at the University of Canterbury School of Fine Arts. She told Felicity Milburn just what the gift means to her.
Felicity Milburn: Your collection is strongly focused on Indigenous practice from around Te Moana-nui-a-kiwa. Was this always the case? Why is this important to you?
Karen Stevenson: For the most part, I was unaware of 'contemporary Pacific art' before coming to Aotearoa New Zealand and seeing Bottled Ocean in 1995. That was such a turning point for Pacific art and for myself. Prior to that my area of specialisation was Tahiti – art, politics, festivals. I was fortunate to be able to travel frequently within the Pacific region and meet artists from different islands. I also spent a year and a half in Fiji. I am continually surprised by the art produced in the region and want to support these artists and their practice.
FM: What works or exhibitions do you remember seeing when you were first getting to know Pacific artists here?
KS: Bottled Ocean! Life changing. It was the first exhibition that I saw in New Zealand and I was completely taken aback by the diversity and quality of the work. It opened my eyes (as well as everyone else's) and sent me down a very different career path. The combination of the past and the present was what so much of the early years of contemporary art was about. It was about asserting or creating a presence. About learning the historical traditions that were drawn upon; creating a place for Pacific peoples in New Zealand society.
The Macmillan Brown Artist-in-Residence Programme brought Fatu Feu'u, Michel Tuffery, John Pule, Johnny Penisula, Lonnie Hutchinson, Andy Leleisi'uao, Ioane Ioane, Filipe Tohi, Stone Maka… Having the opportunity to meet with these artists, watch them going through their processes, learning from them what questions to ask was priceless. Being able to create a community, and to introduce Christchurch to their work… It was a magical time.
FM: When did you start collecting and why? Do you remember the first piece you collected?
KS: The first work I bought was by Fatu Feu'u (Night of the Yam Ceremony) and it's still part of my collection. He was the first Macmillan Brown artist in residence in 1996. I had spent some time chatting with him while he was working. I went to LA over a semester break and upon my return he had an exhibition. It was in the small space near my office, and I was surprised by how much he had accomplished. There was one work that was different. It was inspired by time spent in New Caledonia. There were three figures with piercing eyes. I went back to my office to work, but those eyes seemed to find me through three offices. I was entranced and went to chat with Fatu about purchasing it.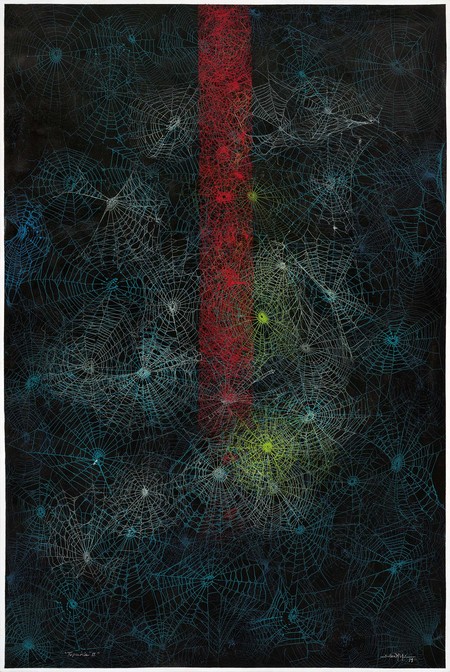 FM: As a collector, are you more strategic or spontaneous? What motivates you?
KS: I am spontaneous! If I see something that moves me (and I have the funds) I will buy it. I feel that Pacific artists created my academic career, and I want to support them. I enjoy supporting newer artists, just because they need it. But I only buy what I like… I do not buy as an investment.
FM: How do you most often acquire works? Directly from the artists, or through exhibitions?
KS: Probably from exhibitions. That would be where I am exposed to a greater diversity of artists and artwork. However, I do also acquire work directly from the artist. When I first came to New Zealand, Jonathan Mane-Wheoki told me that it would be very important for me to get to know the Pacific artist community. It is through these relationships and friendships that I have been able to talk and write about contemporary Pacific art. Having a connection to the artist is important. It's about the community, about trust that I will 'do right' by them. It is also quite fulfilling to watch younger artists grow into their practices.
FM: Your collection is wide-ranging; everything from sculpture and prints to painting and textiles. If you had to narrow down your taste to one style or medium, what would it be? Is there anything that doesn't appeal to you?
KS: There are artists who do not appeal to me! At first, I was collecting prints because I could afford them. But if I had more space, I would like to collect more sculpture. And, unfortunately, a lot of work is just too big; it's created with galleries in mind, not one's home. Honestly, I couldn't tell you what it is that excites me about a work – sometimes the medium (how many artists paint with smoke?), sometimes a relationship to an object or time, sometimes just because it strikes my fancy!
FM: What do you find most interesting in contemporary practice?
KS: To me, one of the most interesting aspects is a negative one; the fact that artists need to propose and fund exhibitions as opposed to curators creating them. I also think it's quite surprising that there have been so few exhibitions that have travelled. There are a number of artists that have been practicing for twenty-five years or more who only have a small presence in the galleries of New Zealand. I would like to help rectify that. I think that many young artists are reinventing the wheel (as are curators), but I hope that social and environmental issues will become an inspiration.
I also find it interesting that many artists continue to address the concept of colonialism. Not as a part of a contemporary political reality, but in the sense of wanting past wrongs addressed. Separated from their cultural traditions, some risk creating a generic Polynesia. That is something I find intriguing, because such generic imagery stereotypically originates from a 'white' mindset.
FM: When did you become aware that your collection was developing a significance beyond that of a personal collection?
KS: I think it's been in the last seven or eight years that I have thought of myself as a 'collector'. And that idea may have come with the reality that I was buying work and had no more wall space to hang it on… but I still wanted to support the artists.
FM: Are there works in the gift that are especially meaningful to you?
KS: Unlike many art historians, I do not choose or like a work for its complexity or structure, but for how it makes me feel. I guess I am much more nostalgic. I also like the sense of humour that is often associated with Pacific art, as well as the way many artists bring together their traditional past with their contemporary present. I think that the relationships I have developed with many of these artists makes their work quite special to me.
One of my favourite works is Mahiriki Tangaroa's Passing Through the Garden of Grace (2010). There are many layers of interest for me in this work. Firstly, the key image is of Tangaroa, the god of the seas and creation. The Cook Island depiction of this god comes in many forms, all of which have always intrigued me. His relationship to the ocean has a lot of meaning for me as I like to spend as much time as I can in the ocean. Secondly, the key colours are red and yellow, which are royal colours in both the Cook Islands and Tahiti, which is another personal relationship that created an immediate bond with this work. I also like the inclusion of some pāreu material [also pareo, a wraparound skirt], which brings Tangaroa into the twentieth century for me (it just so happens that my father had a pāreu from that same pattern). I also like that Mahiriki is poking fun at the church by utilising a title that references the Bible, yet portrays a traditional god. In essence, this image brings together my personal and academic life and interests.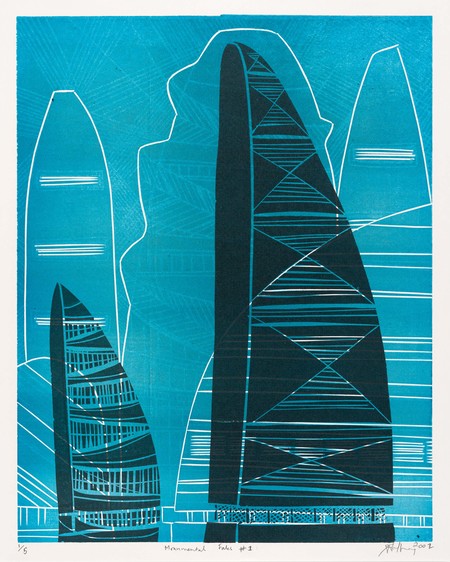 The second is a group of works, all from Samoan artists. The reason I choose these is that each of them blends the past and the present, the island and the urban, suggesting that contemporary artists (Pacific Peoples) can have a foot in both camps. They are not 'afa kasi', they are not colonised and without a voice. They assert a Pacific presence as a dominant position.
In Michel Tuffery's Omai, Kakura, Cookie (2006), Michel depicts Cook with a moko. In complete contrast to a 'victim' mentality or an artist who embraces the notion of colonialism, Michel more than suggests that the Pacific literally got under Cook's skin. Here he suggests interactions of the time, with men of equal status. He suggests that Cook was changed by these relationships. These suggestions are more historically accurate than the narrative of islanders being duped.
In Monumental Fale (2002), Sheyne Tuffery draws on the architecture of Samoa as well as the patterns utilised in tattoo, bark cloth and lashings to invent or imagine a modern Pacific community. This scenario suggests more than a Pacific presence, but an urban environment that embraces a Pacific aesthetic.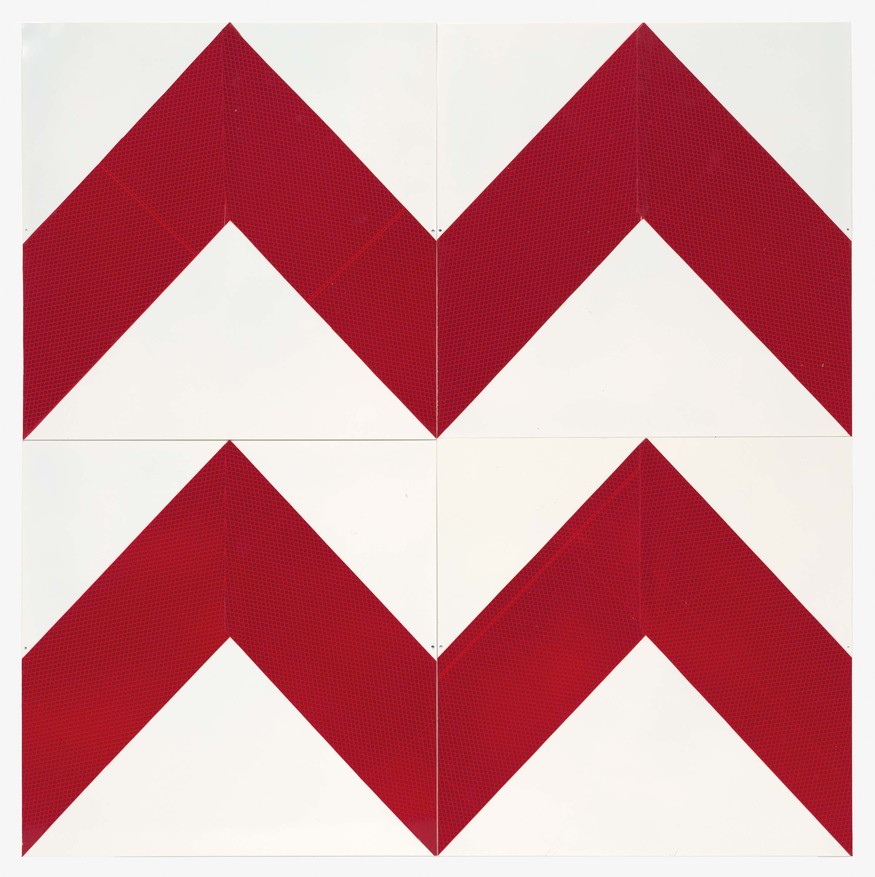 "...this is the starting point of a gifting relationship that will hopefully last a while."
Niki Hastings-McFall epitomised the idea of the Island in the urban, and her 2001 work Dangerous Curves is an example of why. Utilising reflective roadside vinyl, she creates pieces of a puzzle that can be configured in many ways. We can read the image as road marker arrows or look to tattoo and barkcloth for the pattern's origin. Niki plays with ideas and patterns that utilise a modern symbol yet reference a traditional belief system.
FM: Why is it important to you that these works come into Christchurch's public collection?
KS: As you know, this is the starting point of a gifting relationship that will hopefully last a while. I wanted this collection at Christchurch Art Gallery because this is where I live, where I worked, and where I first saw contemporary Pacific Art. Christchurch was quite the hotbed of Pacific artistic activity, which many (across the country and in Auckland) did not realise or acknowledge. I hope that this gift can enhance the Gallery's collection and give Christchurch its due.
I hope that having these artists represented in the city's collection will enhance their standing as artists. I also hope that this collection can add depth to what you already have and that it will enable more exhibitions including contemporary Pacific art. I would love, one day, to see a space in the Gallery that was dedicated to the arts of this region.