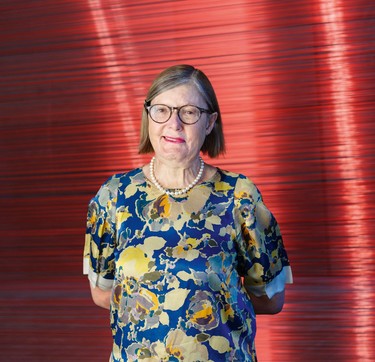 Director's Foreword
Welcome to 2017! We've all bounced back to work at our favourite gallery – and we've loved seeing a range of familiar faces at our exhibitions and events as well as the many new visitors enjoying what we have on display.
From my office window, I have a good view of Michael Parekowhai's Chapman's Homer on our forecourt. I'm constantly seeing groups of people enjoying this sculpture – and lining up to be photographed sitting on the stool as if they were playing the bronze piano. The fascination this work has held for Christchurch since we first showed it on Madras Street in 2012 has never waned.
Equally, I have enjoyed seeing visitors interact with Energies: Haines and Hinterding, which is still on display as I write this. I noticed a family in with Geology the other day; the father videoing his young son who was having a great time changing the yellow landscape on the large wall projection (featured on the cover of B.186). But then dad put away his camera and enjoyed the immersive experience alongside his son.
As a public gallery, we collect on behalf of this city and community and we introduce and reinterpret our collection, largely but not exclusively, in our upstairs spaces. Our curators select and organise changing exhibitions throughout the building and these are carefully designed and installed by technical staff. Curators also work directly with artists on solo or group shows, such as The Devil's Blind Spot. And when we can, we work with other galleries to ensure a special or especially relevant exhibition can be seen in more than one place in New Zealand.
In this issue of Bulletin we feature an interview with London-based artist Francis Upritchard, whose exhibition Jealous Saboteurs comes to Christchurch later in March. Jointly presented by Monash University Museum of Art, Melbourne, and City Gallery Wellington, it is the first major survey of the work of this internationally acclaimed graduate of Ilam School of Fine Arts. Born in New Plymouth, Upritchard spent most of her life here in Christchurch, where her mother Sue – also an artist – lives. Spanning twenty years of practice, the Gallery's presentation of the exhibition is enhanced by significant, recently acquired works from the Gallery's collection. Upritchard is interviewed by fellow Ilam graduate Tessa Giblin, recently appointed director of the Talbot Rice Gallery in Edinburgh.
Curator Felicity Milburn takes a look at Wayne Youle's oeuvre ahead of his solo show with us. From provocative early works through to his huge Sydenham mural, I seem to have temporarily misplaced my sense of humour (2011) and the wry references to self-doubt found in ALONE TIME (2014), Felicity looks at the ironic, self-deprecating humour that buoys Youle's work – and the baseline of discipline that underpins his practice.
We also hear from artist Shannon Te Ao, winner of the 2016 Walters Prize, who talks to friend, fellow Walters Prize nominee and assistant curator Nathan Pohio. A prior conversation between the pair, held as part of the Gallery's recent Immerse programme was broad ranging in its remit – it was billed as 'Nathan Pohio and Shannon Te Ao Discuss Everything'. In this interview, however, they focus on Te Ao's working practice. It's a great introduction to the artist's work, which features in Shannon Te Ao: Tēnei Ao Kawa Nei from early March.
Curator Peter Vangioni looks at the late Don Peebles and his wonderful relief constructions of the 1960s and 1970s. Peter explores some of the fantastic resources on Peebles in the Gallery's Robert and Barbara Stewart Library and Archive. He gives us the opportunity to hear the artist's own voice and, in doing so, reveals an artist who was continually striving to develop and challenge himself. And curator Ken Hall uses his exhibition He Waka Eke Noa, which brings together colonial-era, mainly Māori, portraiture, as a starting point to tell stories that show some of the complexity of a hitherto unprecedented movement of people.
Bridget Riley: Cosmos will open in June this year. Riley has been commissioned to make the fourth of five significant works to mark our lengthy time of closure for seismic strengthening following the Canterbury earthquakes of 2010–11. She's an artist with a stellar international career: representing England in the 34th Venice Biennale of Art in 1968 and winning the International Prize for painting – the first woman and the first British artist to do so. She has had huge numbers of solo exhibitions and her work has been included in multiple group shows as well. In this issue of Bulletin, I have written about my long association with Riley as a welcome for our new work of hers.
Our collective thanks to the wonderful generosity of a range of women donors, as well as all who attended our very successful Gallery Foundation gala dinner in 2016 – the first to be held back in the Gallery's NZI Foyer. But also many, many thanks to Bridget Riley herself. Her new wall painting will be installed in the upstairs arcade area by three of her assistants and our staff in May. In addition, she has also generously offered to lend a small grouping of her work from her own collection until November. I know it will be a wonderful experience for all of us. Riley's acclaimed career has spanned some sixty-five years now; but those of us who visited her London studio and home last year can attest to there being no sign of her easing up at all. What amazing commitment!
Finally, a note to remind you that the car park underneath this building is well and truly open again. Enjoy the colours of the pillars that support our new base isolators and take the opportunity to journey from below in either the Séraphine Pick or the Marie Shannon lifts. And we're well on the way to having our café open again in mid-2017. More about that in the next edition.