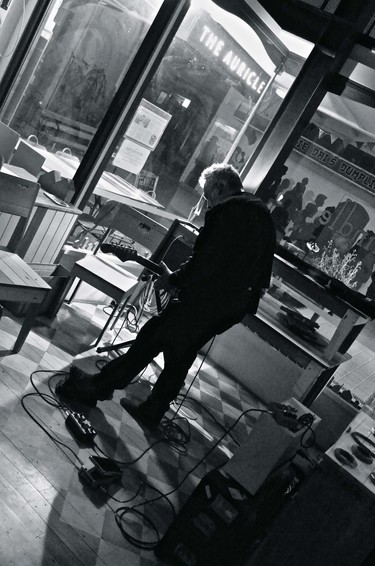 Unsung
Curator Peter Vangioni talks with Malcolm Riddoch, founder of the Auricle Sonic Arts Gallery in New Regent Street, and artist Bruce Russell.
Peter Vangioni: Sound artist or sonic artist? Is there a distinction? Do you get precious about the term 'sound art'?
Malcolm Riddoch: When we were setting up the Cantabrian Society of Sonic Artists and doing the scoping study for the Auricle, we chose the term 'sonic art' because it has a much wider breadth and includes performance and installation. Sound art we reserve for contemporary sound art practice, art gallery installations and that kind of thing. But sonic art includes free jazz people, the noise artists, the installation artists and everyone else in between.
Bruce Russell: I personally favour calling myself an artist who works with sound, because people often think of sound artists as people who make sonic sculptures. They might think I work solely with recordings, as in electric acoustic composition or whatever, so I just say I'm an artist—if I have to qualify it I say I work in sound, I don't do pictures.
MR: And that's the definition we came up with: a sonic artist is someone who works creatively with sound, open-ended and inclusive. I think our exclusivity is that we provide a venue for people who don't have other venues for working creatively with sound; so no contemporary music bands and that kind of thing, or jazz.
PV: Do you feel there's support for sound art or sonic art from traditional art galleries, or do they tend to just deal with the visual?
BR: I think they're gradually getting up to the mark, but we're still waiting for a landmark. Christchurch Art Gallery had the thing in the car park stairwell for a while, whatever that was called.
PV: It's been so long… Subsonic.1
BR: That represented progress, and it followed on from the fact that you managed to include me in the Coming Home in the Dark show in 2005. I believe, at the time, you said it was the first time purely sonic works had been exhibited in the Gallery. Around that time I was working with the Physics Room and they had a show curated by Matthew Leonard, who was working for Radio New Zealand at the time, and that was the first exclusively audio installation of sound works that I was aware of.2
PV: I quite liked the location of Subsonic, but it was interesting that it was outside the actual Gallery itself…
BR: At a safe distance.
PV: Does that reflect sonic art's status as an outsider type of art, in relation to traditional art galleries?
MR: Internationally, the genre has matured in the last ten years. Sonic art is something people understand and accept like the visual arts. There are lots of contemporary art galleries around the country that run sound art installations. When we started the Auricle we were talking to Melanie Oliver [director of the Physics Room] because they do contemporary sound art installations even though they have a visual arts focus. We deliberately differentiated ourselves because we didn't want to step on the Physics Room's toes. We did this monthly Canterbury Art sound art installation with an emphasis on the sonic aspects, making sound within the actual gallery space with a conceptual focus. It's not just a jukebox or music. It's much more of a contemporary art aesthetic but sonically focused, to distinguish between what we do and the Physics Room, because there is a lot of overlap.
PV: And the audiences that go to the Physics Room and the Auricle would be much more accepting of that type of art. When we played your piece in Coming Home in the Dark, Bruce, it horrified some people. I remember one comment in particular: 'Marginal at best.'
BR: Excellent. I think that's an accurate description. I'm delighted to report that our curatorial process here at the Auricle includes discriminating against works that rely too heavily on a visual component, so take that!
'It's not an honourable occupation, musician.'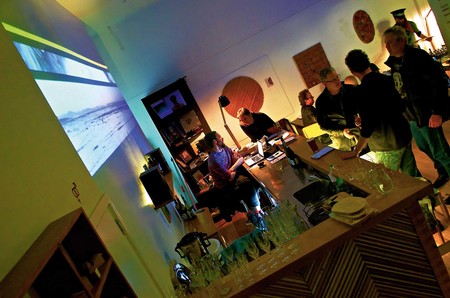 PV: Malcolm, you're from Perth and you've performed with the likes of Jeremy Hicks there.3 What's the sonic art scene like over in Australia?
MR: There's Western Australia and then there's the rest. You've got Liquid Architecture in the east, which is a wonderful festival and very much more sound art orientated. Sydney Biennale a couple of years ago had a sonic art component. Australia's a much bigger market, especially on the east coast. The west coast is a lot more isolated; basically you've just got Perth, which is two million people, so it's like half the New Zealand population. A lot of sonic art in Western Australia came out of what we were doing at the Western Australia Academy of Performing Arts, pushing our students into community collaborations. The community itself was generating its own artworks. Perth's known for producing artists that make do with very little and do a lot because they are so isolated physically.
PV: Would that resonate in Christchurch?
MR: No, here I find that you've got the four cities and the two islands and they all interlink – we're part of a network which is really amazing, really quite vibrant.
PV: Why was the Auricle formed?
BR: Seemed like a good idea at the time!
MR: Actually it came out of Borderline Ballroom [the managing committee of the Cantabrian Society of Sonic Artists] who've been working since 2007 on providing venues for experimental audio performances, and with Christchurch City Council, Creative New Zealand earthquake recovery funding and the post-earthquake impetus it just came together.
BR: There was an opportunity as well as a need, and because there was an established loose alliance of people collaborating on organising events it just grew out of that community. When funding was identified it was a chance to do something, and because by its very nature sound work is non-corporeal it's quite appropriate for a city like Christchurch – which is not that corporeal lately.
MR: But the venue gives you a real concrete space within which sonic art exists.
PV: Kind of grounds it somehow?
MR: Absolutely.
BR: I think the Audacious Festival of Sonic Arts [Christchurch, 23–6 October 2015] would never have happened without the Auricle as a base and a network to build on.
MR: It's a centre for that community of practice, and people have fed off it, which is cool.
PV: So how did you both come to be artists that use sound?
BR: Can't draw.
PV: Did you start playing in a rock band in Dunedin, Bruce, and go, 'Aw, actually fuck it, I can't'? BR: I knew before I started playing in a rock band in Dunedin that I couldn't play, but I didn't let that stop me because I felt that what's important in any cultural practice is good ideas, and how you realise those ideas is secondary in a way. I distinctly remember, before I'd even picked up a guitar for the first time, that was very much my position. I was interested in experimental literature; I was really interested in rock music; I had some interest in contemporary art. This was in Dunedin in the early 80s, so there wasn't a lot of it happening, and I didn't know very much about it. I guess I had a clever and enquiring mind, but the key was the environment I was in: there was a vibrant scene of underground post-punk garage music happening, and I worked my way through that and came out the other side.
PV: And finding two musicians that would put up with you…4
BR: That obviously gave me a platform and an opportunity to develop what I was doing in a way that I would never have on my own, so, yeah, that was important for me.
PV: A lot of traditional musicians would have found your harsh unrelenting feedback sound quite hard to take.
BR: A lot of them did.
PV: How about you, Malcolm?
MR: I think you're a wonderful musician, actually, Bruce. You've got a wonderful touch and a great aesthetic sensibility and wonderful improvisational approach.
BR: I might admit to being an instrumentalist, but perhaps not a musician.
PV: Got to a draw a line somewhere.
BR: It's not an honourable occupation, musician.
MR: My main music experience as a child was listening to my Dad's shortwave radio, just going through all the frequencies, all the different sorts of noise. Fascinating. I hated the bloody recorder, and I've got no visual genes in my body, no visual sensibility – don't really want one, I just loved noise. There was one seminal point where a bogan mate of mine was trying to show me and my brother how to play 'All Along the Watchtower' Hendrix-style. I got a guitar and my brother got drums and there's this point where we went 'What's the point?', and started playing chromatic – not thinking about it – noise. Improv is always the only thing that makes sense. I hate notation – you gotta think ahead and you're always behind – whereas with improv you just fall into it. It's exciting and spontaneous.
PV: When you say recorder you mean the little…?
MR: We played them at primary school.
BR: 'Greensleeves'.
MR: The Mr Whippy tune.
BR: Aka the Mr Whippy tune. I had piano lessons as a child, so I knew what notation was, and having to practice playing pieces – I knew that wasn't something that agreed with me.
PV: So were you hammering out traditional songs?
BR: I think 'The Sound of Silence' by Simon and Garfunkel was a piece that I mastered at one point. I might have played a little bit of Beatles – don't really remember.
PV: Anything that you want to add to wind it up?
BR: All joking aside, it's great being able to work alongside publicly funded institutions like Christchurch Art Gallery. But I think as a group we also needed to have some way to organise ourselves, and the Auricle and the Cantabrian Society of Sonic Artists has helped with that. It's drawn people in; there are people involved who wouldn't have been if this wasn't happening, and this is a unique product of unique circumstances in Christchurch.
PV: It's interesting how the dynamics have changed, and I'd like to see the Gallery connecting with the Auricle and their programme.
BR: My first involvement with the Gallery was back at the old Robert McDougall [the city's first public art gallery] when I was organising events there that were tolerated as part of the public programme because they put bums on seats, but I couldn't get any real support for doing sound art. I was lucky I was allowed to do it. I talked to the then public programmes manager about getting some sort of funding to enable us to do more, but there was never any question of that, they were never interested.
PV: What period was this?
BR: This was about 1997–8.
PV: Matt De Gennaro and Alastair Galbraith's Wire Music?5
BR: Around that time, but I organised a number of things. Robert Leonard put Otomo Yoshihide in there around the same time.6
PV: Which was amazing.
BR: It was amazing it didn't bring down the skylight in the McDougall's centre court!
PV: Rattling...
BR: There was a snowfall of paint.
PV: And dust.
BR: So that was the start, but after that I decamped to the Physics Room. Sonically, the McDougall was great for shows, it was fantastic, but at that stage the gallery team weren't really willing to consider what I was doing that seriously, whereas the Physics Room people were a lot more welcoming, so my focus shifted there for a number of years.
PV: Well, I'm looking forward to working alongside the Auricle in the future to get some sonic art in our exhibition programme.