B.
Art Do 19: Everything you need to know
Note
DATE CHANGE. It appears you lot don't want to be split up – you want to be TOGETHER! So we're now combining both Art Do Dinner and Art Do Party into one mega event on Saturday 27 July. If you've got dinner tickets, you'll be upstairs in an intimate gallery, five-course dinner, and one-of-a-kind Gallery dining experience. And if you're not doing the Dinner, you'll be downstairs, living large at the Party, enjoying a roving best-of-canterbury menu. Both cuisine experiences will be catered by Tom Hishon and White Tie Catering. And later, we'll all come together to celebrate our Gallery and raise the roof on art and creativity in Aotearoa.
Prepare yourself for a night of immersive art experiences, fuelled by visionary foodies and decadent drinks. This year we're collaborating with some of the biggest names in New Zealand art to bring you two spectacular celebrations – all in the name of supporting creativity in Ōtautahi.
Without further aDO, here's everything you can expect at Art Do.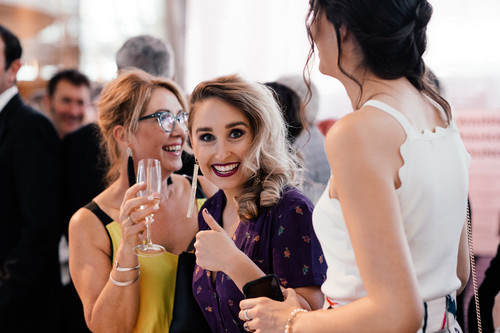 Art Do Party
Saturday 27 July, 7pm – late
Tickets $250
DO Food
The dynamic duo of Tom Hishon and White Tie are back, bringing with them the most beautiful ingredients from their Canterbury pantry. There'll be substantial eats that will roam the room till  late, and you'll also feast at an abundant banquet table designed by artist Cheryl Lucas, with thanks to The National. Top that off with the sweet sweet magic of local caker extraordinaire Cakes By Anna, and you've got yourself a party.
DO Drinks
Sip on espresso martinis mixed by Coffee Supreme and Broken Shed Vodka, then party on with a selection of craft beer from Three Boys Brewery. Greystone Wines will be pouring their award-winning drops – so why not seek refuge from the festivities in their luxury Pinot Noir lounge. Six Barrel Soda Co. will be on hand to keep you refreshed, and you'll find the best tipple in town at the Whisky Galore lounge. Glorious.
DO Dining
Pull up a pew at the Sara Hughes communal dining space located in the middle of the Bayleys Knight Frank Foyer. Dine on some of Canterbury's best produce under the glinting magic of a unifying childhood memory – the humble hula hoop. With thanks to Gow Langsford Gallery
DO Check your Shoes
We told you we'd do it and we're 100% serious. Artists Emma Fitts and Tessa Peach have created the coat and shoe check of our dreams. Start the night in your fancy shoes, then bring your sneakers for later. You do you.
DO Augmented Reality Photobooth
Artist Sean Kerr has created an augmented reality photobooth that must be seen to be believed. We can't explain it – just say cheese.
DO Music
Get ready to groove, because your favourite artists are taking over the DJ decks. Expect to hear beats curated by Saskia Leek & Violet Faigan, Imogen Taylor & Ayeisha Green, Rachel Ashby, Tony de Lautour & Holly Best and Jon Bywater. Then stay tuned for the musical genius of international sensation Samuel Holloway.
DO Support
Christchurch Art Gallery Te Puna o Waiwhetū is on a mission to commission new projects by Aotearoa's brightest artists. In doing so we can directly invest in the growth of the arts in Ōtautahi.
Art Do is your moment to support the Gallery's ambition to become the incubator of great projects. The funds raised from Art Do go towards supporting the new artist project series, and helping to make Christchurch somewhere rad to live – we'll announce the projects you're supporting on the night, so you'll be the first to know what's coming!
Art Do Dinner
Saturday 27 July, 6pm – late
Tickets $400 – strictly limited
DO Dinner
Prepare for five bespoke courses designed by award-winning chef Tom Hishon of Orphans Kitchen fame, in collaboration with local foodies White Tie. This beautifully curated menu will reflect the ambitious creativity of our Ōtautahi art landscape, brought to life with innovative vision.
DO Drinks
Your food experience will be matched by the best local drops, with a select range of Greystone Wines and Three Boys Beer. There will also be a choice of craft non-alcoholic beverages brought to you by the inventive talents of the Six Barrel Soda Co.
DO Dance and Nightcaps
We don't do things by halves and neither should you. After dinner you can join New Zealand's biggest art party downstairs and end the evening with Canterbury's finest cheeses, more great art collaborations and a nightcap in the Whisky Galore lounge.
DO Art Wine
New Zealand art legends Gretchen Albrecht and Shane Cotton have collaborated with Greystone Wines to produce forty-eight magnums of their award-winning 2017 Pinot Noir. Each bottle comes in a handmade box so you can choose to save it, or swill it.
These limited edition bottles will be available first at Art Do Dinner, so make sure you're there to secure your very own piece of New Zealand art. 
With thanks to Andrew Thomas and Michael Lett of Michael Lett Gallery and Nadene Milne Gallery.