B.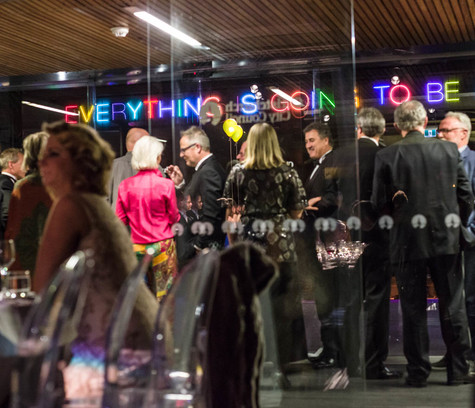 Everything is illuminated
Gallery
On Saturday a gala dinner for Christchurch Art Gallery TOGETHER Foundation marked the illumination of Martin Creed's Work No. 2314, the latest artwork funded by the Foundation. Multi-coloured neon letters, over a metre tall, spell out EVERYTHING IS GOING TO BE ALRIGHT on the Gallery's south wall.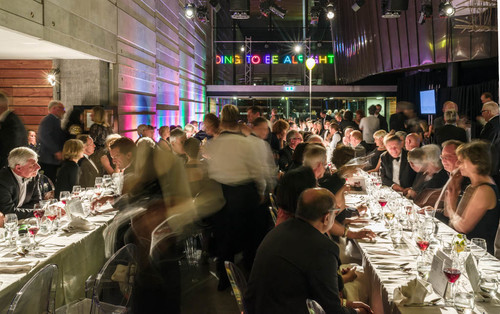 Reassurance and hope with a side helping of irony
At the dinner Gallery director Jenny Harper thanked Neil Graham, who prefers to be known as Grumps, for being our major donor for the Martin Creed work. She introduced the artwork as: "Understandable, witty, humorous, surprising...It gives us reassurance and hope. It puts smiles on our faces..."
Grumps also spoke about his gift to Christchurch, saying: ""The arts and the people who work in them have made a real difference to Christchurch after the earthquakes—they've helped the psyche of this city while it recovers."
Art critic Warren Feeney praised the work in The Press as: " A statement of hope that is also a reality check on the glibness of public messages of aspiration...the understated pessimism of Creed's neon sign should connect perfectly with residents—their frustrations and ambitions." He points out that Creed himself has noted: "I think you always have to kid yourself to make life bearable."
Celebrating TOGETHER
The dinner also provided an opportunity to thank the Gallery's TOGETHER Foundation supporters and announce three new strategic partnerships: Chapman Tripp, EY and Fulton Hogan.
A dinner auction raised $82,100 for the Foundation. The auction featured extraordinary experiences like a Fawlty Towers style dinner in the Gallery served by Jenny Harper and Blair Jackson and a tour of Christchurch Airport's air traffic control tower.
Celebrated New Zealand born chef Peter Gordon created the menu for the dinner, in collaboration with Martin Creed, inspired by his works. He worked with local firm White Tie Catering to serve up five courses, including delights like inari pocket, spiced dhal, curry leaves and cauliflower coconut raita.
The sell-out dinner packed 225 guests into the foyer of Christchurch City Council's civic headquarters, across the road from the Gallery. As the Martin Creed work was illuminated guests spilled out into the forecourt, cheering, clapping and taking photos. And at 4.00 am in the morning when the guests had all gone home, Tynam McCulloch posted on our Facebook page: "I can see this from my hospital bed. Thanks guys." It was a fitting postscript to a memorable evening.
Click here to join the TOGETHER Foundation >
More photos from the event are on Facebook.