B.
Introducing... Limited edition art-wine and art-beer
Blog
Don't you love it when your two favourite things come together?
Released just in time for the Christmas gift scene (we did it on purpose), it's time to make yourselves familiar with the limited-edition range of art-beer and art-wine produced in conjunction with Three Boys Brewery and Greystone Wines.
All proceeds go towards making creative, ambitious artist projects – as awe-inspiring as Ōtautahi Christchurch itself.
With extraordinary labels created by New Zealand artists Judy Millar and Zina Swanson, these great drinks are an opportunity to purchase a work of art, and support Christchurch Art Gallery. They make the perfect corporate gifts for your staff, clients or anyone you may need to say thank you (or sorry) to.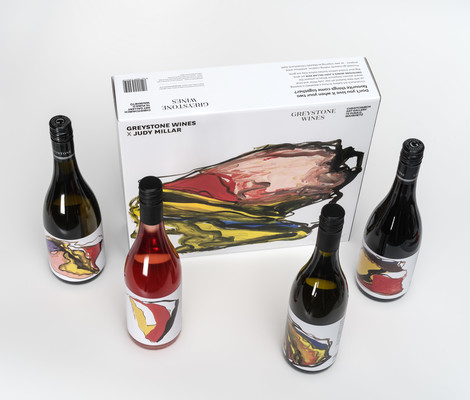 GREYSTONE WINES X JUDY MILLAR
Christchurch Art Gallery Te Puna o Waiwhetū is teaming up with New Zealand art star Judy Millar and local award-winning wine producers Greystone Wines to present the GREYSTONE WINES X JUDY MILLAR 2018 art-wine.
Featuring the following range of 750ml bottles (only 1,111 of each have been produced):
2017 Sauvignon Blanc $25.99
2017 Chardonnay $29.00
2018 Rosé $29.00
2017 Pinot Noir $29.00
Gift Box of four $110.00
THREE BOYS BREWERY X ZINA SWANSON

And! The Gallery has also teamed up with local artist, Zina Swanson and our favourite brewery Three Boys Brewery to produce a limited-edition sample pack of THREE BOYS BREWERY X ZINA SWANSON 2018 art-beer.
A sample pack will retail for $25 (bargain!). There are only 1,000 boxes in circulation and include 4 x 330ml cans:
Pils
IPA
Hoppy Porter
West Coast Red IPA
So! How can you get your hands on this product...

We've partnered with the following supermarkets to make it super easy for you to purchase the art-products across Christchurch (for now...)
Fresh Choice City
Fresh Choice Barrington
New World City
New World St Martins

And of course, you can also pop in to the Gallery's Design Store, Greystone Wines or Three Boys Brewery to bag your products before they disappear.