The Art Gallery is a great place for children to explore, discover and have fun.
It's been fantastic to see so many families at the Gallery during the school holidays, and Gallery staff (as much as the parents and grandparents!) love to hear what children say about the art on display. Their interactions are often uninhibited, their minds flowing with possibilities.
Currently throughout the Gallery, there are many works which children are responding to with delight. Favourites include Michael Parekowhai's Chapman's Homer in the foyer, Francis Upritchard's Husband and Wife in Beasts upstairs, and Pip+Pop's sugar fantasy world on the ground floor. But that's just naming a few…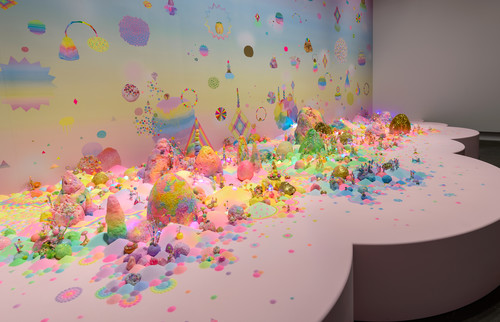 An eight year old girl looked inquisitively in Wayne Youle's re-imagined artist studio titled ALONE TIME, and looking at the round brightly coloured blob on the floor said it looked like a brain. She then noticed a light bulb explaining that it will light up when it gets an idea.
Another day, a boy looked with awe at Zina Swanson's intricate glass table and the shadows cast by the objects, saying "Look, it's making more art underneath!"
Please feel free to comment below about your experiences with children at our Gallery. And, check out our forthcoming family events here!