B.
Perfectly Useless
Behind the scenes
In our new Showhome exhibition, all is not quite as it seems.
Within the strangely unreal setting of a showhome in Christchurch's Wigram Skies development, an installation of tiny still-life paintings and miniature arrangements by recent University of Canterbury graduate Emily Hartley-Skudder investigates the idea of the 'perfect artificial' with gleeful good humour.
Bursting with gloriously inedible food, unusable objects and unashamedly impractical utensils, these diminutive works make the carefully appointed four bedroom showhome feel like a giant dollhouse.
I visited yesterday as the exhibition was being installed and the whole set-up reminded me irresistibly of a book that intrigued me as a child - Beatrix Potter's The Tale of Two Bad Mice (Frederick Warne & Co, London and New York, 1904).
In it, the mice of the title (Tom Thumb and Hunca Munca) break into a beautiful doll's-house while its occupants are 'out for a drive in the doll's perambulator'. They come upon a table full of delicious looking, but inedible plaster food.
Thwarted, the mice wreak their revenge, smashing the food, throwing the doll's clothes out of the window and stealing everything from pots and pans to the baby's cradle. Though they eventually make amends by leaving a broken sixpence and cleaning the house each morning, the story still has a mildly subversive feel, and some critics have interpreted it as a reflection of Potter's own discomfort with her personal circumstances, in which her parents were thought to be grooming her for life as resident housekeeper in their London home.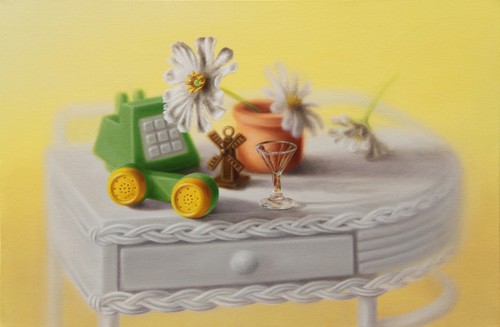 Like the 'very beautifull doll's-house' of Potter's story, the immaculate furnishings of the Wigram showhome (carefully and mischievously echoed by Hartley-Skudder in her paintings) give the appearance of anticipating every comfort, but also seem too good to be true. I was interested to see that this is reinforced in the bathrooms, which despite their gleaming porcelain and polished fittings don't extend to that prosaic, but nonetheless most useful accessory: a toilet roll holder.
Showhome is the most recent addition to our Outer Spaces programme and will be open for viewing until March 19 (49 Sioux Avenue, Wigram, 12-4pm Tuesday to Sunday). For more information see our website.