B.
Huntsbury Press
Behind the scenes
The Gallery was very fortunate to receive a collection of books from Leo Bensemann's library this week.
Generously donated by his family the collection, which predominantly relates to Bensemann's work as a printer, designer and typographer, includes three rare titles from the Huntsbury Press.
Huntsbury Press books would turn any New Zealand book collector's head, and they are a great complement to the library's extensive collection of Caxton Press titles. The Huntsbury Press was established by Bensemann at his home in Christchurch's hill suburb Huntsbury around 1975, when he was winding down his involvement with the Caxton Press. By all accounts he could only print at Huntsbury on fine warm days as the shed in which the press stood had no door and was somewhat exposed to the weather.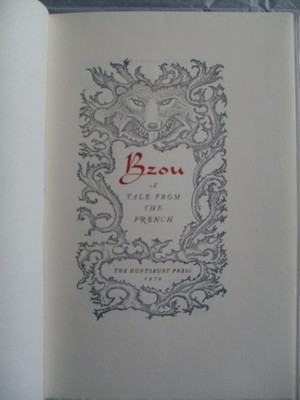 These titles are great examples of Bensemann's work as a typographer and printer. Rob Jackaman's Arthur the King: A Sequence and Bartolomeo Vanzetti's 7/4/17 were collaborations with Max Hailstone, who taught graphic design at the University of Canterbury School of Fine Arts in the 1970s, 80s and 90s. The frontispiece for Bzou: A Tale from the French is quite extraordinary and confirms that Bensemann had lost nothing of his unique ability to design and execute graphic work in his old age.
The platen press Bensemann used for these books is now on display at Ferrymead Printing Society, where it is still in use.