B.
Wharariki Dreaming
Behind the scenes
Located at the top of the South Island's West Coast, near Cape Farewell, Wharariki Beach is a stunning area where the land meets the sea in dramatic fashion.
This is Leo Bensemann country. If any of our blog readers are visiting Farewell Spit at Golden Bay it's well worth the effort to drive a further 6 kilometres down the gravel road and then a take the quick stroll on a well-marked track to visit this remote wonderland. Sheer monolithic landforms rise just offshore where they are continually battered by the Tasman Sea's waves and westerly winds. It is these elements that have given the region its unique features, such as the dramatic archways at the base of these rugged islands.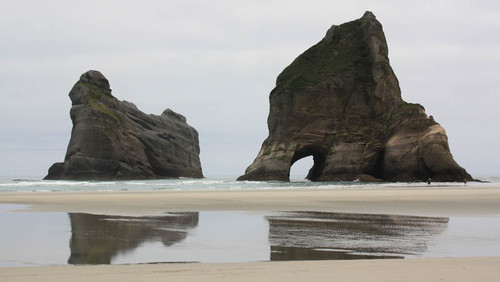 Bensemann's dreamlike painting Seascape with causeway has obviously been influenced by the coastal landscape at Wharariki; indeed it was one of the artist's favourite places to visit.
This photo, one of my favourites and taken by Leo's wife Mary, shows Bensemann in the midst of the vast expansive beach at Wharariki, a man alone making his way towards the shoreline. Bensemann himself summed up this landscape:
Over at Wharariki (just south of Cape Farewell) there is a huge sphinx-like rock that sits on the sea staring out over the Tasman, brooding, alert, watchful, menacing.