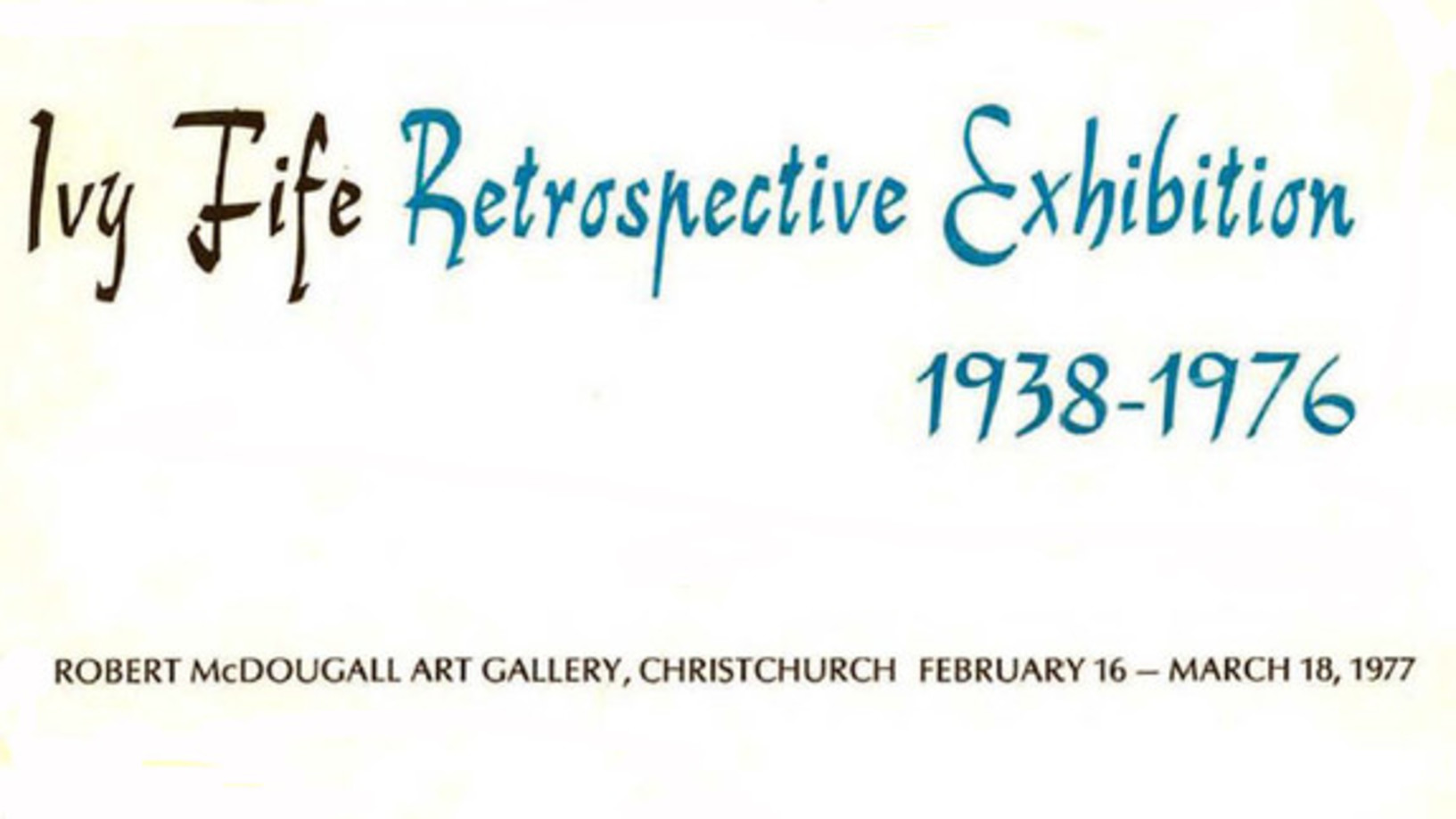 This exhibition is now closed
This was a retrospective exhibition of Christchurch painter Ivy Fife. As the exhibition came to completion soon after her death it became a memorial of the name and reputation of the artist.
Ivy Fife was born in Christchurch in 1905. She was a contemporary of Olivia Spencer Bower and Russell Clark almost to the year. In 1920 Fife enrolled at the Canterbury College School of Fine Art, where the staff then consisted of Cecil Kelly, Archibald Nicholl, F. A. Shurrock, Richard Wallwork and Leonard Booth. Her association with Art School which began with her entry as a student lasted for thirty-nine years until her retirement in 1959 as she stayed on as an instructor after she had completed her own studies.
The items selected for the retrospective date from the late 1930s and include works in gouache, oils, watercolours, ink and wash, and pencil drawings. From that time onwards, she worked consistently on portraits, landscapes, flower paintings, old buildings, and commissioned portraits which she greatly enjoyed doing.
Her work was shown frequently at annual art society exhibitions at Christchurch, Dunedin, Invercargill and Nelson, as well as the Gallery of the New Zealand Academy in Wellington. 1958 saw Fife included in the exhibition Eight New Zealand Painters along with W. A. Sutton (Christchurch), Milan Mrkusich (Auckland), Rita Angus (Christchurch), Clifford Murray (Dunedin), Michael Nicholson, Sydney Thompson (Christchurch), and Dennis Knight Turner (Auckland), organised by the Auckland City Art Gallery. Each artist was represented by five paintings.
Fife was a concise, clear, and to the point, type of person, highly perceptive and totally immersed in her painting which made up almost her total way of life. Her attributes were clarity of vision, good draughtsmanship, and a refined and harmonious sense of colour, to which she added varying degrees of vitality and atmosphere. As a member and Council Member of the Canterbury Society of Arts from 1949 to 1966, and a member of the Advisory Committee of the Robert McDougall Art Gallery, she played her own, quiet, yet significant, role in the development of the arts in Christchurch and Canterbury.
Date:


16 February – 18 March 1977

Exhibition number:
162
Collection works in this exhibition
7 items