Painted Disciple
Curator Ken Hall takes time to closely investigate an intriguing recent acquisition.
Carlo Dolci (1616–1686) was the most sought-after and highly paid Florentine painter of the Baroque era, and – like others of his standing – much copied and imitated. He also ran a thriving workshop that kept his style alive well beyond his death; this does not sufficiently account, however, for the number of times The Martyrdom of Saint Andrew has been painted.1 Dolci himself was recorded by his friend and biographer Filippo Baldinucci as painting three versions of the work, the first in 1643 for the merchant Paolo del Sera, who in taking it with him to Venice significantly extended the painter's reputation. A notably altered version, painted for the Marquis Carlo Gerini in 1646, has been displayed in Florence since 1818 – and is the one from which known copies were based.
Compared to Christchurch Art Gallery's new acquisition, Dolci's brilliantly painted 1643 original (now in Birmingham Museum and Art Gallery) includes a different grouping of figures behind the guard disrobing his captive, hovering cherubs, a discarded basket rather than pickaxe and shovel, and a miniature self-portrait below the kneeling saint's outstretched right hand. The 1646 version (Galleria Palatina, Palazzo Pitti, Florence) is slightly larger and includes a widened cloud aperture, sans cherubs, indicating an awaiting heaven. The helmeted soldier in profile at the right edge (turned towards the viewer in the earlier version) is recorded by Baldinucci as based on Dolci's friend, the dilettante and painter Raffaello Ximenes.2 Dolci, who began his training as an artist at the age of nine, and is said to have copied many celebrated painters' works in the palazzi of Florence, included art historical references in both versions. Behind the central executioner's legs are two small figures; the figure at left repeats Titian's Portrait of a Man in a Red Cap (c. 1510, Frick Collection), while the turbaned black figure at right quotes from Peter Paul Rubens's Adoration of the Magi (c. 1617–18, Musée des Beaux Arts de Lyon). Dolci evidently had access to both works.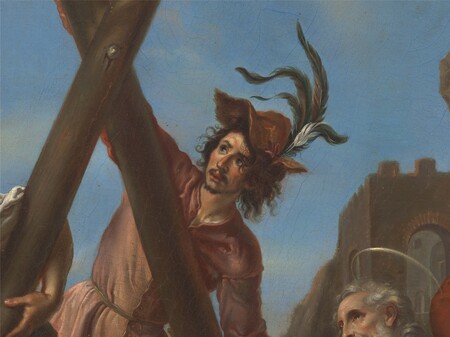 The dimensions of the 1646 original version are matched by known copies, including one in the State Hermitage Museum in Saint Petersburg, Russia, and six discernibly different works that went through international auction houses between 2000 and 2015. There are presumed many more. Our new painting was purchased earlier this year from a local estate auction, recognised as after Dolci's 1646 version; unfortunately with unknown provenance. Smaller than these copies, at 6:10 scale of the original,3 it gives a first impression of age that is due in part to the character of its ornate gilt frame. Closer inspection from the back offers further indications of age; the original, unlined canvas is obviously hand-woven and its cedar stretcher unevenly hand-planed. While the hand-carved, gilded Baroque style frame is recognised as seventeenth-century, it has evidently been cut down from a larger size; Detlef Klein, the Manawatu-based conservator repairing the frame's slight damage believes the intervention to be nineteenth-century.
Leading Dolci expert Dr Eve Straussman-Pflanzer is curator and head of Italian and Spanish paintings at the National Gallery of Art in Washington, and was generous in studying good photographs and gentle in letting us down. Dolci's biographer, Dr Straussman-Pflanzer pointed more solidly to the (not unexpected) conclusion that our painting is an eighteenth- or nineteenth-century copy of the Palazzo Pitti version, and "a certain stiffness in the execution of the composition, though clearly skilled, that betrays its status as a copy. One sees this quality particularly in the drapery." She further notes that "there are archival records in Florence of copyists in the Uffizi and Pitti. In other words, there are archival records of what pictures were copied and by whom."4
This is not uninteresting. With the 1646 painting having been at the Pitti since 1818, our picture's maker is likely recorded. They will have had to return many times and spend many days close to the original. It may have been a solo visitor who eventually established their own practice; one of a group of advanced art students; or perhaps a professional copyist who frequented the Pitti to supply collectors on the Grand Tour. It would be interesting to know how many showed up for this painting. And while none of these options is as an exciting as an original (or studio copy), neither should they be entirely disdained. Art history holds many precedents. It might be more useful to recognise that we are looking at a specific kind of artefact, of a type closely connected to one more powerful and that invited copying. A well-executed painting presented in a handsome seventeenth-century gilt frame would have been an excellent reminder of the original; and a more desirable acquisition, perhaps, than even the finest black-and-white engraving. At the same time, something of the original's impact remains, just as the copyist intended.
So we are left with a work that gives a starting knowledge of Dolci's complex, striking composition, a memorable echo, at least, of a work dually intended to distress and inspire. As well as the clustered guards at his back, Andrew has a known story behind him. In the gospels of Matthew and Mark, he and his brother Simon Peter are recorded as fishermen from Bethsaida by the Sea of Galilee in Israel, and invited by Jesus Christ to become "fishers of men". The Gospel of John records Andrew starting out as a follower of John the Baptist, then as the first-named to follow Jesus, to whom he immediately brought his brother.5 After the simultaneously exhilarating and bewildering experience of following Christ, including through his death and startling resurrection, Andrew is recorded as travelling to many distant lands to share the message of love found and death conquered. Dolci presented his silver-haired San Andreas kneeling, about to have his physical end hastened for refusing to renounce his Lord; this happened under command of Ægeas, Roman governor at Patras in Greece in about 60AD.6 Andrew's garments are being removed as he kneels before the X-shaped cross – an intended ultimate cancellation – and does not flinch.