Pauline Rhodes – Land Extensums, Banks Peninsula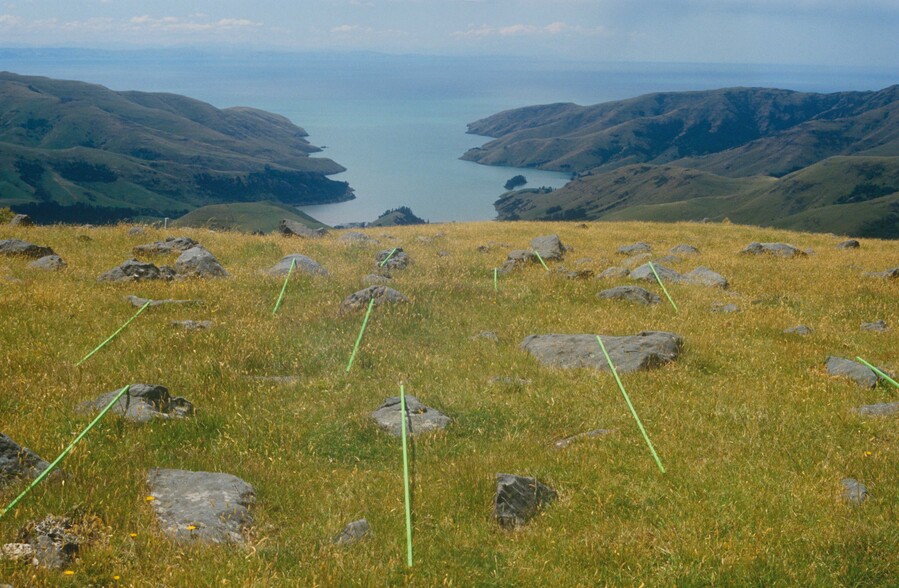 I only have to set a direction towards Horomaka Banks Peninsula, and I feel an energy, a charge. The ritual of a takeaway coffee at Wairewa Little River. A flicker of shadows from the centenary lime trees lining the road at Cooptown. Picking up speed to begin the swinging ascent to the Crater Rim. A rush of air, sweeping up over the summit and along the wide expanse of the Peninsula, hilltops encircling a traveller like comforting arms.
Encountering Pauline Rhodes's Land Extensums, Banks Peninsula (1983), I feel the pull of peaks and paths; memories stir and my body shifts almost imperceptibly to those places like a weathervane. My eyes follow the eleven long rods of neon green leading north, across warm summer grass spotted brightly with dandelions, down through the bright waters of Koukourārata Port Levy, out to an expanse of lavender sea and beyond to Kā Whata-tū-a-Rakihouia the Seaward Kaikōura Range, a hazy cobalt streak in the distance.
It has become a habit to take challenges to the Peninsula, and offer these up to wind and waves, light and cloud. Curves and slants push ideas out and on like the brisk clouds over the headlands. Pivoting thoughts on city streets find their way into an easier alignment. Long breaths release hot fears to the vast ocean. Rocks offer correcting adjustments to striving steps. Skin warms to drink in the rich air of the rare bush canopy, and ears open to the songs passing in the trees. There is an intimacy in the hand of the artist, setting each rod into the grass, tips balanced on the highest points of a scatter of rocks. Together, the gentle relations between rod and rock appear to form signals, a fleeting codec. The work acts as a kind of temporary transmitter, designating vast ranges of exterior and ulterior shifts. A material knowledge suggests a relation of being to an environment; an energetic geometry driving through, beside and beyond the edges of an articulated form. This vibrant, minimal syntax makes visible a feeling of wild spaces.
There is a different posture here, an elemental lifting. In earlier years, we would walk out to these peaks where the winds blow freely, leaning forward into precarious gusts, head first, arms outstretched behind, balancing on rocks like fledglings, parameters loosening as we took flight. Coming off the peaks, energies move again, more substantial and lighter. New sensibilities hum under the surface as wheels turn back out onto the floor of the city.