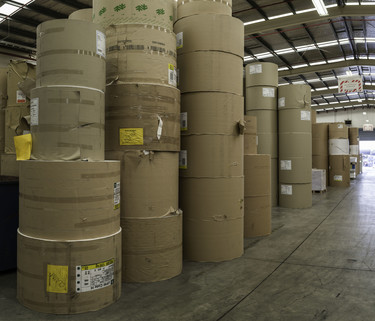 The Printing Arts
PMP Print have been printing Bulletin since late 2013. They sponsor the production of the magazine (which, given our modest budget we greatly appreciate) but more than that, they're a true partner, going above and beyond to ensure that each edition of Bulletin is produced to the highest quality. We thought you might enjoy a brief insight into the delights and challenges of producing a magazine.
Bulletin is a pretty technically challenging print job. It's an unusual format, and we often use special print processes or unusual stocks to enhance the visual and tactile appeal of the magazine. Issue 179 was particularly demanding, as we combined three different papers, including an artwork on a rare translucent stock, which was delivered to PMP to be bound into the magazine. As you can imagine, this level of complexity is tough to pull off, and we couldn't make it work without the expert advice and support from Nigel South and his colleagues.
One of the main reasons people read Bulletin is to enrich their understanding of art, and so high quality art reproductions are fundamental to us. Reproducing artwork brings its own challenges. It is important that the magazine accurately matches the colours of the original works of art and that any crossovers (images running across two pages) align precisely across those pages.
You'll often find Gallery photographer John Collie, Aaron Beehre from the Ilam School of Fine Arts and I huddled around a spread pulled from the press, peering at the colour matches through a magnifying lens, and earnestly discussing whether there is too much magenta in an image. PMP get every bit as involved in these discussions as we do. Printing is a complex art and it takes an expert team to get a great result.
We asked PMP why they sponsor Bulletin. Nigel said: 'Art makes us excited about the future of Christchurch. Art is a very personal expression, and the artworks around the city teach us to respect each other's ideas and opinions. Art is playing a growing role in Christchurch. We started with a blank canvas following the earthquakes and with the Gallery as the epicentre of this art revolution, colour and vibrancy is coming back to our city. We're pleased we committed to Christchurch after the earthquake; forming relationships with Christchurch Art Gallery and Christchurch City Council has been a big part of this for us.'
PMP Print is New Zealand's largest printer with plants in Christchurch and Auckland. They're the preferred supplier for most of New Zealand's leading retailers including Countdown, New World, Farmers and Mitre 10 and they print a number of magazines including New Zealand Listener, SkyWatch and New Zealand Women's Weekly. Bulletin is a tiny project for them, which makes the care and attention they give it all the more impressive. We'd like to take this opportunity to thank them for all the effort they have put into making Bulletin the award-winning magazine it is.